Is the bus profession considered skilled or unskilled? I doubt many are aware that the Manpower Ministry classifies the work permit of a foreign bus captain as "unskilled". I beg to differ.
Would you let an unskilled worker operate a vehicle that costs half a million dollars? Plus, it takes a lot of skills to manoeuvre a bus – in particular the 'bendy' bus or the double-decker – on the road. I myself have tried driving a bus using a simulator at the SMRT Training School. It is not easy at all.
In fact, I met with an accident upon making my first turn. Thankfully, it was on a simulator!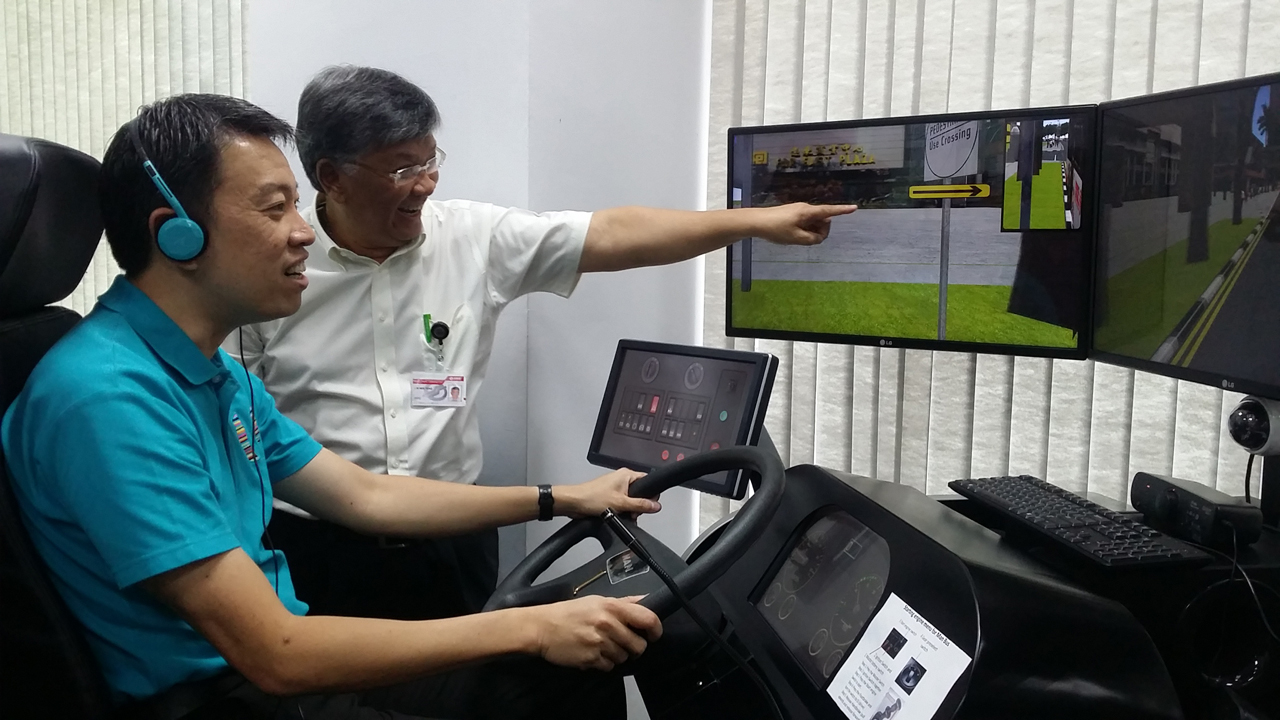 Public transport is an essential service, even more so in our small yet busy city where many rely on it to commute from one place to another. Our buses and trains ferry more than a million commuters daily. It is therefore, no small job for the person operating the vehicle.
With the injection of 1,000 new Government-funded buses under the Bus Service Enhancement Programme and the introduction of the new Government bus contracting model, there is an urgent need for more bus captains to join the public bus industry. Not only should we refrain from having more foreign drivers to ply our bus routes, there is also a limit to how many one can employ. We definitely need more Singaporeans to join the trade. How can we do so?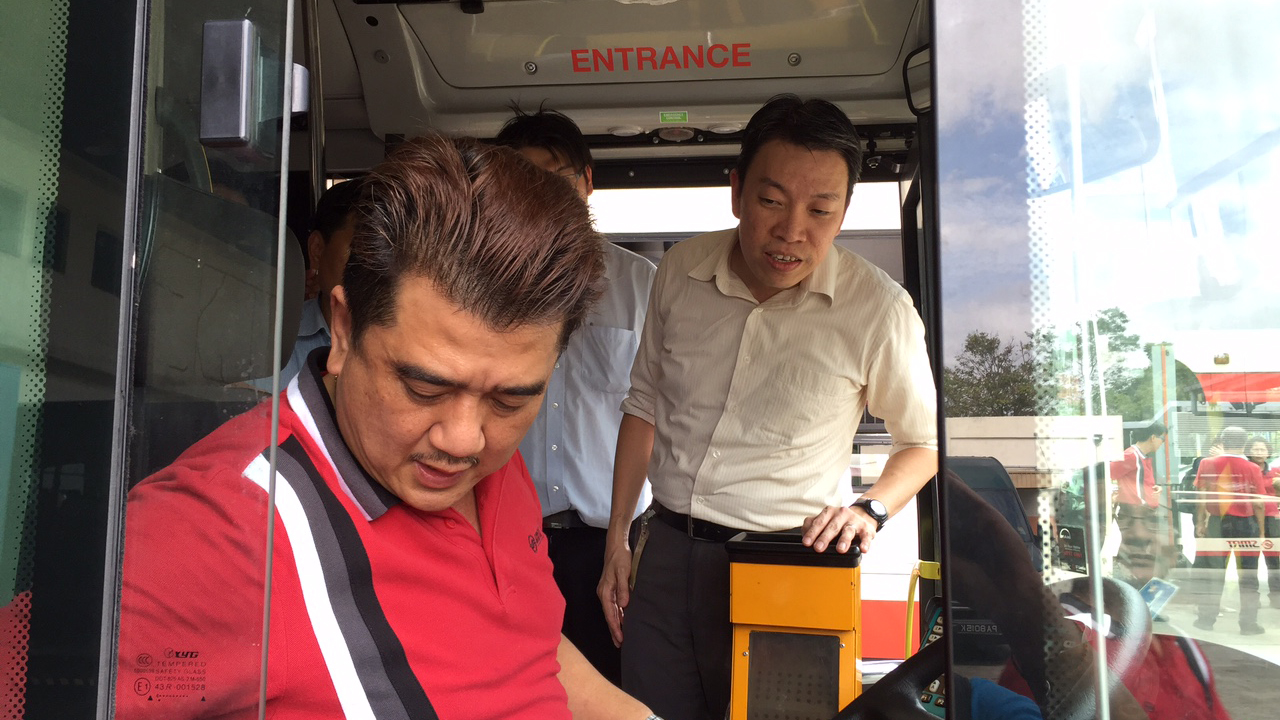 Bus Profession – A Skilled Profession
Since joining the Labour Movement, I've had the privilege of meeting with many public transport workers as the Executive Secretary of the National Transport Workers' Union. Through my weekly worksite visits, I've learnt much about the industry and the challenges faced by our public transport workers.
I've come to understand that being a bus captain encompasses much more than just operating a huge vehicle. A bus captain also has to manage more advanced systems in the bus as well as commuters today, who often have higher expectations.
Today, each public transport operator conducts their own training. However, the union is pushing for a more structured training regime for our bus captains. What we need is a national bus academy to raise the professionalism of our bus captains. Perhaps then, our Manpower Ministry can reconsider bus driving as a skilled profession!
Show Respect, Stop Abuse.
In my conversations with the bus captains, I often hear of the abuse they face in their daily tour. Some commuters attempt to evade fare payment or would sometimes even try using an unauthorised card for payment. When caught, these offenders often create a ruckus! As one bus captain shared, "These offenders are very unreasonable. They scold me for being kaypoh as the fare does not belong to me, but to the company."
In January this year, a bus captain was assaulted by a man at a bus stop along Lengkok Bahru and was on medical leave for 42 days. All this because the assailant was allegedly unhappy that he had missed his bus stop. "Often, commuters are focused on their mobile phones and would sometimes press the bell very late," explained some bus captains. "It would be very dangerous to do a sudden stop."
When our bus captains are faced with such abuse, the safety of the commuters in the bus is also at risk. Can we do more to protect our bus captains? Today, there is the Protection from Harassment Act that penalises such offences. But what we want is to "Show Respect, Stop Abuse", to build a healthy and positive workplace environment for our bus captains. Let us start by giving a smile to the captain as we board the bus, and to intervene as one community when we see any abuse.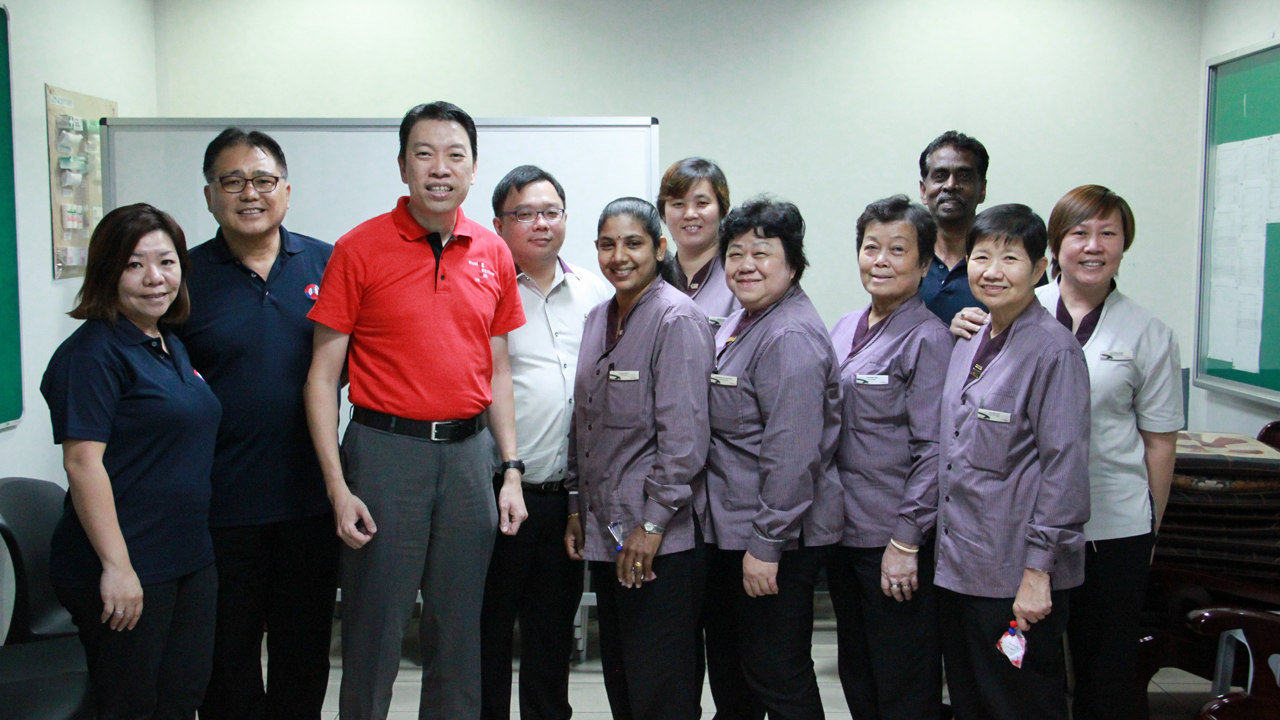 More Females to Join the Bus Profession
I also met and spoke with many of our female bus captains. Today, less than 10 per cent of our bus captains are female.
Chief Bus Captain Lim Poh Suan, who has been driving buses since 1981, shared that the working conditions have improved tremendously over the years. "Today, all our buses are air-conditioned and there is power-steering. Previously, many female bus captains had difficulty lifting the heavy bonnet to perform checks on the bus engine. Now, we can rely on the dashboard of the new buses which provides us with all the necessary indicators."
Anecdotally, female bus captains also experience less encounters with abusive commuters. "Perhaps it's our soft touch. But generally, I think guys do not want to be seen bullying a lady," quipped another female Senior Bus Captain.
Can we attract more females to become bus captains? I think we can, and we will.
Better Care for Our Bus Captains
Working conditions for our bus captains can get quite demanding. Coupled with the gradual ageing profile, we are naturally concerned with the health of these workers. Through a recent health screening project piloted by the union involving close to 900 bus captains, we found that 8 out of 10 had unhealthy BMI, blood pressure or cholesterol.
Bus captains need to be physically and mentally fit so that they can ensure the safety of the commuters and also other road users. Early detection and intervention can definitely help our bus captains identify and address potential health threats before they fall seriously ill.
Today, the public transport operators offer free health screening for their bus captains at varying age groups. I think this should be extended to all bus captains, regardless of age. I have asked in Parliament for the Ministry of Transport to include free annual health screening as a condition in the bus contracting model.
It is also timely to do a holistic review of the working conditions of our bus captains. There are a few areas we can improve on – the daily work schedules, ergonomic intervention and fatigue management. A healthy worker is a happy worker, and a happy worker is a better worker.
Pilots of Our Roads
Pilots are recognised as highly-skilled commanders of commercial planes. They transport people through air. Notwithstanding the skills and prerequisites of the pilots, our bus captains move people on land.
A pilot of an A380 jumbo commercial jet ferries around 470 passenger in a single flight. A bus captain of a double-decker transports more than 200 passengers in a single trip during the peak period, making at least 15 trips a day for a feeder service and more than 6 trips a day for a trunk service. Just like the pilot, our bus captain cannot afford to lose concentration on the road as he is responsible for the safety of thousands of commuters daily.
With our tripartite partners, let us strive to make further enhancements to the bus captain profession and take better care of our bus captains. As a community, let us show respect and appreciate the work of our bus captains.
Together, we can make our bus captains the "pilots" of our roads!
Melvin Yong
This is a post by National Trades Union Congress (NTUC) Director, Industrial Relations (Field) , Melvin Yong. Any extracts should be attributed back to the author. 14 April 2016.