I used to work as a waitress in an Italian restaurant. For less than $1,000 a month, I had to carry trays of food and drinks up and down the stairs of the three-storey establishment seven hours a day, six days a week.
The little I earned disappeared into food, groceries, transport, and other daily necessities faster than I could say "spaghetti". So, most times, I lived hand to mouth, scrimping and saving every dollar and cent I had to tide me to the next paycheck.
My salary never increased in my two years there, and there were no career prospects.
Fast forward to 2012 ― I was happy to hear that NTUC mooted the Progressive Wage Model (PWM) to enable local lower-wage workers to have sustainable wage increases through skills and productivity enhancements.
According to the NTUC U Care Centre, the model has already improved the lives of over 130,000 resident workers in the cleaning, security, landscape, lift and escalator, and retail sectors.
Although I'm no longer a lower-wage worker, it is only natural to want to see whether life is better for lower-wage workers under the PWM.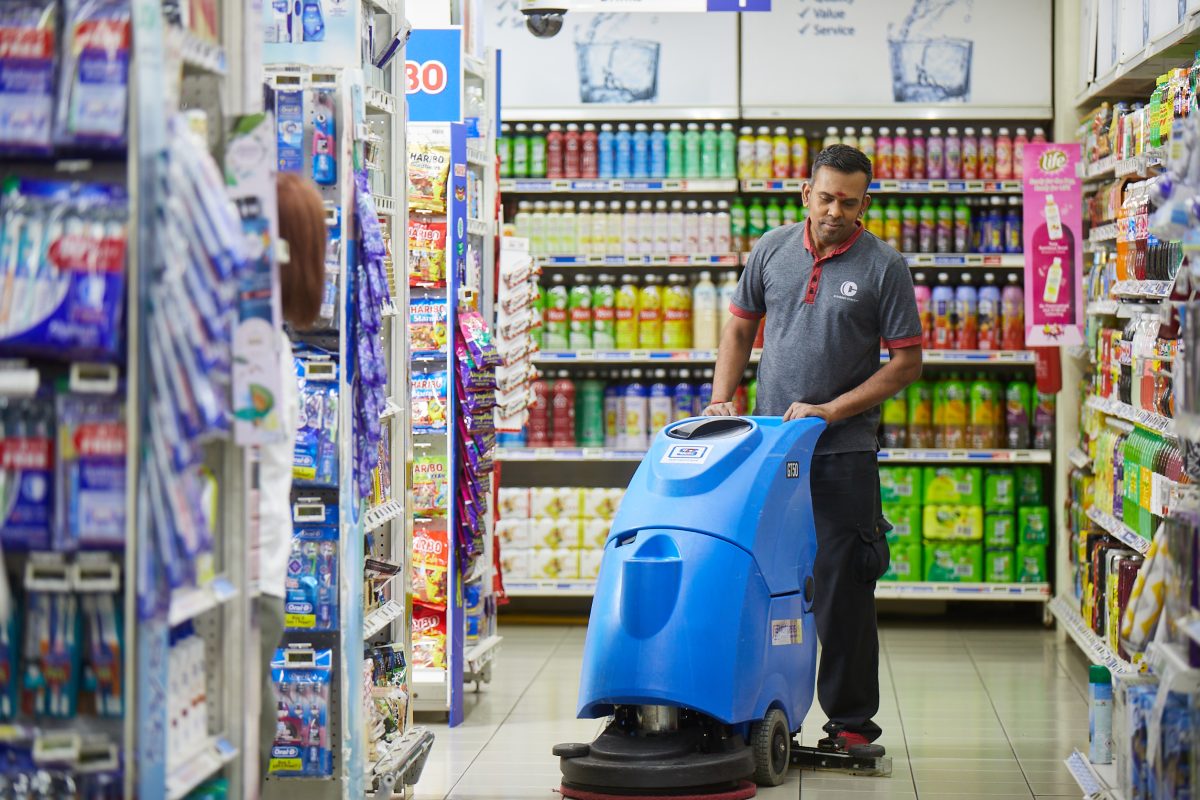 A Clean Start
Cleaner Baskaran Periappa is what I would call an early beneficiary of the PWM.
After all, the cleaning sector was the first to implement PWM in 2014.
Baskaran, 44, is one of the 40,000 workers who have gained from this sector's PWM.
He told me that as a Team Leader at NTUC FairPrice's Sun Plaza outlet, he now earns close to $1,800 – a big leap from the average $1,000 cleaners used to take home in 2012.
"Cleaning is my interest. I love my job because it teaches me to be responsible and friendly to customers. It is also important that it is safe.
"My job helps me take care of my family, which includes my wife and daughter, so my life is good now," said the former forklift driver who entered the cleaning industry eight years ago.
As the sector progressively introduced technology, Baskaran was trained under the PWM to use machines to make his job easier.
"Work is fun with technology. By learning how to use the new equipment and machines, I can do my work better and more efficiently," he said.
With the Tripartite Cluster for Cleaners' latest recommendations in 2021, general cleaners can expect a wage increase to $2,420 by 2028.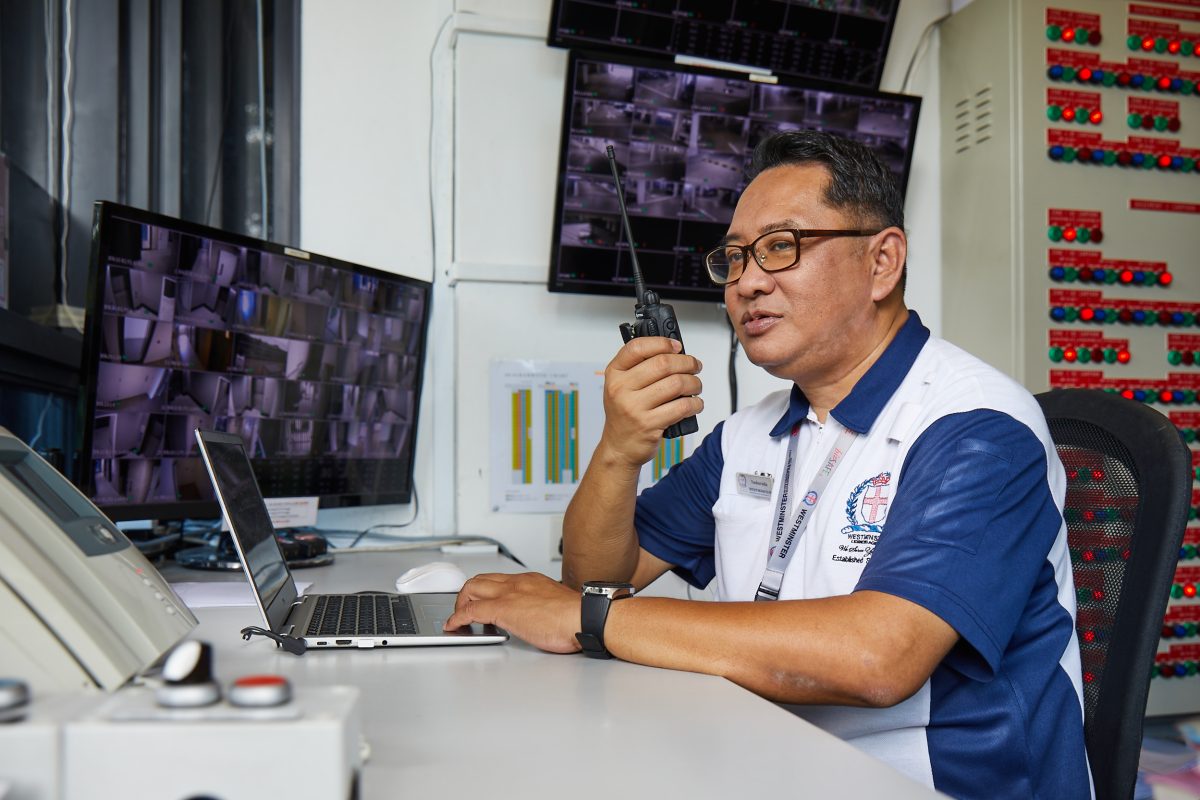 Securing a Better Future
Security officers have also seen good progression under the PWM.
Muhammad Nasharuddin Shariff is one of around 40,000 workers who have benefited from the PWM for the security industry.
The 52-year-old Senior Security Supervisor revealed that since the PWM took effect in 2016, his salary has increased by over $400.
Based on the Security Tripartite Cluster's latest recommendations, senior security supervisors will see their pay increase to $4,430 by 2028, up from around $2,240 in 2023.
"When I first joined the security industry, I never knew PWM would happen. It was a wake-up call for some of us in the industry, and we feel there is a chance for wage growth. It is a win-win for security officers to upgrade and be financially well-off.
"The PWM changes the concept about a security job – it is not a redundant job; you can see that we're more professional," said Nasharuddin, who has been working in the security line for about 19 years now and currently supports his elderly mother.
Nasharuddin aspires to become a Chief Security Officer (CSO), the next higher position under the security PWM's career pathway, within the next two years.
Once he achieves that, Nasharuddin hopes to continue working as a CSO or acquire a diploma and become a trainer, depending on what opportunities are available.
"With the increase in salary in the coming years, I can plan ahead of time. I can financially commit to things like buying a house. I can see my future in a way.
"We [security officers] feel comfortable and more confident buying things that we want," he shared.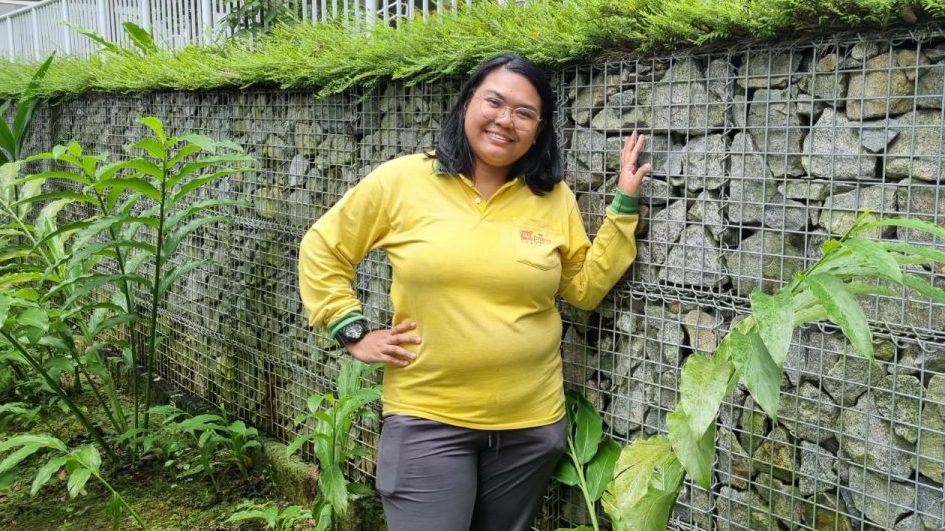 A Blooming Industry
Apart from higher wages and career progression, some PWMs aim to draw younger workers to join the industries.
Such is the case for the landscape PWM.
25-year-old Raudhatur Rahmah joined the landscape sector because she loves nature.
She also wanted to use the knowledge she gained from doing part of a Landscape Design and Horticulture diploma.
She joined Prince's Landscape in 2022 as a landscape technician and is based in Esparina Residences, a condominium in the Sengkang area.
Her job is to maintain the facility's greenery and to keep it beautiful for residents and guests to admire.
"I'm a hands-on person and can't see myself doing other jobs. My auntie always says, 'I think you're better [off] talking to nature than talking to people,'" she said.
Raudhatur plans to stay in the industry for now and wants to take courses to upgrade her skills – something the PWM will offer throughout her career.
She is looking forward to courses on plant health management and disease control, plant identification and plant pruning in February 2023.
So, what does she think would attract more young workers into the landscape industry? Her response was to share how they would enjoy the fruits of their labour.
Raudhatur elaborated: "If they have the knowledge, it is easy to do this work. It is straightforward.
"It is also fun to see the results of what you have done. For example, this used to be a plot of land, now it is full of plants and trees – it is something to be proud of."
Elevating His Career
The PWM's main aim is to ensure that higher wages are sustainable in the long run.
This makes skills upgrading a key aspect of the PWM as it equips workers with the skills required to be more efficient at work, thus leading to productivity gains.
A good example is the PWM in the lift and escalator industry, which, according to NTUC U Care Centre, has impacted around 1,300 workers.
Senior Escalator Specialist Jeremy Yap tells me that he has been diligently upgrading himself to excel in his work and progress in his career.
"Company training is ongoing and compulsory to upgrade our knowledge. We make special tools to maintain our lifts and escalators and learn to use new equipment.
"I enjoy being in this line because I like mechanical things, and I can learn a lot of things that can't be learnt elsewhere," said Jeremy, who has been in the industry for over 20 years and is currently with Otis Singapore.
The 45-year-old dreams of becoming a foreman in two to three years. He recently took a course to become a lift and escalator inspector.
As his career progresses, so too will his wages.
Jeremy is currently earning $2,600. Under the Tripartite Cluster for Lift and Escalator Industry's recommendations, his salary is expected to increase to $3,820 by 2028.
However, if he does succeed in becoming a foreman, his salary in 2028 may be even higher.
Conclusion: A Model That Works
Having heard the upsides of the PWM from these four workers, I'm inclined to believe it works.
Salaries are higher, workers can climb the ladder, and their futures look bright.
Also, lower-wage jobs don't seem to be perceived as dead-end jobs – as the landscape PWM has proven, young people are interested in landscape work.
I'm told that this year, some 3,000 waste management workers will also be able to start reaping the benefits of the PWM from July 2023.
The Tripartite Cluster for Waste Management Industry has recommended increasing waste collection crew salaries from $2,210 in 2023 to $3,260 in 2028.
NTUC will also implement the food services PWM this year.
All I can say is that I wish that the food services industry had a PWM when I was still working as a waitress.
Had it been carved out as a growing industry with career and salary growth, then it may have been a game-changer for me.
Who knows? I might have become a Michelin-starred chef or restauranteur today.
Nevertheless, I take comfort in knowing that my former F&B associates who stayed in the line can now look forward to a future full of promise and progress.