Much has been said about Singapore's growing ageing population and shrinking workforce and family sizes.
What has not been said as much is the caregiving impact on the country's working population.
In reality, the number of people available to care for a larger number of seniors in time to come will decrease over time.
According to the "Population in Brief 2022" report by the Department of Statistics, there will be only 2.4 working-age citizens for each senior citizen by 2030.
With only seven years to go till 2030, many workers already feel the weight of increased caregiving responsibilities.
So, how can caregivers be empowered to manage their caregiving responsibilities more effectively yet remain vital contributors to Singapore's progress?
What Do Caregivers Want?
With workers becoming increasingly vocal about what they want at the workplace, the Labour Movement believes listening to and taking action for them and with them is the best way to help.
Since August 2022, it has held large-scale focus group discussions with over 42,000 workers, including caregivers, through its #EveryWorkerMatters Conversations (#EWMC) campaign.
The aim? To hear what workers have to say about the challenges they face, their concerns, and their aspirations in the new world of work.
More importantly, the Labour Movement plans to act on the insights drawn from these workers and turn them into tangible actions to improve their lives.
#EWMC is, therefore, a way of refreshing the compact or relationship with workers by strengthening the long-established trust that the Labour Movement will continue to advance their interests.
These insights have been compiled into a report that includes the Labour Movement's plans to take things forward for workers.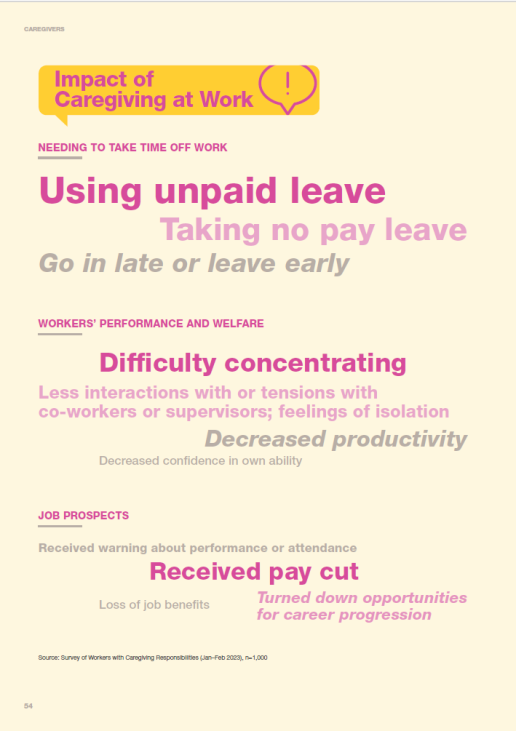 In the report, caregivers shared that heavier caregiving commitments have adversely affected their welfare, performance, and career prospects.
Over 40 per cent of caregivers said they take no-pay leave or take leave frequently, which has become disruptive to work and pay. Even at work, over 30 per cent find it difficult to concentrate, have less co-worker engagement and decreased productivity. Additionally, about 20 per cent have problems with co-workers and supervisors, feelings of isolation and less confidence in their work ability.
As a result, over 10 per cent have turned down promotions or career progression opportunities and have been warned about their performance or attendance.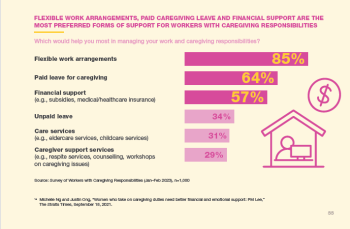 Caregivers have been outspoken about what they want. Flexible work arrangements or FWA (85 per cent), paid leave for caregiving (64 per cent) and financial support such as medical/healthcare insurance or subsidies (57 per cent) were highlighted in the report.
The Flexibility to Have FWA
During the pandemic, we all enjoyed one FWA or another. Who can forget the freedom of working from home or only having to turn up at the office a few days a week?
Yet, we all managed to get the job done as well, if not better, than we did in the office.
For caregivers, however, FWAs are practically a lifeline.
No amount of money in the world can replace being able to immediately rush a sick child to the doctor or helping to prepare meals to relieve an exhausted mother.
Through the report, the Labour Movement has been quick to recommend that caregivers have more access to FWA to manage their unique caregiving responsibilities.
It's not the first time the Labour Movement is calling for FWA, and it won't be the last. In fact, it has been a long-standing champion of FWA even before it has become the necessity it is today.
Thanks to FWA advocacy by Labour Members of Parliament over the years, workers and employers alike can look forward to the upcoming Tripartite Guidelines on FWA, which will likely be introduced in 2024. Employers will have help to meet their business needs when they offer FWA, while workers will find it easier to request FWA.
At the same time, the Labour Movement has also been proactively working with external partners to make FWA more pervasive in the workplace.
One example is the C U Back at Work! (CUB) programme in partnership with an environmental cleaning firm that offers caregivers jobs with FWA, which pay as high as $3,000.
Caregivers can choose their preferred working hours and workdays as long as they clock 44 hours a week. Upon completing the flexible eight weeks of paid training, they will form part of the firm's new elite workforce and enjoy clear career progression pathways.
Mother-of-one Samiah Rohani recently completed her training under the CUB programme and started work as a Team Leader at Resorts World Singapore on 9 October 2023.
The 49-year-old lives in a women's crisis centre with her son, a Primary 5 student.
Samiah used to work in retail but had to quit the job because the shift work prevented her from complying with the centre's rule to be back by 6pm on weekdays to mind her son. As a result, she had to find a job with more flexible hours.
Now, with the CUB programme's flexible hours, she can continue working to provide for her family and care for her son's needs.
Her employer benefits, too; they now have more manpower to take on lucrative jobs and improve their profitability.
FWA is a win-win: caregivers have good jobs, and employers have good workers.
Paid Caregiving Leave: A Basic Right?
For many workers, annual leave is sacrosanct.
We are willing to work till the wee hours to thump out a presentation or burn our weekends to churn out a spreadsheet but don't ever ask us to use our annual leave for purposes other than R&R.
Workers need time to recharge and refresh their minds, body, and soul. Only then can they return to work, raring to go and deliver their best.
This is why it's understandable that caregivers also wish for some form of paid leave for caregiving — they can't afford to steal days from their precious annual leave.
The Labour Movement strongly advocates for paid caregiving leave to look after elderly family members.
Some companies offer paid family care leave to employees for such purposes. However, the Manpower Ministry's "Conditions of Employment 2022" report puts it at only 30 per cent of all companies in Singapore.
What about the other 70 per cent? Caregivers in those companies will have no choice but to take their annual or unpaid leave. This might lead to burnout or resentment towards their companies or loved ones.
Therefore, should paid caregiving leave be deemed as essential as paid annual leave, it's a matter of making it equally as mandatory in the eyes of the law.
The Power of Choice
At the end of the day, it is about giving caregivers peace of mind to balance their work and caregiving commitments.
It is also about giving them choices.
The choice to have the career they want.
Not having to choose between that career and caring for their loved ones.
The choice for the Labour Movement is simple: It must now take action to make FWA and paid caregiving leave the new workplace norm.
Read the report to find out more about what caregivers want.
Visit conversations.ntuc.sg to learn more about #EveryWorkerMatters Conversations and the workers' compact.