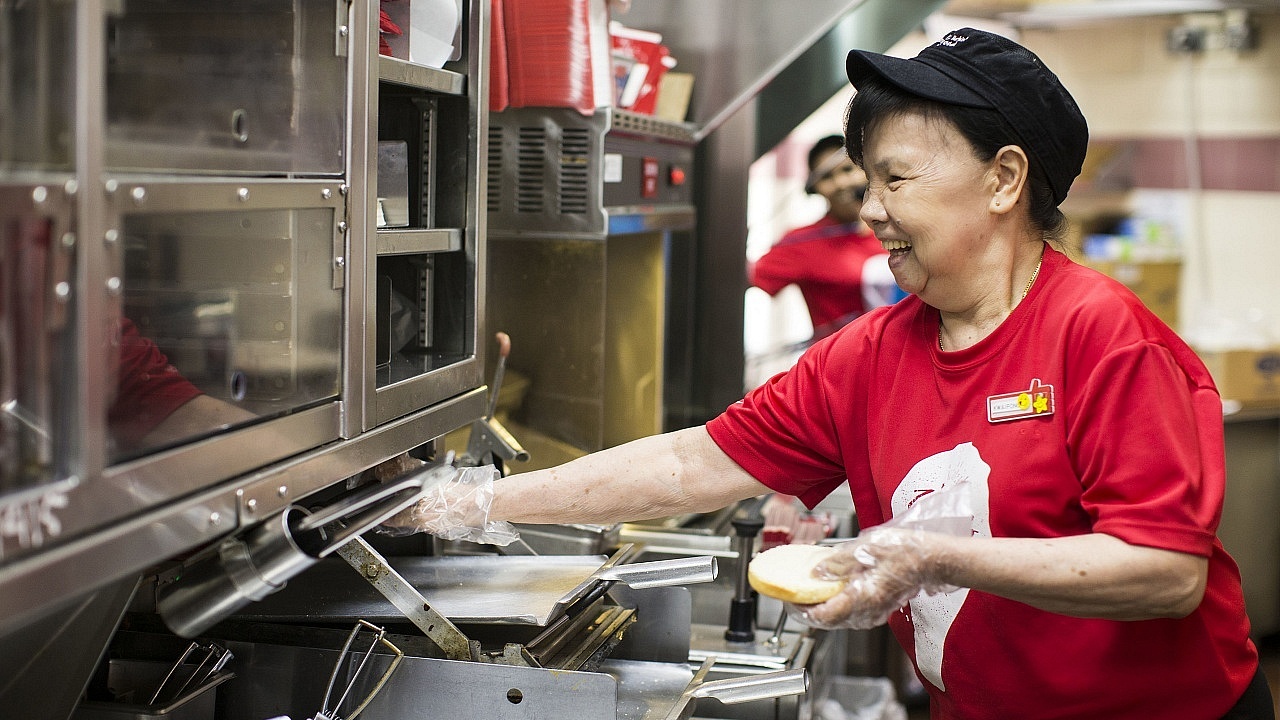 If there's something that we Singaporeans are passionate about, it's food. And in today's context, it's an added bonus when it comes to viral food trends.
So imagine the furore when Kentucky Fried Chicken rolled out their latest creation, the Chizza – pizza with a chicken crust.
While this latest food mash-up has taken our Instagram feeds by storm, we're going back to basics and taking the opportunity to talk about something else that has us going "it's finger lickin' good!"
Happy Worker, Happy Customer
70-year-old Yvonne Kline starts her day, every day, with a big, bright smile. For 40 years, the sprightly lady has been working at KFC – Coincidentally, that's exactly how long KFC has been in Singapore.
She started off in the 1970s preparing food items in the kitchen. Today, she is a frontline cashier.
"I have attended courses which have taught me about table service and how to handle customers when problems crop up. The best customers are those who are happy with your service and when they see you again, they tell me how happy they are to be served by me once more.
"I am very happy with the management, they treat me very well, they are very fair with me. At my age they still want to employ me, thank you very much," she shared.
Yvonne's not alone. In fact, her colleagues 71-year-old Lee Kwai Fong and 70-year-old Tan Chwee Lian have been with KFC for more than 30 years. A career journey for them, made sweeter by the fact that they enjoy working in the company.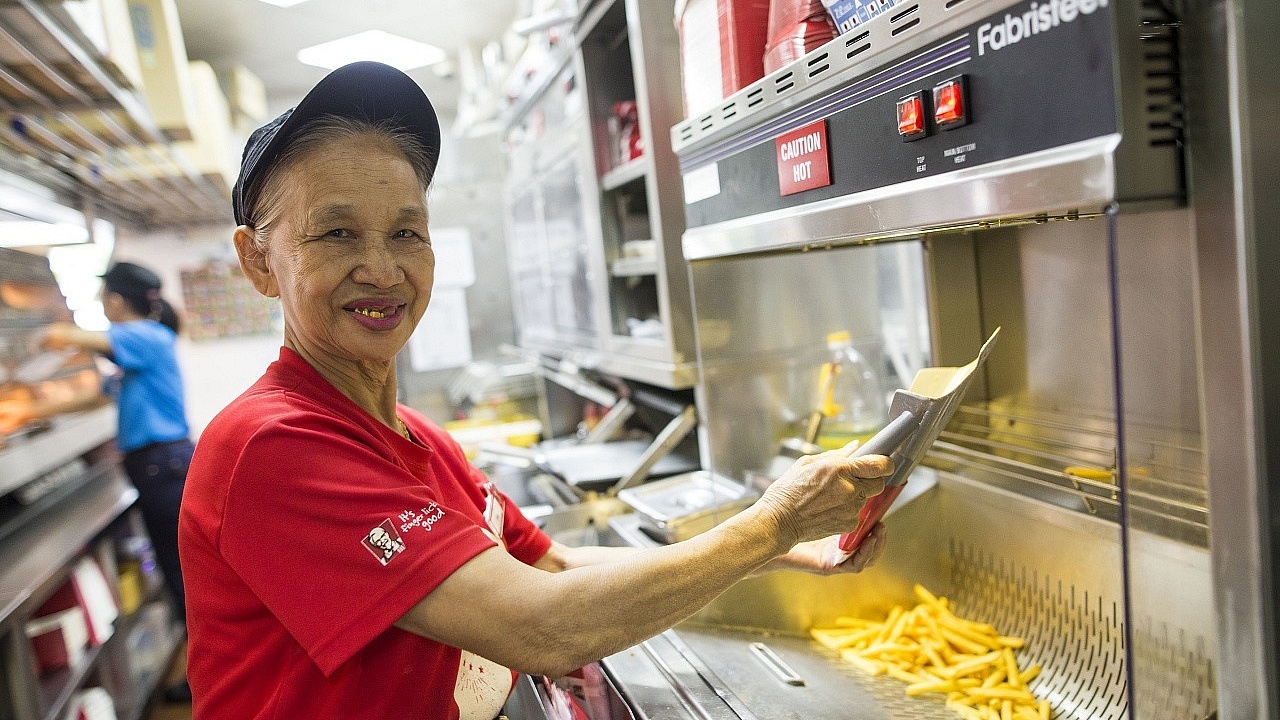 "Whenever the company sends for me training, I will attend to learn new things and I enjoy going for training. The management is very kind to me and I like my job. And if the company needs me I will still carry on working" said 71-year-old Lee Kwai Fong who helps prepare the food items.
Healthy Enough, Young Enough
According to Darren Lim, the company's Human Resource Director, KFC in Singapore has 94 workers aged 67 to 80.
"If you are healthy enough, you are young enough. We have a cook who is 72 years old and at that age, he may have to carry heavy utensils. He might be fitter than me," said Mr Lim.
He explained that when mature workers are re-employed, they do not face any salary cuts. They also enjoy all increments and promotions like the rest of the staff. Additionally, the workers are also entitled to dental and optical treatment benefits with an annual cap per calendar year. Going a step further, KFC even allows mature workers to claim for routine eye check-ups, corrective eyeglasses or lenses. Their company insurance policies also cover cataract surgery for its mature workers.
While the raising of the re-employment age to 67 will only come into effect in July this year, KFC Singapore made the initiative part of its company practice. In 2015, the company formalised its commitment to re-employ workers up to age 68 in a collective agreement with the Food, Drinks and Allied Workers Union (FDAWU).
Workplace Improvements
But beyond providing these benefits, KFC has also translated their commitment into further action, by improving on work processes to benefit all workers, particularly the older ones.
"Our restaurants are incorporating cashless payment. This helps ease the pressure on the matured workers when handling cash payment," said Mr Lim. The company also targets to provide at least one training programme for every team member every year, with a special focus on SkillsFuture programmes this year – an initiative that will most definitely bring smiles to the faces of mature workers such as Yvonne, Kwai Fong and Chwee Lian.
And that is why we'll be hanging out at KFC more often – to return those smiles and yes, let's not forget the chicken.
Keen to find out more about the changes to the Retirement and Re-employment Act? Watch this video now!