Baking has been 53-year-old Phua Siew Hua's bread and butter for 20 years. She is currently a cake decorator at Montreux Patisserie, a local pastry company, but has worked with other bakeshops before that.
Her job includes slicing cakes and making pastry fillings. It used to be very manual work.
"Previously, we cut the cakes by hand. Because I'm older, I feel that it is tiring and tedious work," said Siew Hua, who spoke in Mandarin.
Thankfully, her company was forward-thinking.
Over the last three years, they invested in equipment to automate their central kitchen. Job processes were redesigned to increase productivity, smooth workflow, and make the overall environment safer for workers.
Siew Hua was one of the 20 older workers, all above the age of 50, who benefitted from this initiative.
The Best Thing Since Sliced Bread
Siew Hua now uses a cake cutting machine to carry out her work. With this, she can now slice 50 trays of cake in the same amount of time it used to take to slice 10 trays by hand.
"The machine makes cake cutting easier. It helps to save time and increase our productivity," she said.
The manufacturer of the machine came to train the pastry team on operating it. Once they got familiar with the settings, it was a piece of cake.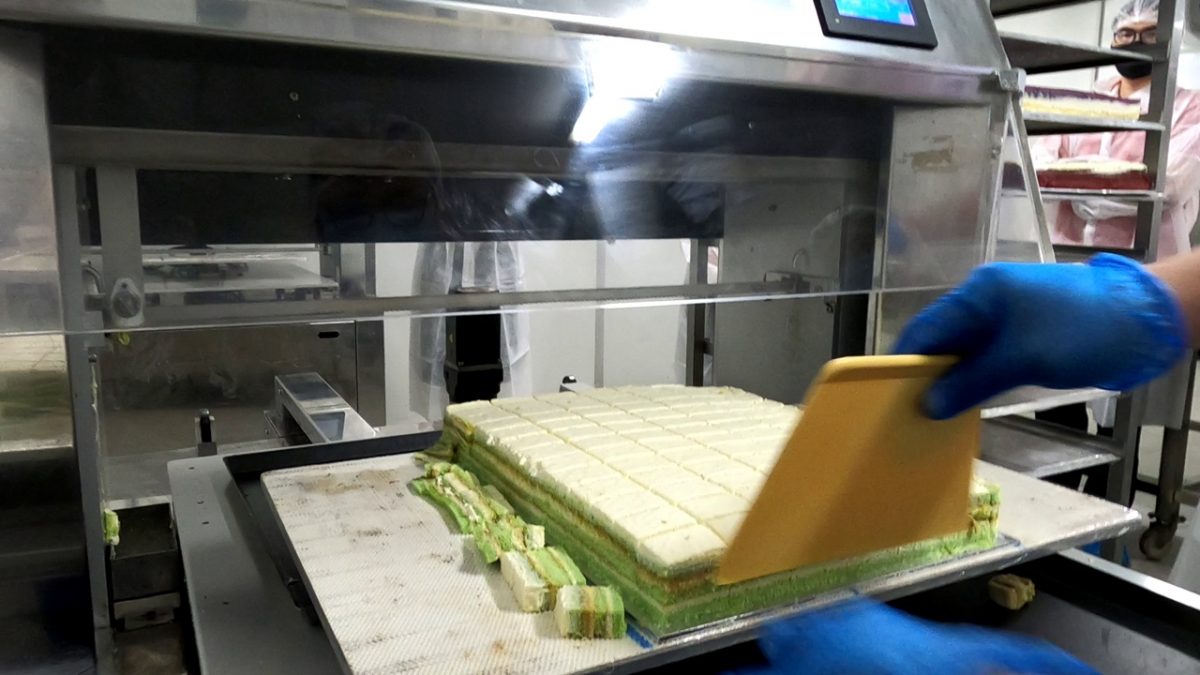 "I've already gotten used to working with this cake cutter. It is important to know how the machine works because every machine is different.
"Now it's very easy. If you want to cut strawberries, you can simply press the button for 'strawberries'. If you want to cut chocolate, you press the button for 'chocolate'. The machine will do it for you," said Siew Hua.
One challenge she faced, however, was learning a new language – most of the machines' buttons are in English.
"I went to NTUC LearningHub to learn English. The settings of the machine are in English so for people like me who are not good in the language, we have to brush up on it. Of course, if you see the English words regularly over a long period, you will also understand what it means. But you must be willing to learn as well as a lot of things are in English nowadays," she said.
The Icing on the Cake
Siew Hua can do her job better because of technology. Not only is she able to cut more cakes with the machine, but she is also now able to focus on higher-value tasks such as cake decorating.
She also received a one-time monetary incentive from the company.
This is all part of Montreux Patisserie's training and productivity initiatives, which they have been working on with NTUC's e2i (Employment and Employability Institute) since 2017.
Their investments in equipment to make the job processes easier, safer and smarter for older workers have helped raise the company's productivity by almost 70 per cent. Moving forward, they intend to keep leveraging technology to transform their business.
Getting workers like Siew Hua to embrace these changes is vital to this transformation.
Siew Hua has benefitted from this mindset. Her advice to other mature workers like herself: "You don't have to be afraid of machines. Once you understand how to work the machine, you will be fine."