Both their family names are Teo. Both speak three languages and two Chinese dialects – English, Malay, Mandarin, Hokkien and Cantonese – which is reminiscent of a past when it was common for people from all walks of life to know more than two languages.
Both love having chats with strangers and meeting new people. And both are two of the oldest workers at NTUC Centre.
One is a general cleaner and the other is a security officer. Despite their age of over 80, their work ethic can put many of us to shame.
We recently got to know the two of them.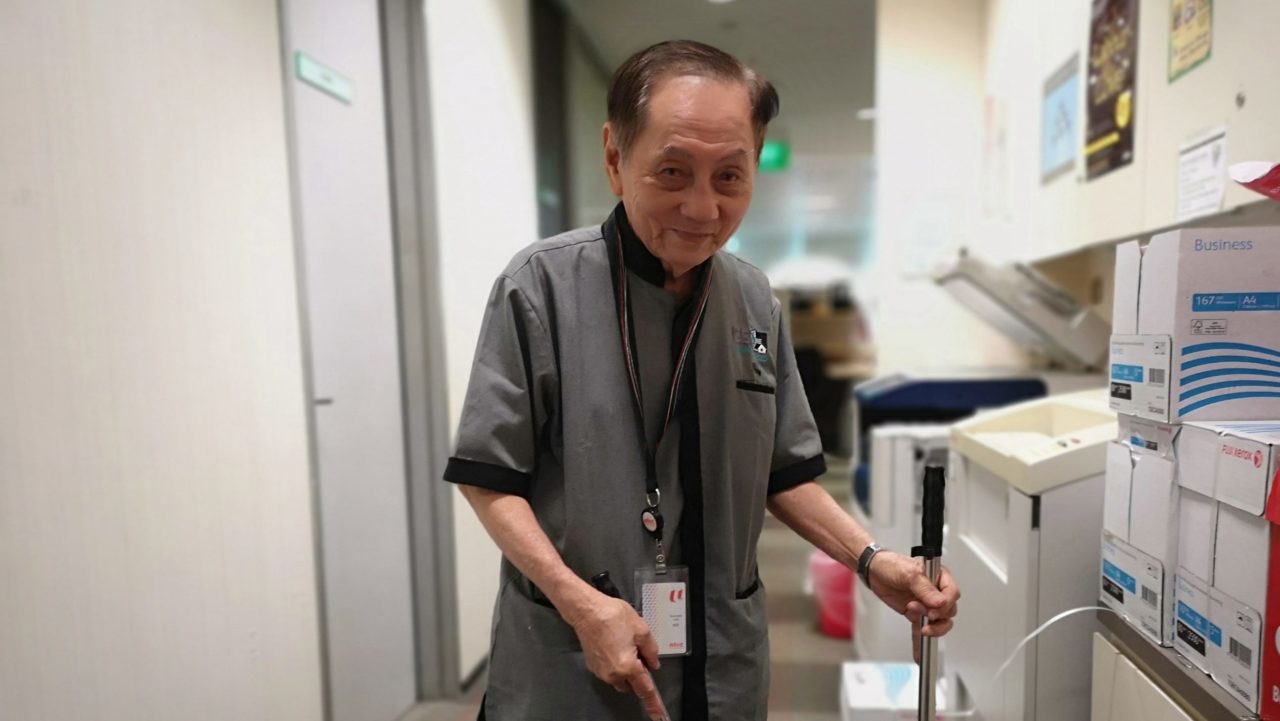 Teo Hang Meng, 82, General Cleaner 
Since starting work in NTUC Centre back in July 2018, he's been going around emptying wastepaper baskets three times a day, always with a smile.
"The people here [NTUC Centre] are very nice to me. There is this one person. I don't know the name, but he calls me 'sir' every time he talks to me. 'Good morning sir', 'Have you eaten sir?', he will say to me every day. Very nice person," said Mr Teo in Malay.
But behind the smile lies a wealth of knowledge and experience. Mr Teo experienced the horrors of World War II as a young boy.
"Even though I was very young, I still remember the sound the bombs from the planes, the sirens, the lights. I remember seeing many dead bodies. My mum protected my siblings and me well during those times. We dug a trench, and we hid in there when the bomb siren went off," he recalled.
When he was younger, Mr Teo used to run a provision shop at a British army barracks in the western part of Singapore. This was his work from the late 50s up until the early 70s when the British withdrew their troops from Singapore.
"When the British left, there was no business. I went to work in the hotel line as a housekeeper after that, and where I worked for more than 20 years," he said.
He's now been an office cleaner for more than 10 years and has no plans on stopping. If you ask him when he will retire, don't be surprised if he simply says to you, "I don't know. I'm still strong."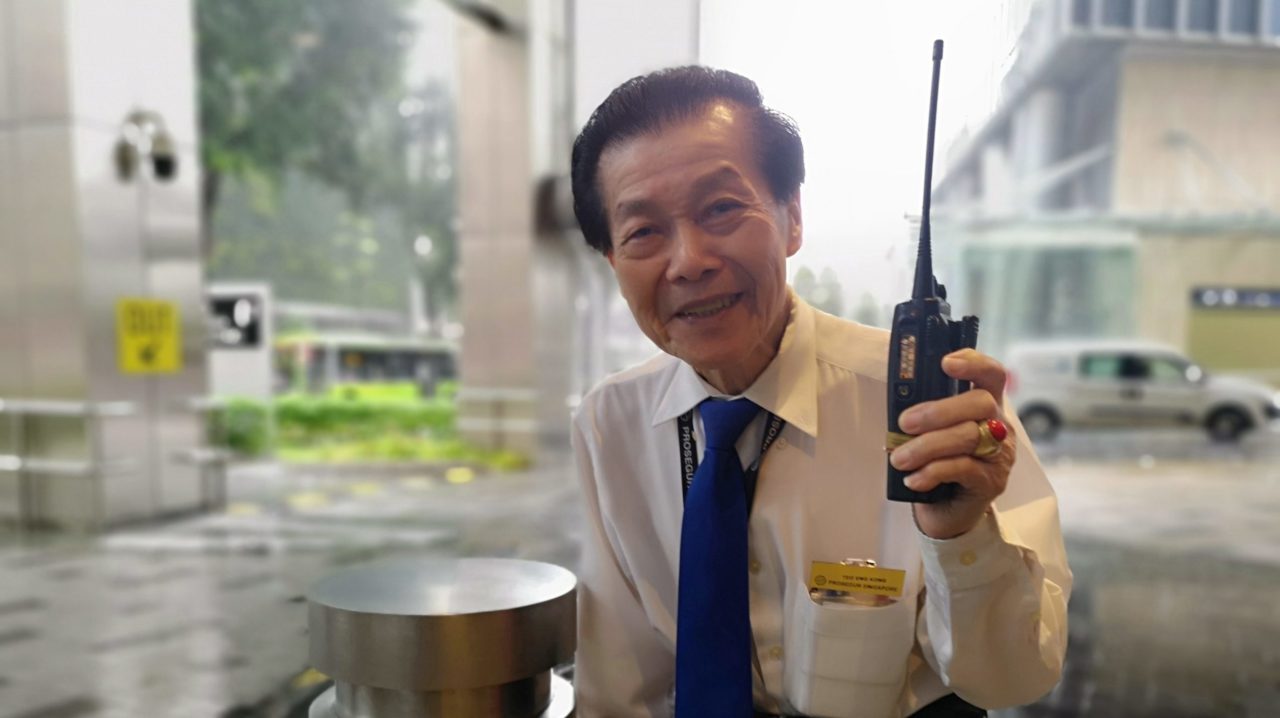 Teo Eng Kok, 83, Security Officer
What can we say about this other Mr Teo? He's professional, polite to everyone who comes to NTUC Centre (I'm serious, he greets every single person going up the escalator at the basement) and he takes his job seriously.
The thing is, he is almost two times older than most of the security officers in the building. But that's not stopping him from working 12 hours a day, six days a week.
"I may be old, but I will do my best at my work. When I'm on duty, I make sure I use every minute to do my tasks properly, even when no one is looking. It is only right," Mr Teo said in Malay.
He has been a security officer for the past six years. Before that, he was a lorry driver who delivered goods around Singapore.
"When I reached my 70s, I stopped being a delivery man. It was very labour intensive. You have to carry all kinds of heavy goods, other than driving around. I like security work better. I meet people, I greet them. If they are happy when I greet them, then I am happy also," he said.
Despite his age, Mr Teo is proud to say that a 12-hour shift is not a big of a challenge for him, despite what others might think.
"People will come to me and ask, 'Wah Teo, you are so old, you can take standing for long hours?' I say that it is not very difficult. If we do our job properly, time tends to fly, and you barely realise that 12 hours have passed," he said.
Not just yet but Mr Teo says he will know when the time is right for him to give up the salaried life.