Sunlight gently flickered through the lush green canopy of the trees that lined my journey as my private hire ride made its way through the road leading to my destination.
Singapore has long been touted as a garden city and to be fair, it shows.
It was a concept first introduced by then-Prime Minister Lee Kuan Yew in 1967. He had the vision to transform Singapore into a clean city with abundant lush greenery.
A city that would make life more pleasant for its people.
Fast forward some 50 odd years – while our little island has become more urbanised, I would say that his vision has, for the most part, flourished.
And it is largely thanks to the men and women who toil in the sun to help maintain our city's floral landscape.
One such person is Chan Tuck Hon.
Finding His Calling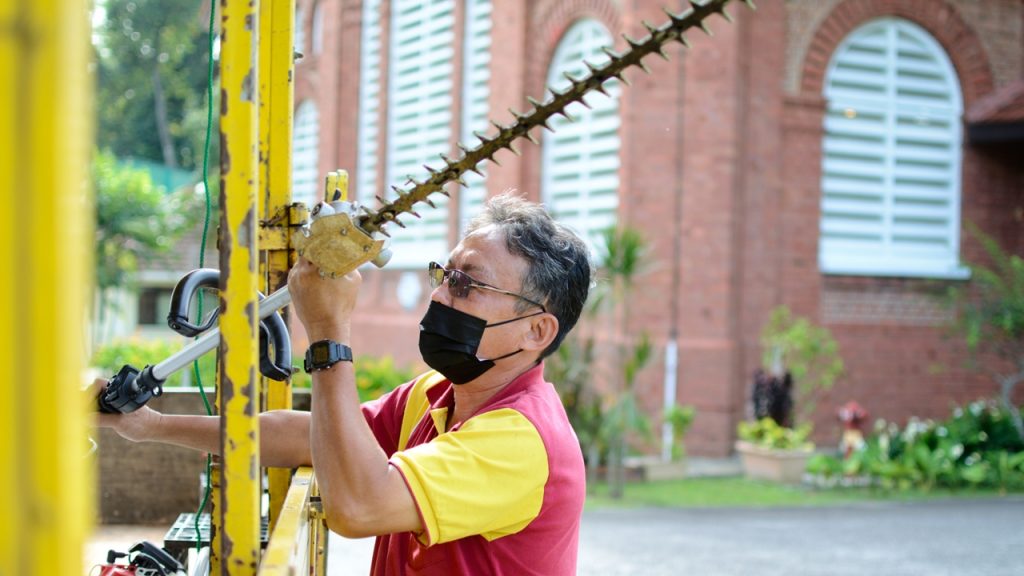 I met Tuck Hon at an old, red-bricked, Victorian church within the Tanglin area.
Well nestled within nature, it seemed like the most idyllic place to meet a landscape maintenance employee.
The 54-year-old was a cab driver for 16 years before deciding to join the landscape maintenance sector three years ago.
When I asked what made him join the sector at such a late stage of his working life, he explained that long hours of sitting being a driver was taking a toll on his body and that seeing the plants he cared for grow was very rewarding for him.
"They are like my babies," he said with a laugh. "This is where I get my happiness, when you see something becoming different from what it was before."
But his foray into landscaping was not an easy one. He said that he had to start right at the bottom, putting himself through courses to pick up the necessary skills required to move up in the sector.
"I paid for [the courses] myself, not even the company pay," he told me proudly.
But he added that it was affordable because the Government subsidised up to 95 per cent of the course fees. Meaning he only had to pay around $70 to $100 for each course he took.
"So lucky lah otherwise can take half a course only. Cannot afford mah!" he broke into another jovial chuckle.
Transferable Skills Not Recognised
Halfway through our conversation, he reached into his jeans pocket, whipped out his mobile phone, and started scrolling through the photo gallery.
He then turned the phone over to show me an image of a floral sculpture.
It was an exhibit that he and a previous employer created for the Singapore Garden Festival in 2018.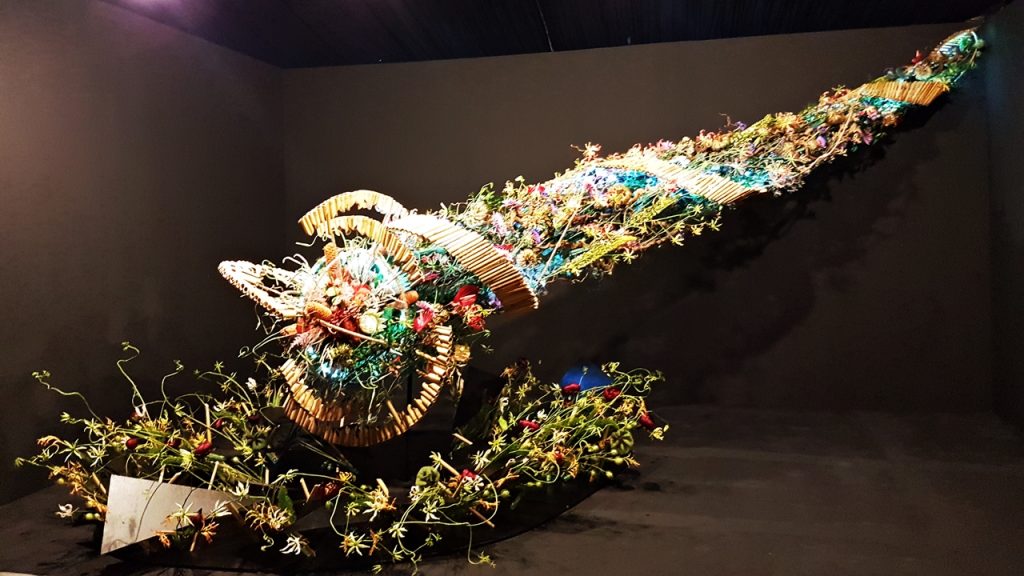 Seeing the puzzled look on my face, he elaborated that the concept of the sculpture was an extra-terrestrial craft crashing onto the Earth.
"These bamboos were all cut by me," he declared. "Because I am a machinist actually."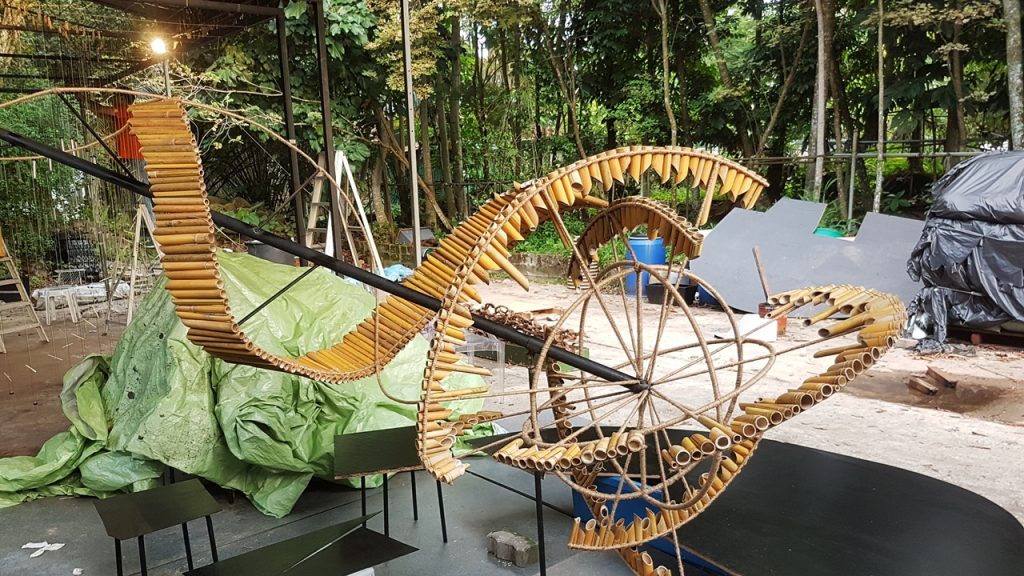 Tuck Hon went on to reveal that he used to work in a factory in his younger days and that he was no stranger to operating cutting machinery. He also had a passion for fine art, which played a crucial role in the fabrication of the sculpture's structure.
But he expressed his dismay that all the skills he had picked up along the way were deemed not relevant when he first joined the landscape industry.
"When a company says that you don't have landscaping [skills], they [will just] minimise your salary. Even when you have other skills, they don't care," he griped, stating landscaping was but a fraction of what he could earn as a driver.
Supports Family and Supported by Family
As such, I asked Tuck Hon if his family supported his move, and if they shared the same passion for horticulture as he did.
He shared that his wife supported his move, divulging how they mutually support each other, with him helping her set up a food stall in a primary school.
"My wife likes children. She has a lot of affection for them. So I set up this stall for her," he said.
His son and daughter who are currently completing their degree and diploma respectively share their mother's sentiment.
"They [Tuck Hon's family] also know I like plants, so they also fully support me. With my starting salary of $1,350, it was hard to survive.
"But my children and my wife, they supported me. So for a while, I didn't bring money back for the family, but I got through that stage. It was tough," he recounted.
At Present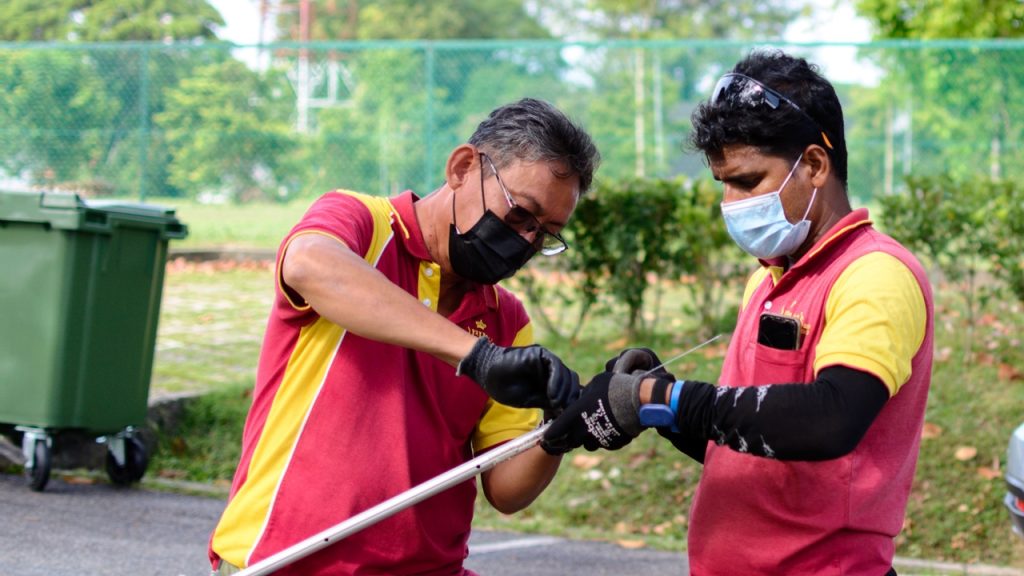 Today, after three years, Tuck Hon is a Team Leader in his company, and he manages 11 other workers daily.
His pay has also increased, to which I believe it is due to a combination of his own hard work as well as the courses he has completed under the landscape maintenance's Progressive Wage Model (PWM) training requirements.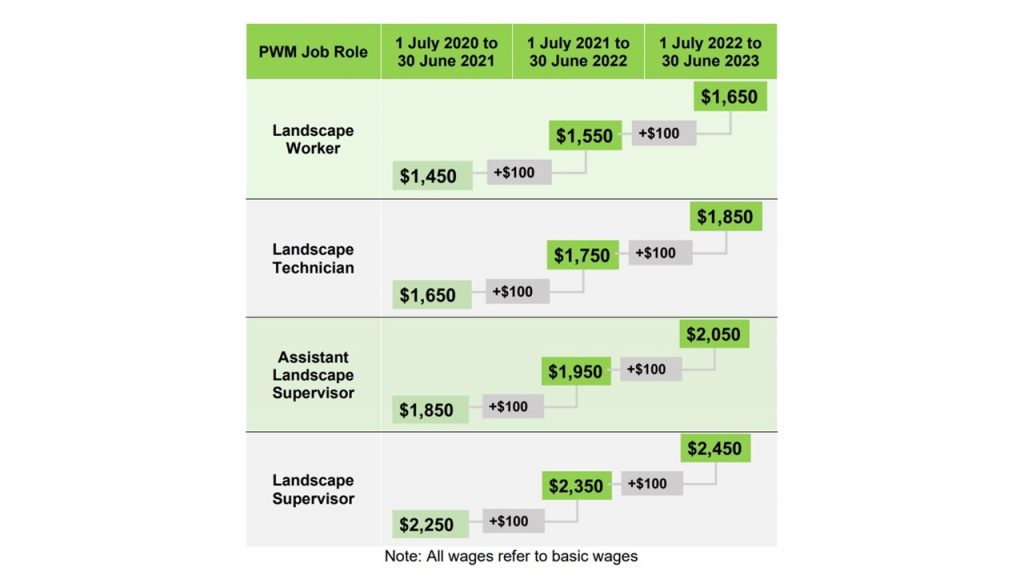 While he was not too certain of the mechanics of the PWM, I asked him if he was hopeful that younger workers would join the sub-sector given the recent enhancements made to the PWM wage ladder.
"I really hope to see, but under the hot sun, you'll change skin colour," he said, pushing up his sleeves to reveal his tanned skin.
"It's not easy to work under the hot sun, because our nowadays babies are all born in aircon room. How can they take it?" he said.
Watching Them Work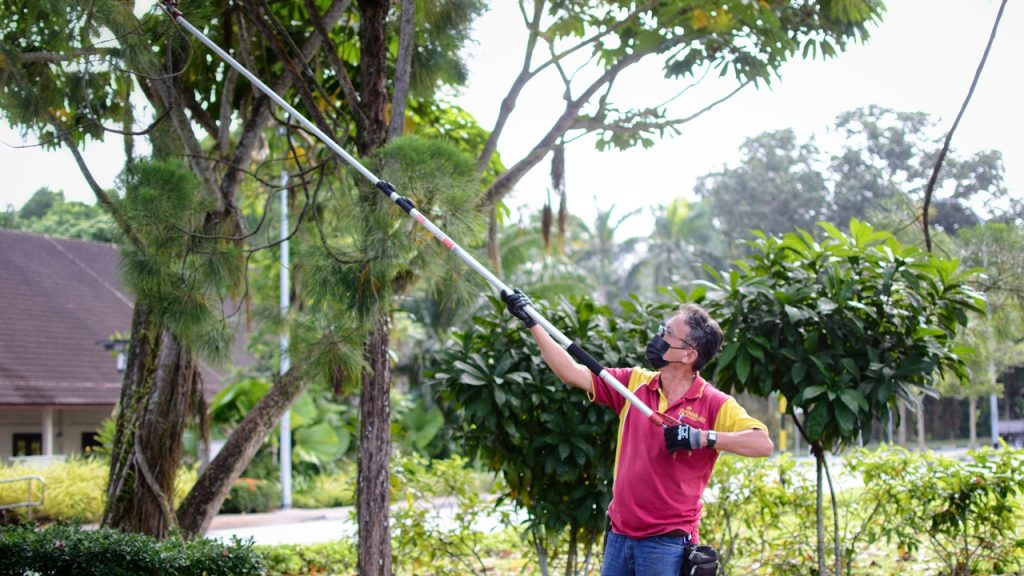 I followed Tuck Hon and his team around for a while, observing how they tidy up the gardens, remove dead, precariously hanging branches from the trees, and shape the hedges around the church.
There was a certain finesse to their procedures. It's not something that I would dare say anyone can just pick up and do.
It is a job that is often thankless – snubbed by many and not an aspiration of most youths today.
But it is thanks to workers like Tuck Hon and his team that our garden city is what it is.
This will be the second year that eligible employees in this sub-sector can look forward to a PWM bonus – a mandatory payout that landscape employers must pay their workers, which has been in effect since January 2020.
I hope that by the time the Tripartite Workgroup on Lower-Wage Workers convenes sometime later this year, there will be more benefits for these lower-wage group of workers who perform the jobs that not many others are willing to do.