"If it isn't broken, don't fix it."
I am sure many are familiar with the quote popularised by American businessman, Bert Lance. I have heard the phrase being used occasionally to belittle new ideas when they were deemed unnecessary or too difficult to implement.
But would have business leaders and entrepreneurs made it to where they are today had they adopted this sort of mindset?
Chang Cheng Group is an example of such a company which didn't wait for something to not work before acting.
From its humble beginnings as an economic mixed rice and vegetable stall in Toa Payoh, the company has now grown over the last 28 years to become one of Singapore's largest F&B groups.
Beyond the hard work and foresight of its founder, Ricky Kok, Chang Cheng's success can also be attributed to Mr Kok's willingness to transform his enterprise to take on more businesses and changing demands.
A Growing Business
Mr Kok started his career as an apprentice chef when he was just 15. He opened his first stall in 1994, making around $270 a day.
Today, he has more than 160 food stalls across Singapore, and he operates out of the company-owned integrated facility in Woodlands, raking in some $300,000 a day.
Although the business currently hires over 1,000 workers across different functions, Chang Cheng's CEO Erik Wang says that getting the right people remains a challenge.
"Manpower is really the most crucial bottleneck for our industry. So with the help of government support, we are trying to address this shortage," he said.
Working with NTUC and Its Affiliates
One of the ways the company has tried to overcome this issue since 2015 is to increase its workforce's productivity. With the help of NTUC's e2i (Employment and Employability Institute), Chang Cheng has been actively redesigning its work processes to make work easier, safer and smarter for its workers.
Through institute's Inclusive Growth Programme and WorkPro Job Redesign Programme, Chang Cheng invested in new equipment such as advanced induction kitchen cookers, walk-in blast chillers and freezers, and sent over 70 employees for training to upgrade their skills and technical knowledge.
Then at the end of July 2020, Chang Cheng signed an agreement with the Food, Drinks and Allied Workers Union (FDAWU) to form a Company Training Committee, to further support its workers' productivity and work prospects through company training,.
Working closely with the NTUC Industry Training and Transformation (IT&T) team and FDAWU to plot an Operation & Technology Roadmap (OTR), the company was able to identify key areas in upskilling, recruitment, and automation to support their business and workforce transformation plans.
One worker who benefited from the programmes was Cheong Chew Mun.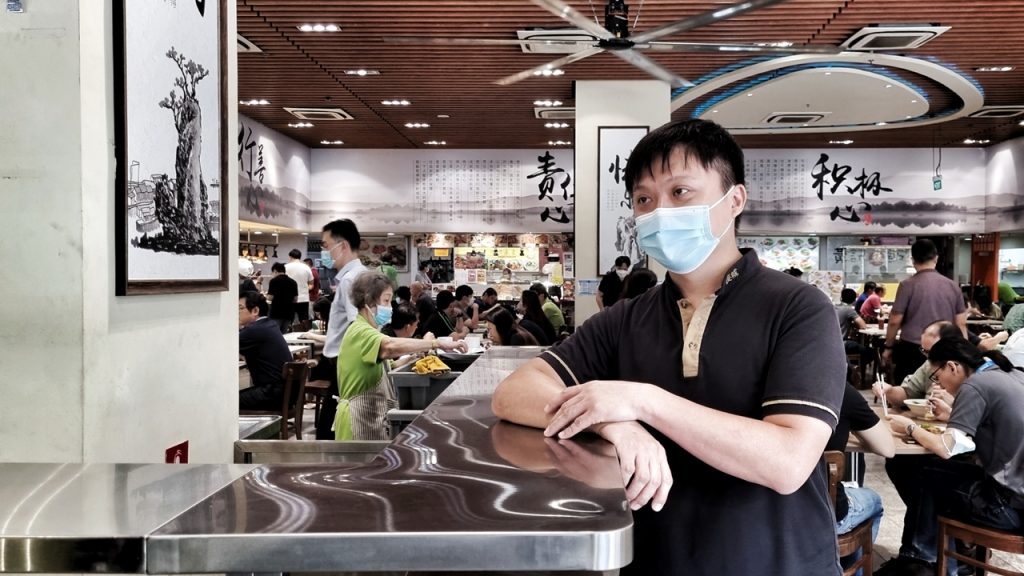 A Worker's Journey
Mr Cheong first came to Singapore to work when he was just 20 years of age, joining Chang Cheng as a kitchen assistant in 2005.
From someone who started with zero F&B experience, the 36-year-old is today a division manager, overseeing some 23 zone managers around Singapore.
He said that he stayed with the Chang Cheng because he saw the rapid growth that the company was undergoing back then, and he felt that he had many opportunities to learn and develop himself within the F&B industry.
However, the journey has not always been smooth for him. Recalling the time when he was first assigned to a stall, he almost wanted to throw in the towel.
"I wanted to quit after two months! It was tough trying to get the entire SOP right and the time required to handle various kinds of meats at the stall," he shared in Mandarin.
But he persevered.
Over the course of his 16 years career, he was promoted four times – from kitchen assistant to supervisor, senior supervisor, zone manager and now the division manager of the Roasted Delights Division under Chang Cheng.
"I appreciate the positive work environment and team support. Even after 16 years, I like what I do here and will continue to contribute to the company," he said.
Adopting New Technology
Another outcome of the OTR was Chang Cheng's adoption of a new, integrated Enterprise Resource Planning (ERP) system.
The ERP allows the company's economic rice stalls to monitor real-time sales of individual dishes. The system helps in kitchen operations by informing workers what dishes are running low, and what dishes have low demand, ensuring that the stalls are always ready to serve what customers want, while simultaneously reducing wastage from the over preparation of low demand dishes.
"The ERP has helped us improve the efficiency of operations. Previously as a traditional business, there tend to be hiccups and pilferage even. With the ERP system in place, not only are we able to minimise those issues, but we have also been able to get timely information and more importantly, keep our guys up to speed with technology," shared Mr Wang.
Moving Forward
Chang Cheng's journey of transformation continues to this day. For staff who join the company at the food service level, Mr Wang said the company is looking at further redefining their job scope.
He said: "In the past, our traditional designations, especially at the store level, are mostly like chefs, assistant chef, kitchen helpers and so on. We will now have to redefine their job scope. We are increasingly turning them into 'food technicians' whereby they will look after the quality of our food, customer service as well as operate the machines that are on-site.
"This is not just a superficial change of designation, but also the environment that they [the workers] are working in and their skillsets. Our workers will no longer limited by just how skillful they are at cooking, but a varied set of skills."