With over 56 years of nursing experience under his belt, Mr Harbhajan Singh has served at the frontlines of some of Singapore's worst medical crises, such as the Tuberculosis outbreak in the 1960s and the Severe Acute Respiratory Syndrome epidemic in 2003.
At 78 now, the senior nurse manager and emeritus fellow at Tan Tock Seng Hospital continues to put in a five-day work week, albeit with more flexible working hours.
"I feel healthy because I am working. I come to work, meet people, socialise with them, I do tasks assigned to me and fulfill my function. This keeps me physically and mentally fit," said the veteran nurse, who retired aged 62 and has been enjoying re-employment well beyond the current re-employment age of 67.
While he no longer works directly with patients, Mr Singh is still very much involved in the nursing practice as a mentor to younger nurses. Another aspect of his role sees him coordinate and plan visits for guests to the hospital.
"This knowledge I have can be used to guide the next generation of nurses and benefit them. At the same time, I also learn from them, such as computers and IT, which I may be a little slower with. But I learn and I keep abreast of the changes that are taking place around us, such as the advances in nursing and around Singapore's healthcare system," he added.
Passionate About New Knowledge
Understanding the demands of the job better than anyone else, Mr Singh reiterates the necessity for nurses to continue learning new things and upgrading their skills.
"We must go on with continuing our education. We cannot just stop at one level if we want to progress. We must learn more because there are new nurses [fresh out of school] who are very knowledgeable, but we must also keep learning to be on par with them and keep up with medical science," said the Healthcare Services Employees' Union (HSEU) member.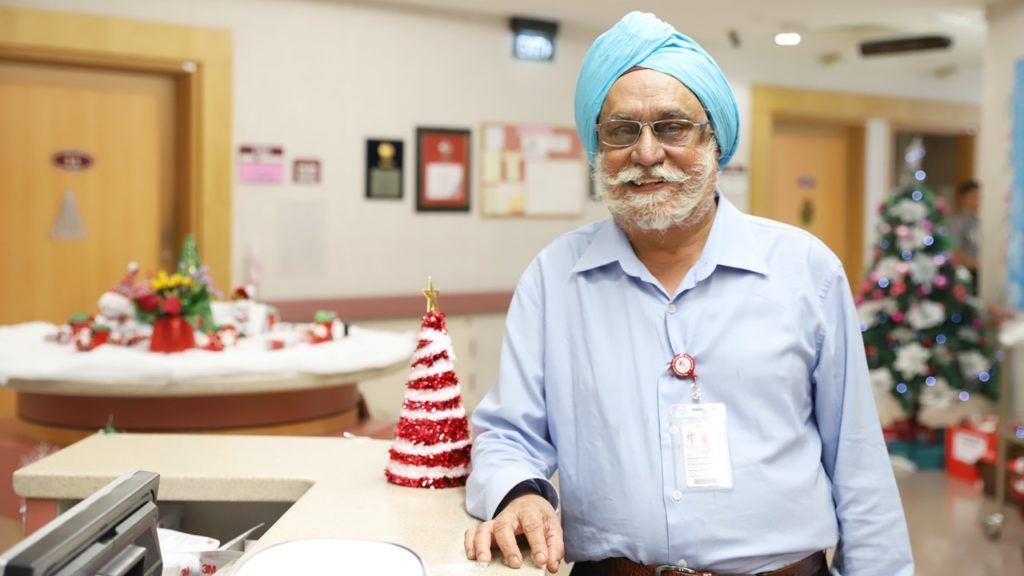 To keep up with technological changes in the workplace, Mr Singh has been zealous is pursuing new knowledge and getting comfortable with technology.
"At the beginning, it was difficult. But as the years went by, I caught up.  Today, I would say I'm quite okay, and dependable while using it. I can use programmes like Microsoft Word, Excel, and send out emails. Sometimes, I do get stuck here and there and this is where the people around me assist me," he said.
He proudly adds that he has also been more adept at using his smartphone, which he uses to read the news and even check in on emails while at home.
For personal enrichment, Mr Singh continues to attend the hospital's continuing education programme where he listens in on lectures delivered by doctors and foreign guests. The programme is part of a nursing requirement that goes towards the renewal of a nurse's license to practice.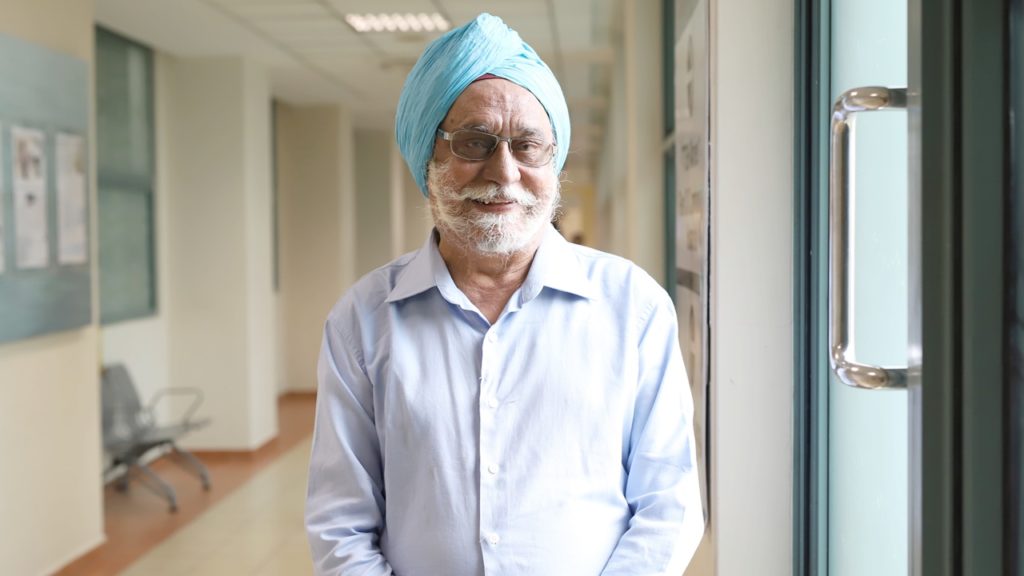 A Role Model to Others
For Mr Singh, being able to continue working counts as his source of energy and sense of purpose. While his workplace has changed with the advent of technology, he has this to say to peers who need a bit of encouragement: "Learning new things can be interesting even though it can be challenging. Computers and technology can all be learnt, it's a matter of how inquisitive and determined you are. There are also younger people out there who are willing to help you cope."
"Mr Singh's diligence, motivation and dedication has always been an inspiration to us, especially during the critical times, such as the SARS outbreak. His courage and persistence to bring his team to a higher level is something we always hope to learn from as well," shared Maheswari Kandasamy, the HSEU branch chairperson for Tan Tock Seng Hospital.
For a lifetime of contributions to the nursing profession in Singapore, Mr Singh was also recently nominated as a finalist for The Straits Times Singaporean of the Year 2018 award.