This is a blog post by NTUC Assistant Secretary-General, Melvin Yong. Any extracts should be attributed back to the author. 21 February 2019.
Workers are our key asset. It is imperative that we invest in workplace safety and health (WSH) to ensure that our workers can return home to their families, safe and healthy. Our closely coordinated tripartite efforts in recent years have borne fruit. Workplace fatalities for 2018 have reached a record low of 41 cases. The number of dangerous occurrences and occupational diseases has also decreased. However, it is not all good news as there were increases in the number of major and minor injuries. There is room to further tighten our WSH practices, not just in construction, but also in the lower risk sectors like wholesale trade, real estate services and marine sectors.
Moving forward, our workforce demographic changes will have a significant impact on our WSH strategy. According to a study by the United Nations, the elderly will make up almost half of Singapore's population by 2050. Coupled with our declining birth rate, the number of working adults will shrink in time to come. Another study also showed that the number of workplace accidents involving workers aged 55 or more has been rising steadily since 2014. With our ageing workplace, we will have to strengthen our WSH practices and take pre-emptive measures to reduce the risk of workplace accidents. Concurrently, we will need to also examine ways to help our workers – those who are able and willing – to work longer while not compromising on their health.
Considering the current WSH landscape and our changing demographics, it is timely that we review our existing WSH practices to identify gaps and formulate targeted initiatives to strengthen WSH. There are four areas that the Labour Movement feels that we can do more to safeguard our workers' safety and health at the workplace.
More Emphasis on Workplace Health
Based on the latest Ministry of Manpower (MOM) report, the average working hours per worker in Singapore is around 9 hours daily for a 5-day work week, without accounting for the overtime that we clock to complete the work. This, taken in consideration with other factors such as work becoming more knowledge-intensive and technologies enabling us to work outside working hours, has made work more stressful. The higher stress levels can lead to poor mental and physical health, as well as increased rates of work-related injuries and accidents.
Speaking to workers on the ground, many shared candidly with me that their work is stressful. Reports have also confirmed that Singapore workers do face average or high levels of stress and this might have contributed to higher instances of stress-related health problems. While Singapore has started addressing these issues through Total WSH, I believe that more can be done.
In addition to MOM's good efforts to prevent such occupational diseases, we need to look at proactive health improvement to minimise occupational health risks. Recent studies have shown a rising incidence of workplace health being a contributory factor to work-related fatalities. This is a worrying trend. Beyond safety, more can be done to also promote a better focus on workers' health at the workplace.
One way to do so is to expand the requirement for medical examinations to all workers so that there can be better detection and prevention of chronic occupational diseases in our workers. For example, some of our workers working in electronics and electrical manufacturing factories are exposed to loud noises daily. To prevent hearing problems in workers, the United Workers of Electronics & Electrical Industries (UWEEI) worked with companies to provide workers with proper sound-cancelling headphones to better protect their ears. Workers are also sent for an annual hearing test.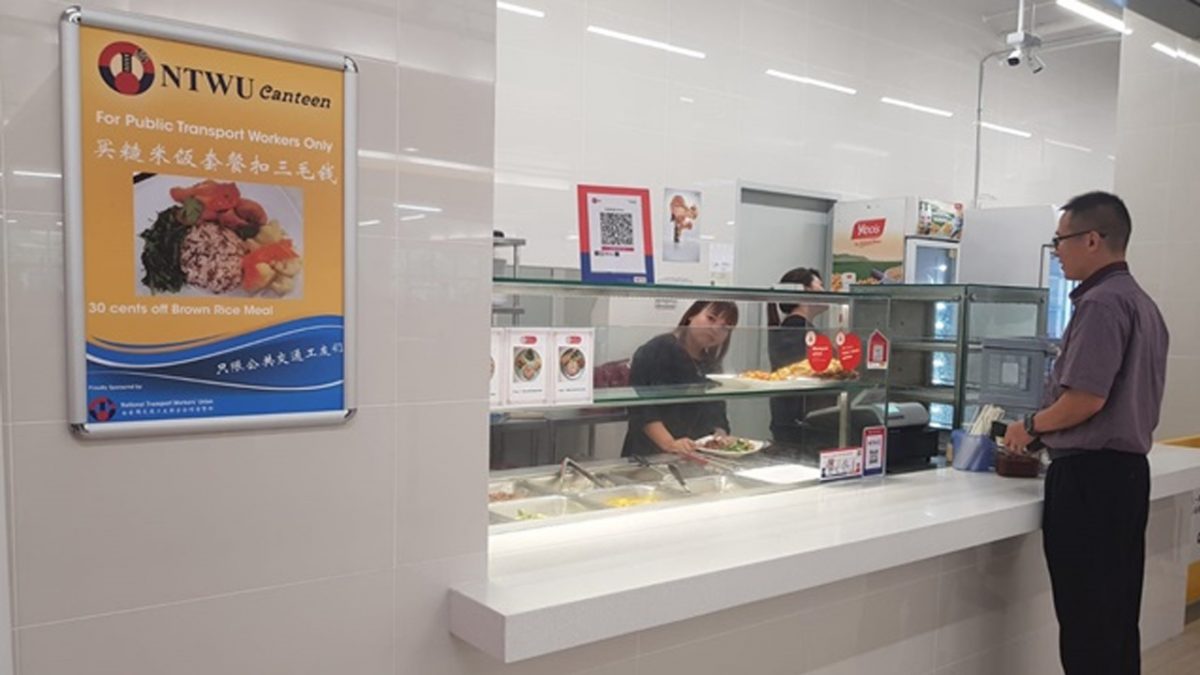 Another area that we should look into is healthy eating at our workplaces as many workers take between one to two meals while at work. Some tell me that healthy eating is expensive, but I believe that it can be made more affordable. In October last year, the National Transport Workers' Union (NTWU) worked with the Health Promotion Board to introduce healthier food options at 46 NTWU canteens islandwide. NTWU also partnered with SBS Transit and SMRT to incentivise workers to opt for healthier brown rice options. A meal of brown rice with two vegetable dishes at our NTWU canteens would cost around $2.30 for NTWU members!
I hope more employers will recognise the value of having healthier workers and partner the Labour Movement to introduce initiatives to prevent occupational diseases and promote healthy eating.
Differentiated Insurance Premiums
To encourage employers to build safer and healthier workplaces, we need to increase the economic cost of companies with poor WSH track record or performance as a deterrence measure. Under the Work Injury Compensation Act (WICA), all employees doing manual work, as well as all employees earning $1,600 or less per month will need to be insured.
Insurance companies should put in place a tiered insurance premium framework under WICA, where beyond a basic insurance premium for WICA claims, companies will have to pay higher insurance premiums if there are many claims of the same incident nature.
Mandatory WSH Representative in Every Company
Today, every employer agrees that WSH is important, but not every company has a trained WSH representative. The current WSH Act in Singapore only mandates that a WSH officer must be appointed in some workplaces, such as shipyards, petroleum processing plants, worksites with a contract sum of $10 million or more, and any other factories in which 100 or more persons are employed.
From MOM National WSH Statistics Report 2018, you can see that even lower risk sectors are not spared from WSH incidents. As such, we should consider expanding the requirement of having a trained WSH representative to even the lower risk industries and to all companies to make WSH even more pervasive at workplaces.
National WSH Training Academy
To have more trained WSH representatives at all companies, we need to ramp up and enhance our training in WSH. Some of the suggestions include consolidating and optimising resources invested in WSH training, leveraging technology to make training more productive and realistic.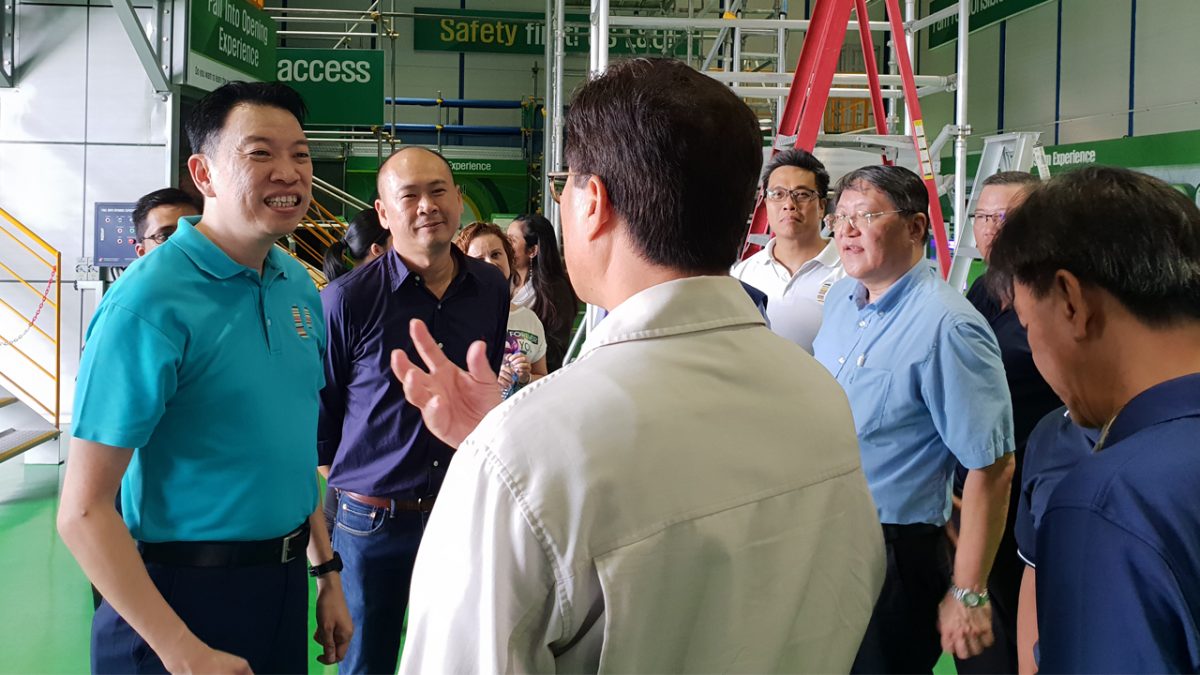 Earlier this month, I visited GS Engineering & Construction's Safety Innovation School Singapore and I was intrigued by the school's training methodology. To address top incidents leading to workplace injuries at construction sites – which include being struck by moving objects and falls from height – the school provides simulated hands-on training on WSH risks in addition to classroom-based training. Some of the simulated training include examining the conditions of safety measures at the worksite and simulating potential workplace accidents such as falls from height. Workers who underwent the training were sharing with me that the simulated training was indeed helpful as they can better recognise common WSH pitfalls at construction sites. One worker quipped, "I am now more careful at the worksite because I do not want to go through a fall (from height) again. Because the next time, it will be for real!"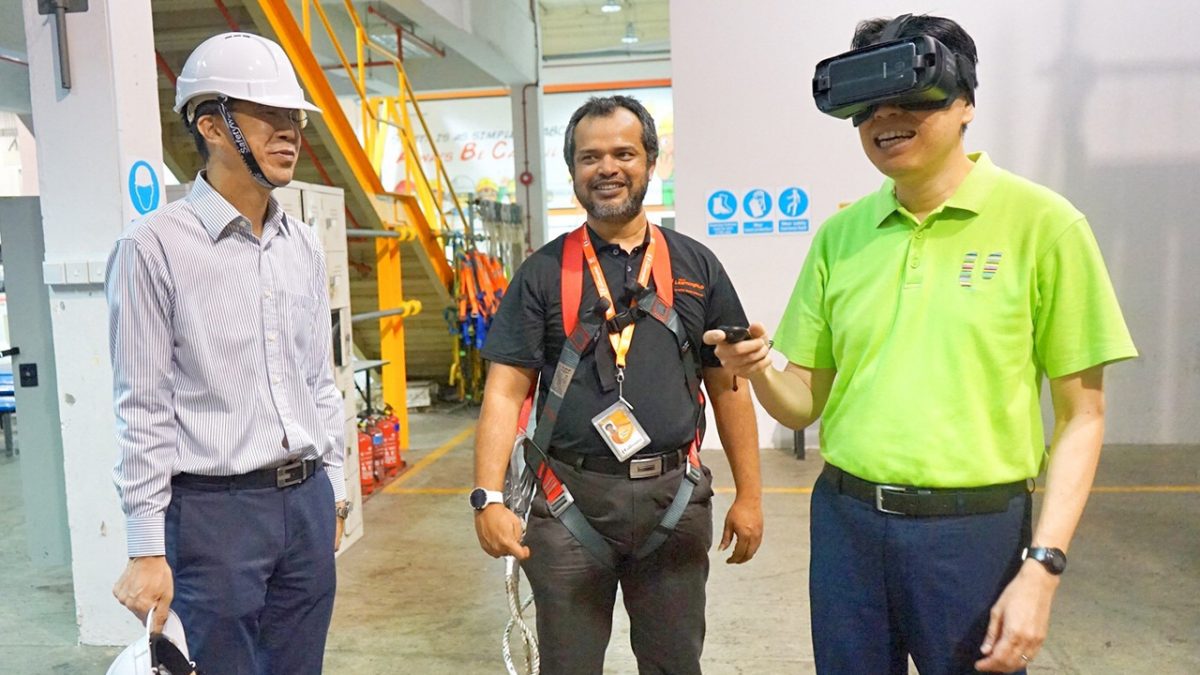 NTUC LearningHub (LHub) is the leading WSH training provider in Singapore. LHub's Industry Skills Centre @ Benoi provides classroom and hands-on training for our workers and is strategically situated in Benoi to reach out to workers working in the heavy industries' factories nearby. In line with embracing industry standards, the Centre uses industry-grade equipment to provide a more realistic experience for workers. In addition, the Centre is constantly exploring new ways to improve training and has piloted the use of virtual reality (VR) technology to incorporate more simulations in their safety courses. Moving forward, in line with Industry 4.0 evolution, LHub is also exploring new programs covering smart sensors for safety and the relevant worker-behavioural assessment as well as training.
Through interactions with different training providers and industry players, I understand that cultural diversity in our workforce makes it challenging to train our local and foreign workers in WSH. There are currently 12 MOM-approved training providers that conduct the WSH Workforce Skills Qualification courses for the construction and metal working industries. But the training resources available at each of these training providers vary significantly. Having a National WSH Training Academy will better ensure high and consistent WSH standards across sectors, especially in high-risk sectors like construction and manufacturing, as well as help facilitate continuous training.
On top of that, the National WSH Training Academy can also double up as a Centre of Excellence in WSH. The Centre can serve as a central registry of WSH practitioners, share industry best practices and showcase new technologies in WSH like that of deploying smart sensors to strengthen safety standards. The large number of small and medium-sized enterprises in Singapore will also potentially reap the most benefits from this setup due to their limited resources to develop their company's and their workers' WSH capabilities.
To deepen WSH knowledge in specific industries, the work done by the National WSH Training Academy can be supplemented by the deep-industry training provided by industry associations like Singapore Contractors Association Limited and trade associations like Association of Process Industry to holistically raise WSH standards across Singapore.
Conclusion
WSH concerns all workers. But often, safety and health are taken for granted, until something unfortunate happens at the workplace.
As seen from the MOM National WSH Statistics Report 2018, we have done good work in lowering workplace fatalities, particularly in the manufacturing and transport and storage sectors as well as bringing down the number of vehicular-related fatal accidents. But one worker injured is still one case too many.
All workers deserve to go home safely and healthily to your families and loved ones. Together, we can build safer and healthier workplaces.