All of us dream of a happy retirement. One where we get to indulge in hobbies we have always loved and spend quality time with loved ones, especially the grandchildren.
Since a friend introduced them to NTUC Health's Active Ageing Hub (AAH) in Kampung Admiralty, retirees Mr Poo Chee Chiang, 73, and his wife, Mdm Hen Yin Cheng, 70, have discovered a new facet to their golden years with like-minded seniors.
WATCH: Seniors are spending their time meaningfully at the Active Ageing Hub
For the unfamiliar, Kampung Admiralty is a model of what integrated retirement communities in Singapore could look like. The development features two residential blocks co-located with amenities such as a supermarket, medical centre, community garden, childcare centre, senior care centre and hawker centre.
For its design and construction, Kampung Admiralty was recently named World Building of the Year for 2018 at the World Architecture Festival in Amsterdam.
Housed within the development, is NTUC Health's Active Ageing Hub, which is designed as a social platform for retirees to come together, engage in activities and find purpose by giving back as volunteers. They can do this either by helping out at the senior care centre for older, more frail seniors, or by organising activities for fellow retirees.
Spending up to five days a week at the AAH, the couple has been able to make new friends and engage in activities such as painting, dancing and even reading with children from the neighbouring childcare centre.
"Being at AAH is better than being at home. We'll get bored and end up watching movies on our handphones. Watching too much is also bad for our eyes," shared Mdm Hen.
"Coming to AAH, there are a lot more people. I saw what they were doing and found it very interesting," shared Mdm Hen, who particularly enjoys the line dancing activities.
"There is a big group of people here, a big group with a lot of energy. If we were to do things on our own, it becomes easy to lose interest," added Mr Poo.
A favourite activity for the couple is the inter-generational programme, where seniors get to interact with children. These engagements range from reading together to making craft and even cooking together.
"Reading with the children feels just like I am spending time with my own grandchildren. It makes me feel good and very happy. It stirs up a lot of warm feelings," said Mr Poo (pictured below).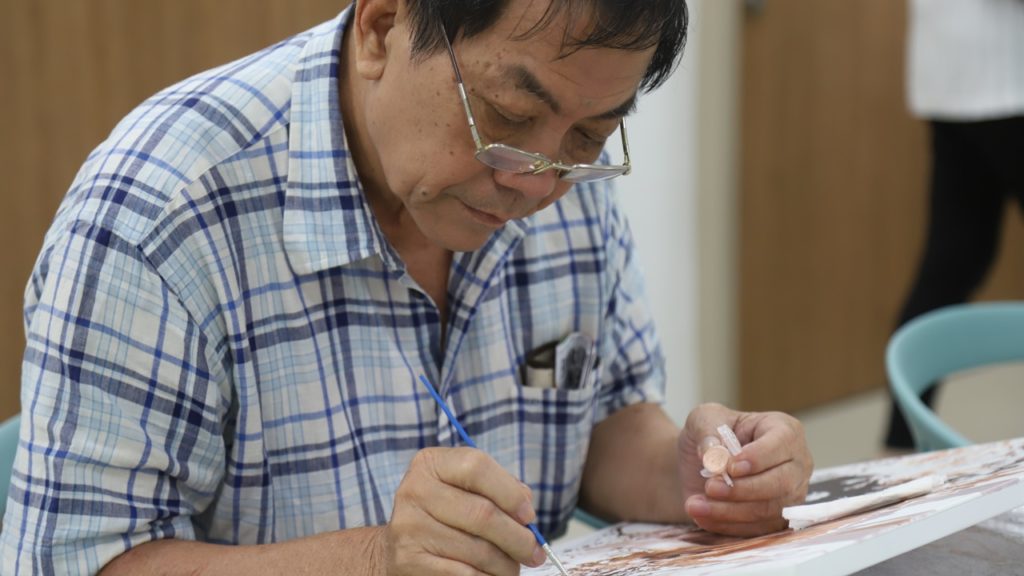 Seniors Give Back
While they get to enjoy facilities and activities at AAH for free, seniors like Mr Poo and Mdm Hen also volunteer their time to help with different activities. This includes the care of frail seniors at NTUC Health's senior care centre.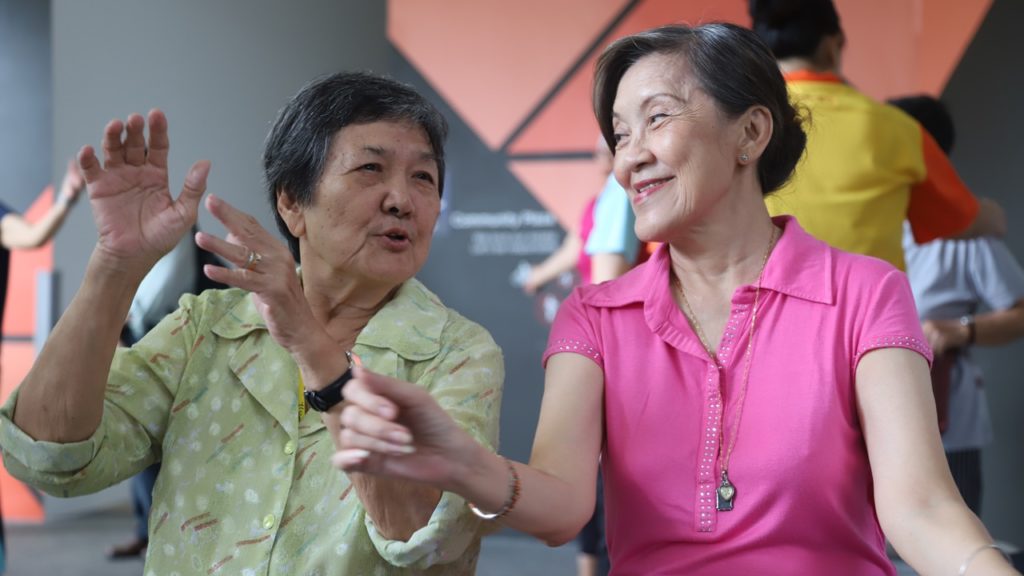 Sharing a similar experience was 62-year-old Mdm Janet Wai. Since finding out about the AAH six months ago, Janet has been spending her weekdays at the AAH to share her knowledge and passion for baking with the retirees there.
"I wanted to do charity work when I retired. I knew that there was a senior care centre on the seventh floor of Kampung Admiralty where I could volunteer. And then when I saw the big kitchen, I really felt in love with the Active Ageing Hub because I enjoy cooking and baking. Coming here, I can share my knowledge and we can bake and make cakes and desserts together," she said.
Joking that the AAH has become her second home, Janet said that the AAH has become a catalyst for people like her and those at the centre to lead more active, engaged lifestyles.
"I'm not sure if it is because of our age, but everyone here can get along, chat, eat and play rummy-o together. There are no squabbles and we get to spend our time happily together with each other every day," added Janet.
A Platform for Seniors
Describing what sets the AAH apart from other senior activity centres, NTUC Health Programme Manager Chai Chee Mei said  it is in the social aspect of the activities, where the senior volunteers get to interact with each other as they engage in activities that allow them to keep active and stay independent.
"A lot of times, the ideas for the activities actually come from the seniors themselves… The ideas come from them, the passion also comes from them, and tap on their life experiences and their own life skills," she said.
That, perhaps, is the x-factor that has made the Active Ageing Hub so popular amongst seniors that the number of volunteers has grown to more than 250 today. With more of such Active Ageing Hubs on the cards, retired seniors in Singapore have much to look forward to!