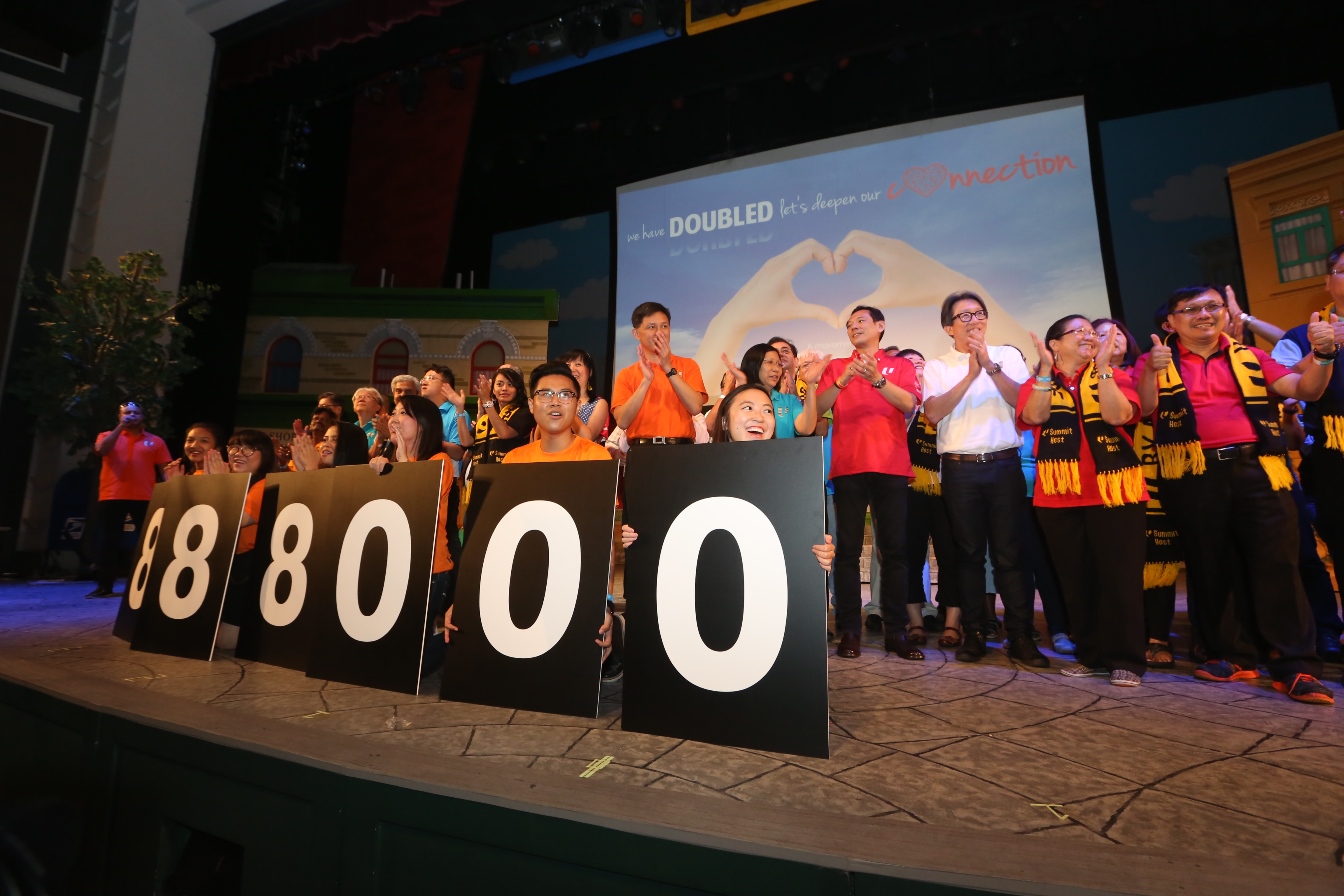 Quick facts – The current strength of the Labour Movement: 470,000 members in 2007; 888,000 members as at August 2015; of this, 40 per cent of union members or some 300,000 are made up of local and foreign Professionals, Managers and Executives (PMEs)
Emphasising that it is not resting on its laurels, NTUC is taking more steps to deepen its connections with PMEs and Small and Medium Enterprises (SMEs).
The aim is to gain stronger traction as a voice for workers across all collars, ages and nationalities.
These details were revealed at the U Summit 2015 by NTUC Secretary-General Chan Chun Sing on 21 August 2015.
The event was attended by some 1,000 people, among them unionists and U Associate leaders and partners.
Rising Unionisation Rate
In its news release, NTUC emphasised that there has been strong support from management for unions.
Last year, 106 companies were unionised – the largest number by far. A total of 100 of these companies awarded NTUC-affiliated unions direct recognition.
"The upward trend of the unionisation rate is a positive indication of a stronger and more representative Labour Movement, where we establish good Labour Movement relations with both unions and employers to ensure that the interests of workers across all levels are met.
"These statistics also reflect heightened support from both companies and workers towards NTUC, and that more members and their families will benefit from the programmes and services offered by the Labour Movement as we expand our reach to recruit more members," said NTUC in a statement.
Outreach To PMEs
NTUC reported that there has been an 8.8 per cent increase in the number of resident PME members – from 238,000 in August 2014 to 259,000 as at August 2015.
The rise in PME membership can be attributed to several programmes. One of them is U Associate Programme, which caters to the specific needs of PMEs.
The number of U Associates partnering the Labour Movement has doubled over the year, from nine in 2014 to 17 today.
In addition, three more U Associate partners are coming on board in September this year.
Another initiative is the Future Leaders Programme, comprising the Future Leaders Summit, Series and Mentorship Sessions. Since their launch, the U Associate and Future Leaders Programmes have reached out to almost 18,000 PMEs through conferences, dialogues and mentorship sessions organised specifically for each sector.
Outreach To SMEs
NTUC is also looking to expand its connections with SMEs. As SMEs collectively employ about 70 per cent of the Singapore workforce, NTUC is working with partners such as the Association of Small and Medium Enterprises (ASME) to find new ways to help SMEs' human resource specialists and management adopt new practices that will enrich the lives of their workers.
The U SME Secretariat was set up in 2014 for this purpose and to date, it has reached out to more than 200 SMEs through a series of events such as seminars and dialogue sessions.
This year at the U Summit 2015, 33 unions and partners are being recognised for their relentless efforts in reaching out to more members within their industry clusters. For more information on the awardees, please see tables below:
U Breakthrough Award

The U Breakthrough award recognises unions who have developed new breakthrough initiatives to organise, engage and retain their members.

1
Building Construction And Timber Industries Employees' Union
2
Food, Drinks and Allied Workers Union
3
Shipbuilding and Marine Engineering Employees' Union
4
United Workers of Electronics and Electrical Industries
U Achiever Award

This is an award that recognises unions' efforts in recruiting and retaining Ordinary Branch members. These winners have achieved more than 5% net increase in their membership will be awarded.

1
Port Officers' Union
2
Singapore Refining Company Employees' Union
3
Scoot Staff Union
4
Healthcare Services Employees' Union
5
NatSteel Employees' Union
6
DBS Staff Union
7
Air Transport Executive Staff Union
8
Attractions, Resorts & Entertainment Union
9
United Workers of Petroleum Industry
U Champion Award

This award recognises unions in their respective categories in attaining highest percentage of increased members (new recruitment and conversion of members).

1
Staff Union of NTUC-ARU
2
Singapore Union of Broadcasting Employees
3
Amalgamated Union of Statutory Board Employees
4
Singapore Industrial & Services Employees' Union
5
Singapore Technologies Electronics Employees' Union
U Champion Award

It recognises unions in their respective categories attaining highest percentage of new increased members.
1
Reuters Local Employees' Union
2
Sembawang Shipyard Employees' Union
3
Singapore Port Workers Union
4
National Taxi Association
5
Union of Security Employees
U Partner Award

The U Partner Award recognises NTUC merchant partners for their continued contributions to the Labour Movement.

1
Délifrance
2
Far East Hospitality
3
Marina Bay Sands
4
NTUC Fairprice Co-operative Limited
5
Orange Clove
6
Resorts World Sentosa
7
The Institution of Engineers Singapore (IES)
8
The Manhattan FISH MARKET
9
Tigerair
10
Wildlife Reserves Singapore

(Source: NTUC This Week)