Have you patronised or worked in one of those traditional small- and medium-sized enterprises (SMEs) that always seem to have a method in their madness? Or so they say.
For newcomers, it is often just madness. Second-generation owner of hardware store Intertech Electronics Jasmine Goh is one such example.
When her father-in-law passed away, she likened that to losing a computer, as all the information was in his head. There was no other record because most of the work was done manually.
Digitalisation Benefits All
With an aim to automate her inventory, accounting and human resources processes, Jasmine eventually found her way to United Overseas Bank's (UOB) BizSmart.
"Now, we don't have to manually check store for goods to know how many pieces we've got left. We make the ordering process a lot easier. We practice just-in-time delivery instead of under or over ordering. We are also able to stock more digitally, but less physically. We have data to help us decide which items are merely taking up physical store space but not yielding us any return-on-investment," she said.
UOB BizSmart is a free cloud-based integrated solution that enables SMEs to automate their finance and payroll-related processes. Under paid packages priced at $12 and $70 per month, subscribers unlock enhancements and functionalities such as customer relationship management and scheduling respectively.
Jasmine, 43, shared: "In terms of processes, it's no longer 'dead' or static. It has become dynamic and real time. The system enables my staff and me to work concurrently, even when I'm not with them at the shop. We also have more time for staff bonding, business initiatives and customer service improvement.
"It's not a magic button to push that will solve all your problems at once. Once you've started on the journey, persevere on. At the beginning, it may cost you more in terms of operating cost, time and resources. Be bold to get help from others, even if it means hiring part timers. Think of them as the catalyst to your next step. When you've pressed on and spent enough time on the implementation and training, you'd know when you've turned a corner."
The age range of her team are wide and varied, with the oldest at 61.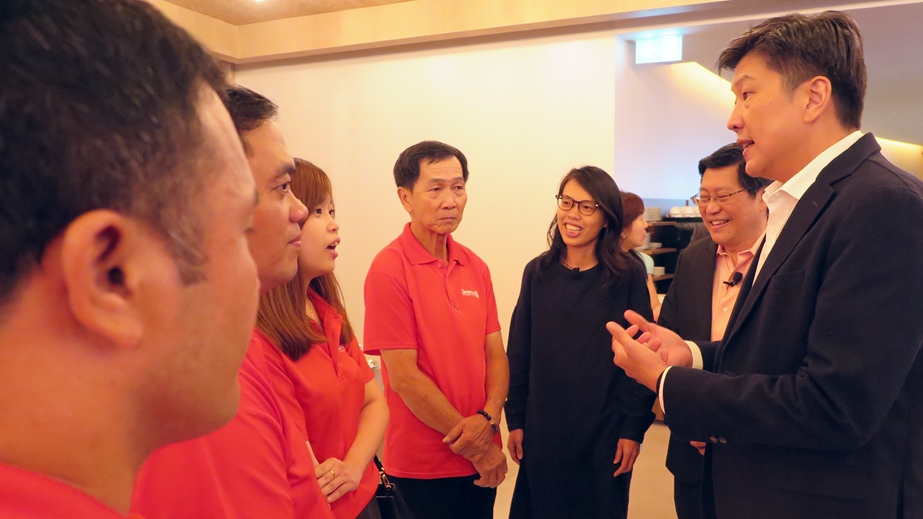 The key to success is to debunk the fear of digitalisation replacing jobs. Workers should also be engaged and trained throughout the process so they can see its benefits at work, said Guest-of-Honour and NTUC Secretary-General Ng Chee Meng at the launch of UOB's latest initiatives to help SMEs transform themselves.
Foot reflexology centre Foot Pavilion for example, has observed less human errors when issuing cheques and calculating salaries after using UOB BizSmart's human resources module. It allows the company to issue itemised payslips and process payroll by uploading files in bulk via interbank GIRO. Employees can now also access their payslips on mobile or desktop at their convenience.
How to BizSmart
Sounds impressive? Here's the good news – UOB has just announced the Tech My Biz competition, where one small SME can win a two-year subscription to UOB BizSmart, on-site implementation support and employee training worth a total of $20,000.To join, SME bosses simply have to complete an online entry form and share the reasons why they need a digital makeover by end-July 2018!
If you are not sure how UOB BizSmart can help your business or are looking for other technological solutions, you can seek one-on-one guidance from experts at UOB's new digital clinics. The advisors are drawn from UOB's ecosystem of partners, including SAP, HReasily and Enterpryze.
After the session, SMEs will also receive a detailed report on the available funding support and recommendations on the next steps they can take.
As part of a collaboration with NTUC's U SME initiative, the two-hour consultation is available to its members free-of-charge. Non-members will have to pay $90, but hey, isn't that cheap for a dose of wisdom?
About U SME
Established in 2014, U SME has inked more than 160 memoranda of understanding with ​29 associations, encompassing 16,263 SME partners across various sectors.
Tapping on a network of human resources practitioners as well as NTUC-affiliated unions and associations, U SME provides its members:
A wide array of leadership and management programmes​ to prepare SME business leaders to be future-ready
Business advisory​ and productivity-related grants to assist SME business leaders to transform their businesses
Events and activities​ such as SME Symposium​ and Learning Journeys to gain new knowledge and contacts