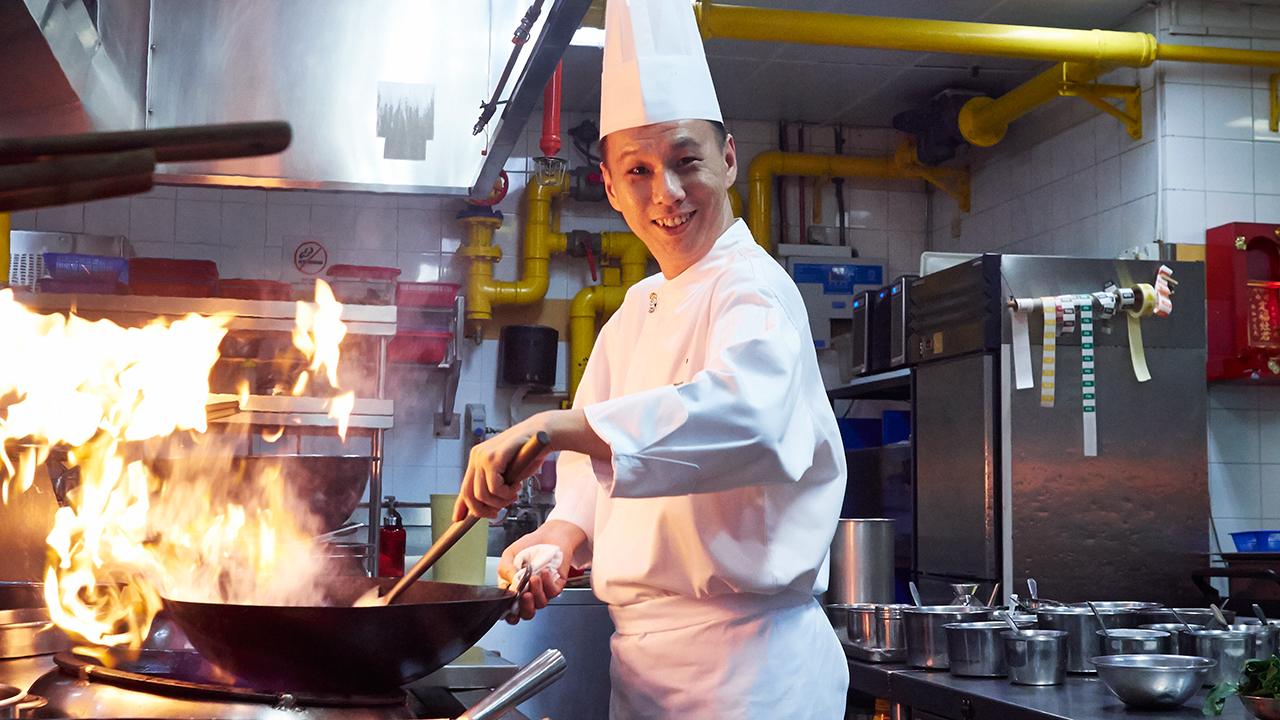 His love affair with cooking began at a young age, just after secondary school, to be exact. Fast forward 20 years, and Nicholas Loo Wee Peng, 44, now not only cooks up a range of cuisines for his customers but regularly upgrades himself with new skills to keep up with the changes in the food services industry.
A Family Tradition
Chef Nicholas comes from a family of chefs and his first teachers were his two uncles who inspired him to keep up the family tradition. And it was very much on-the-job training.
"In the olden days, they didn't really coach us. We had to see how they prepared the items and picked up the skills that way," said Chef Nicholas who followed his uncles to the country club they were working in.
He learnt Szechuan cuisine from them before enlisting for national service.
Thereafter, he worked in two other hotels and has been a chef with Four Seasons Hotel Singapore since 2003. He serves up Chinese dishes at the Jiang-Nan Chun restaurant in the hotel.
Besides cooking, Chef Nicholas has also attended a number of Workforce Skills Qualifications (WSQ) courses in food hygiene and guest relations.
He says the hotel regularly sends its staff for these courses.
The courses have been personally beneficial to him as they are relevant to the work that he does in the kitchen.
SkillsFuture Study Award
His most recent skills acquisition is the Diploma in Culinary Arts, which he is pursuing at the Lifelong Learning Institute at Paya Lebar. The four-month course started in March this year and will complete in June.
He chose the course after he was selected for the SkillsFuture Study Awards. The Food, Drinks and Allied Workers Union (FDAWU) recommended the study award to Chef Nicholas.
"We found Nicholas having the interest to upgrade. But he expressed concern that he may not have the pre-requisite minimum academic qualifications to apply for the courses. We assured him that we will work with the relevant agencies to overcome whatever hurdles he may face," said FDAWU General Secretary Tan Hock Soon.
The SkillsFuture Study Awards are for early to mid-career Singaporeans who are keen to develop and deepen their skills in key sectors.
They must also have the relevant working experience in such sectors.
Workers receive a monetary award of S$5,000, which they can use to defray out-of-pocket expenses associated with the course that they are taking.
Union officials from FDAWU say the Four Seasons Hotel Singapore management has been very supportive of Chef Nicholas' efforts to upskill himself. When he started the Diploma course, the hotel granted him leave to attend the classes, which are held three days a week from 9am to 4pm. He does not have to report back to work after class ends.
Chef Nicholas said he has been learning new skillsets at the course like planning menus and keeping them cost effective for customers. These skillsets will help him cook up more food choices for customers dining at the restaurant.
The Future
Next on the cards, Chef Nicholas intends to pursue courses on food science and nutrition. He remains upbeat about the future for chefs in Singapore.
"To be a chef, firstly you need the passion, if not we would not be able to go far to explore new dishes. Also, the working hours can be very long."
What Else Is Brewing in the Food Services Sector?
Chef Nicholas may be one individual who has successfully embraced change to continue doing well as a chef. With the Ministry of Trade and Industry Singapore's Industry Transformation Map for food services, there are many different opportunities in which businesses and individuals in the sector can innovate, do better and progress. Read more about it here.
One other example of progress is the New Age coffee shop which has leveraged technology for better productivity.
Read also: