From grilled eel to roast meats, dim sum, bubble tea and pastries, technology is stirring up old processes to make them new and better for businesses to become competitive. The delicious side serving? Workers are being rewarded too when there are productivity gains.
We head to where the food aromas linger to find out how several companies are getting cosy with technology. The pairing may not come cheap but there's always some help through NTUC e2i's (Employment and Employability Institute) Inclusive Growth Programme.
A Taste of what Technology can Do
Uya has tapped a slew of support initiatives offered by NTUC's e2i (Employment and Employability Institute) to enable it to delight customers with its mouthwatering, grilled-to-perfection unagi don.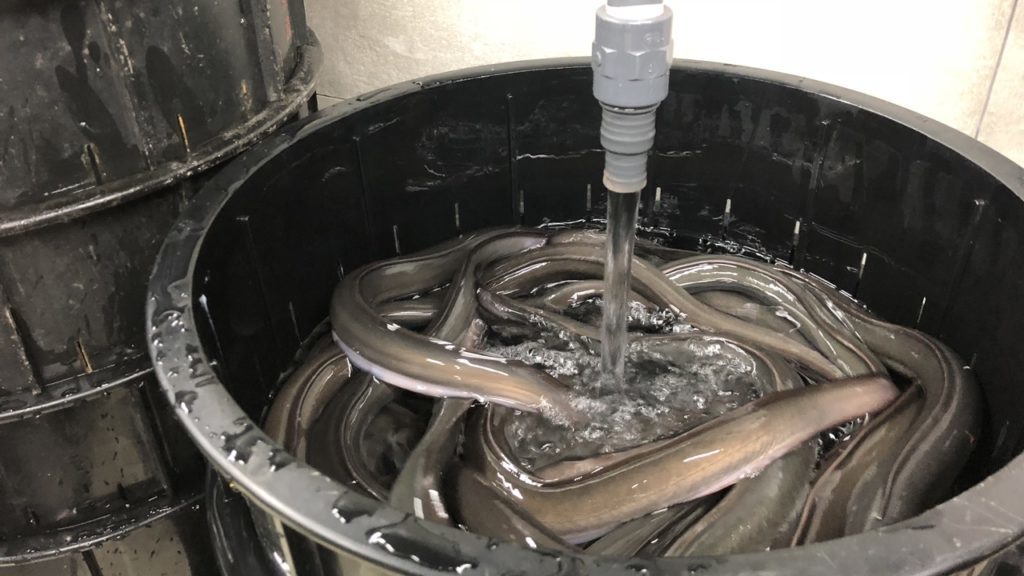 For the storage of live eels, Uya tapped funding from the Inclusive Growth Programme to invest in a Tateba system of storage. Used by eel distribution facilities in Japan, the system consists of black plastic tubs, each capable of holding up to 5kg of eels, stacked in columns.
The company has also tapped on e2i's Place-and-Train and Professional Development programmes to attract talent for the job and equip them with the requisite skills.
As a direct benefit from tapping these initiatives, staff not only got to pick up new skills, be more productive at work, but also enjoyed wage increments of between $100 to $350.
Want to hear the company's complete success story? Click on A Taste of what Technology can Do.
Technology Brewing up the Bubble Tea Business
Since its return to Singapore in December 2017 after a brief hiatus, popular bubble tea chain Gong Cha has been doing things a little differently to give customers a better experience at its five stores.
Gong Cha has leveraged technology to up the quality of its drinks while providing more convenience in the order-taking and payment process.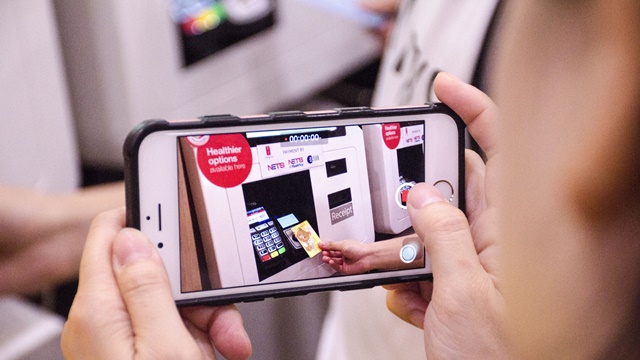 Tapping the Inclusive Growth Programme administered by e2i, the company has put in place self-service kiosks at two of its outlets at National University of Singapore's (NUS) U Town and Westgate. Through a simple-to-use touch-screen interface, customers are able to place their orders and make cashless payment directly via NETS, NETS FlashPay and EZ-Link cards.
Describing the benefits which the new systems has brought to Gong Cha's operations, company CEO Kang Puay Seng said: "With the self-ordering system, it helps us improve our productivity by over 20 per cent. With the sugar dispenser and sealing machines, those give us additional manpower savings of 5 per cent.
There are many ways a company can make its job processes better for workers. Find out how Gong Cha did it: Technology Brewing up the Bubble Tea Business.
Adding the Technology Ingredient
Hong Hua Holdings was established in April 2017 after a business decision to consolidate six business units across food trading, manufacturing and retail under one roof. Along with the restructuring, a five-year plan involving 24 projects was devised to increase productivity and performance.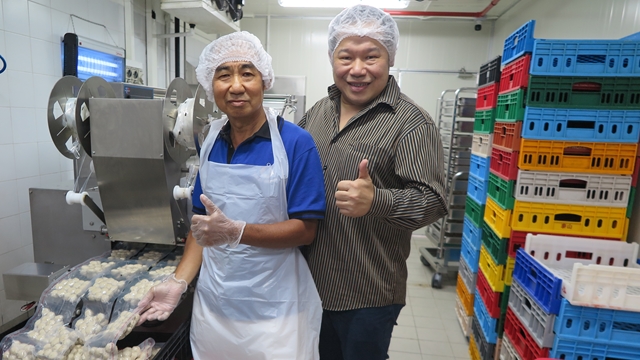 Two-thirds of the projects were in collaboration with e2i, which has been supporting with some $1.25 million worth of technological improvements since 2015 through the Inclusive Growth Programme.
Hong Hua also believes in mature workers and doing social good – over half of their 200-strong team are aged 40 and above. The company taps on e2i's Place-and-Train programme to give them better salaries.
Find out in this article Adding the Technology Ingredient what the company has been doing to stay in and ahead of the food game.
A Winning Recipe with IGP
Mdm Law Siew Leng, 51, has been working for local company Montreux Patisserie Pte Ltd for the past seven years. Her job includes making curry puffs and pies, among other pastries.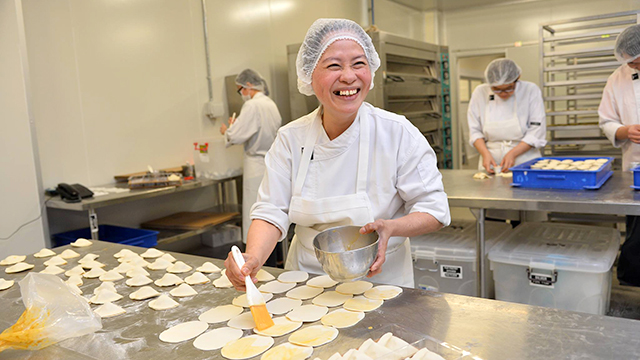 She and her team of seven used to make 1,000 pastries an hour manually, from making the dough to baking. It used to be tiring and stressful trying to meet the daily demands.
The quality was also often inconsistent and there was plenty of wastage.
Things have changed, thanks to the Inclusive Growth Programme (IGP), which helped the company automate for higher productivity.
Find out more about this company, which is always willing to share its practices with the industry: A Winning Recipe with IGP.
When Traditional Techniques Meet Technology
Crystal Jade may be a household name synonymous with delicious dim sum dishes and roast meats, but in the face of a manpower crunch in the food and beverage industry and intense competition from other restaurant brands, it's been doing things a little differently to maintain a competitive advantage.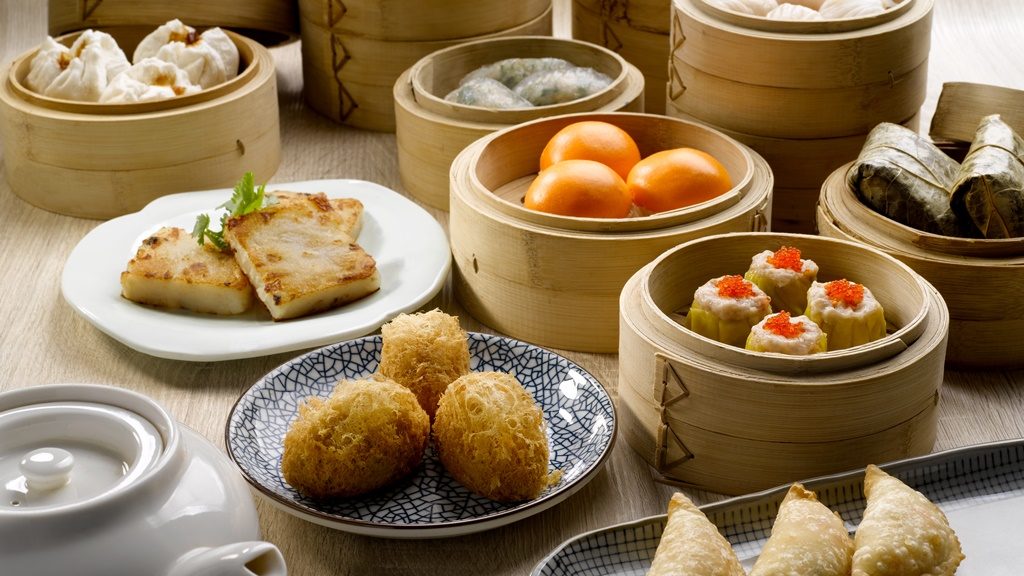 To enhance productivity and make its work environment more conducive for the many mature workers in its central kitchen, Crystal Jade collaborated with e2i to tap funding from the Inclusive Growth Programme and WorkPro. Both programmes are administered by e2i.
With the introduction of new technology such as combination ovens and machines for producing dim sum, Crystal Jade had on-the-job training and sent staff on refresher courses.
Having enjoyed savings in costs and increased productivity, staff have benefitted from an average of three per cent in salary adjustments and a one-off cash incentive.
Things have changed in this central kitchen that produces about 27,900kg of roast items, 33,500kg of dim sum servings and some 9,200kg of noodles. Read about it on When Traditional Techniques meet Technology.