While Mediacorp has been entertaining the outside world with countless stories over many years, it has also been creating a few of its own within through the help of its hybrid work arrangement (HWA) initiative.
Many would also recognise HWA as flexible work arrangements that took on a wider significance following the COVID-19 onset.
On its part, Mediacorp implemented a permanent HWA policy in October 2021, spurred by the COVID-19 situation and the safe management measures that arose, which limited the number of staff in the office.
Mediacorp's HWA is a flexible blend of working that will effectively enable employees to deliver their goals, activities or tasks. Flexibility will be in the form of work location and work hours.
"As the pandemic situation evolved, we continued to hone our processes and hybrid working arrangements. We also ensured that employees were provided with the resources and support they needed for a seamless transition to remote working.
"Mediacorp is nothing without our people, and we are committed to creating a positive employee experience for everyone. In this, we look towards an outcome-driven approach to our work, with flexible arrangements that allow all of us to better balance our work with our personal lives," shared Ms Angeline Poh, Mediacorp's chief customer and corporate development officer.
Flexible Work Options
According to the company, the HWA is currently open to employees whose jobs enable them to fulfill their work deliverables effectively both in and outside the office. At present, about 50 percent of its workforce is on HWA. Mediacorp is also in the process of working out more customised flexibility options for those whose who work on location most of the time.
"Most importantly, our employees' mental wellbeing is paramount for us. With remote working and split-team arrangements, we anticipated additional stress that staff could experience from having to grapple with new ways of working, being unable to meet their colleagues face-to-face for easy communication, and juggling their own priorities in an environment where lines are increasingly blurred between work and personal lives.
"We took extra steps to offer better support for our employees' emotional and mental health, which include offering wellbeing leave and collaborating with partners to offer professional counselling services," added Ms Poh.
The company also enlisted the help of the Singapore Union of Broadcasting Employees (SUBE), which provided a valuable source of feedback when they were designing the HWA policy. The union's inputs helped Mediacorp to accurately gauge ground sentiments, and SUBE's support for the policy also ensured a seamless implementation.
Ensuring a Fair Performance Assessment
To allay employees' fear of how HWA will affect their performance appraisal, Mediacorp has in place a robust system to ensure all is fair.
When it comes to performance assessment, the company focuses on goals and deliverables that are set collectively by employees and their supervisors during the individual's work plans. This is to establish a mutual understanding and agreed expectations of performance outcomes, allowing for an objective assessment of every employee's contribution.
"Ultimately, for HWA to work, trust is most important. As we continue to embrace this new working norm, we are nurturing a stronger Mediacorp work culture that's built on mutual trust and self-leadership," said Ms Poh.
The New Working Norm
One employee who has embraced this "new working norm" is 38-year-old Siti Zalinah Adam, a mother of four, and who would have been with the company for 17 years come October this year.
Her job as branding and marketing manager (Malay audience) requires her to develop brand strategies for Mediacorp's campaigns to showcase local stories and content across various digital and traditional platforms.
She says the HWA has helped her to increase productivity, have more quality time with her loved ones and reduce commute stress.
"Last February, my family and I were down with the COVID-19 virus. It was a trying period as one of my teammates who was assisting me for an event had also contracted the virus. I had to ensure my family and I were able to completely recuperate, and at the same time ensure that the campaign could be executed smoothly.
"Despite the chaos, we managed to pull off the campaign, as I was able to contribute by working from home and with the additional support of my supervisor and another colleague who quickly came onboard to assist," shared Siti.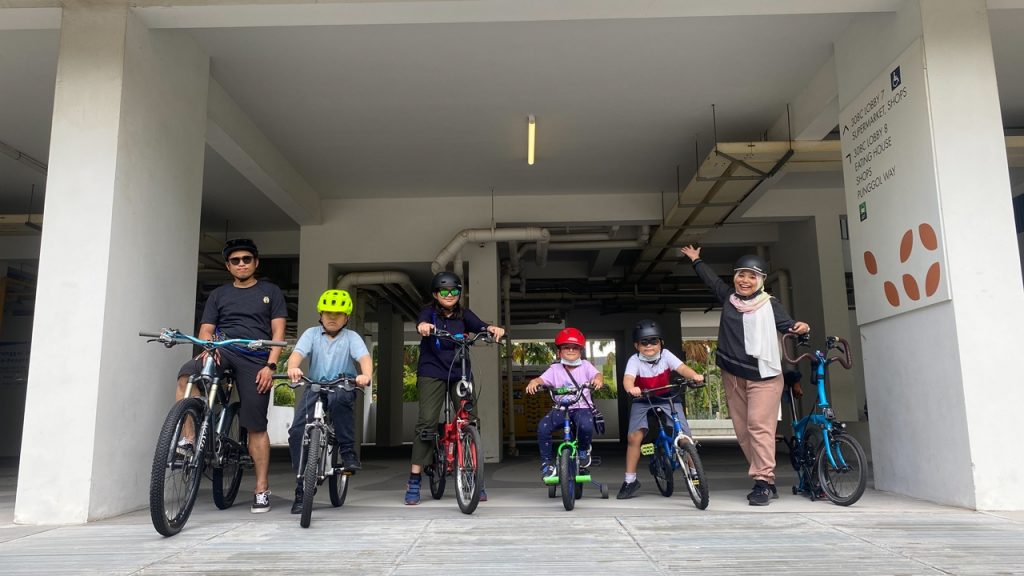 A Better Work Life Balance
Life for her on HWA has taken on a new positive turn. With the HWA, she spends lesser time on commuting to work. She uses this precious time to send her children to school, have meaningful conversations with her family and witness their milestones in life.
The convenience of virtual apps and technological resources has also allowed her to meet her colleagues to have group discussions and exchange ideas. For her, working from home has not been a hindrance to be creative.
"I must admit that I was a workaholic before COVID-19. The pandemic has helped me to put things in perspective and realign my priorities. With this, I began to actively improve myself in every aspect, especially in health matters and being an emotionally available spouse and parent.
"I lead a healthier lifestyle and have added cycling and trekking to my exercise routines. I have also embraced a newfound hobby of gardening – I recently started growing a range of organic edibles like cucumbers, passion fruit, kangkung, ginger, curry plant and others!" she said.
Achieving Balance and Flexibility in Life
According to her, these activities help to declutter her mind and she is able to focus better at work and at home. She is grateful that the HWA has been a fruitful one, in more ways than she could have ever expected. She has developed a positive outlook towards life and is hopeful that things will only get better for her career and family life.
"Often, work takes precedence over everything else in our lives. Creating a harmonious work-life balance is vital for our physical, emotional and mental well-being. I would recommend everyone to create a schedule that works for you and think of the best way to achieve balance and be flexible!
"Most importantly, be kind to yourself. Be kind to your body, gentle with your mind and patient with your heart. Remember to find time for the things that make you happy – it's a simple concept that nourishes the soul," she added.