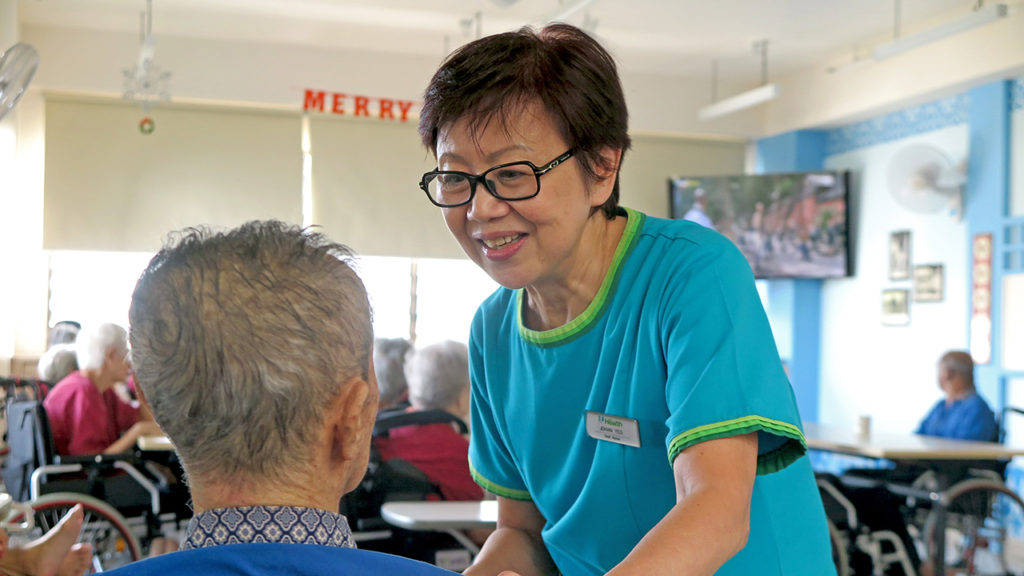 Johan Yeo is no ordinary mature worker. The 68-year-old took a taste of retirement and after a month, found that it was not her cup of tea. She then joined NTUC Health Geylang East Nursing Home as a staff nurse in October this year.
Prior to that, she spent most of her free time in her golden years travelling around the world. She even went trekking in Nepal two years ago – a feat considering her age.
Her trick to staying on her feet is by keeping fit. In her current job, she has to take care of elderly residents, a few even younger than herself.
Being fit has also allowed her to continue working. Embracing technology at work is another trick she does easily, when many her age would shy away from.
After spending 32 years as a surgical assistant, she is no stranger to technological changes at work. She had to learn how to use mechanised staplers and stitching when everything was manual.
Staying Employable with Technology
Keeping up with technological changes is what keeps her employable. At work, she uses the Nursing Home IT Enablement Program (NHELP) computer software which records, monitors and manages the care of residents living at the facility. NHELP enables her and other staff to improve patient care and enhance operational efficiency using IT systems.
Initially, it was hard for Johan as she had to learn the NHELP software from scratch.
"Mature workers like me have to learn how to use technology like this. We have to learn because these are what make our jobs easier. If we don't, we'll be left behind," she shared.
Nancy Chua from the home's human resources department said that with the ageing workforce and some 15 per cent mature workers working in the nursing home, the company always tries to leverage technology to improve productivity and the safety of both staff and residents.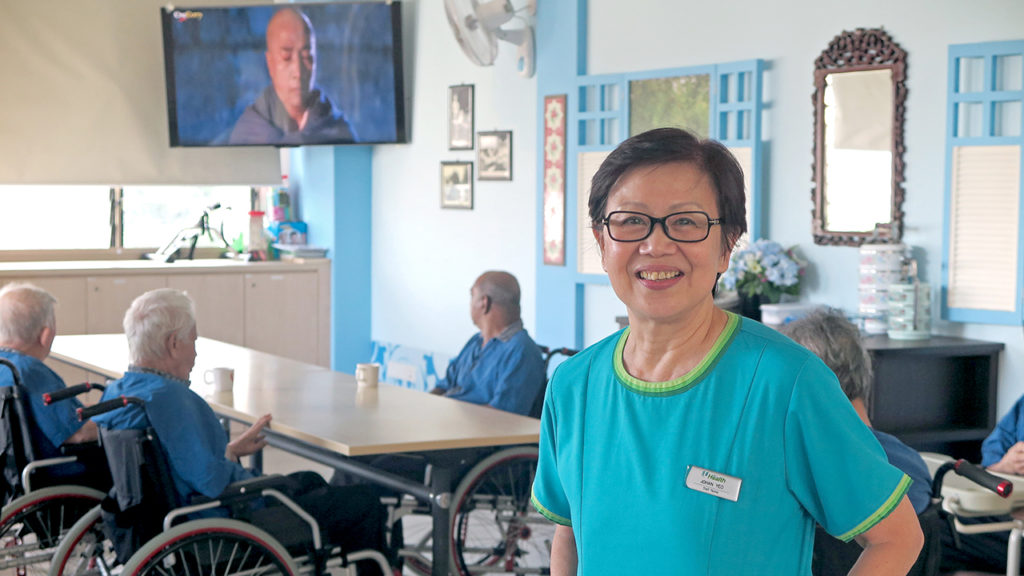 Embracing Technology
Johan is one out of seven mature workers to be recently appreciated by NTUC's U Live @ Work department for embracing technology despite its difficulties with their ages.
Embracing technology was also the theme of the U Live Symposium held on 26 November 2017 at Downtown East. Active agers and mature workers, who traditionally use their phones only for calls, learned how to book a taxi, pay for groceries and even complete a secure fund transfer from their smartphone at the symposium.
Over 600 senior participants learned to use applications such as DBS PayLah and PayNow, and Samsung also taught them how to use basic smartphone functions such as browsing the internet, downloading applications and making online transactions.
For active agers keen on re-entering the workforce, NTUC LearningHub also conducted workshops at the symposium to help in mindset changes to embrace a digital workplace.
Special guest NTUC Deputy Secretary-General Heng Chee How said: "Our active agers have this yearning to want to be part of the digital era, but many of them are apprehensive. That is why we've geared the symposium this year to educate them on the many functional ways that they can use these apps and devices.
"I'm heartened that many of them are also enthusiastic about trying it out themselves. Hopefully, in time, they will also encourage and help their peers to keep up with the Smart Nation progress."
For Johan, her career revolving around technology would not be ending anytime soon. She is looking forward to learning more technology to aid her at work and in life as she plans to work as long as she can.