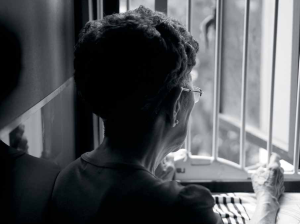 Home for 66-year-old Mdm Patsy Chia (not her real name) is a small rented one-room flat, which she shares with an elderly stranger.
She holds two jobs as a steward at two different hotels. For six days a week, Mdm Chia starts her day job at 8am and ends at about 3.30pm. After resting at home for a few hours, she heads out to work again at midnight until 6am.
"Working one job isn't enough. I need the money to pay for a lot of things," said Mdm Chia in colloquial English.
Following a traffic accident that left her son with severe brain damage in 2008, Mdm Chia found herself becoming the breadwinner of her three grandchildren. As she is unable to care for her son who needs round-the-clock care, he is currently housed in a welfare home. Her daughter-in-law left the family soon after the accident.
Due to other unfortunate events that occurred in the family, Mdm Chia's eldest grandchild who is 16 years old currently stays in Boys' Town and the other two, who are 15-year-old twins, stay at the Children's Society. Over the weekends and school holidays, all three reside with her at the rented flat.
"When they stay here with me, they will often say, 'Ah Ma, I got not enough space to sleep'. I have barely enough space to sleep myself, but I give in and try to make them as comfortable as possible. I am responsible for them," said Mdm Chia.
Much Needed Help
Mdm Chia said that she has received help and assistance as a Food, Drinks and Allied Workers Union (FDAWU) member. She has been an FDAWU member for 30 years.
Currently Mdm Chia and her grandchildren benefit from various schemes and initiatives offered by the Labour Movement annually. These include U Care Back To School Vouchers, FDAWU's Gift from the Heart initiative and the union's Bursary and Scholarship awards.
"The union has really helped me a lot. I know that I don't qualify for a few of these schemes for my grandchildren as I'm not their parent, but I'm thankful that the union has made an exception for us.
"They are all very good to me, and take good care of me when I'm at work. The Branch Secretary always ask if I'm doing alright, and to go to him if I need any help," she said.
The Branch Secretary said that the Branch Committee will often speak to the management on behalf of Mdm Chia.
"The management understands her situation. They treat her very well, and whenever she has problems, they won't hesitate to assist. She's currently re-employed and the management said that they will keep re-employing her for as long as she is still able to work," he added.
Good To Know
NTUC U Care Assistance Programmes
Through the NTUC U Care initiative, the Labour Movement has rolled out several assistance programmes to help low-income union members and their families. Here are a few of the schemes:
• The U Care Back To School (BTS) Vouchers Programme aims to help eligible union members defray the cost of their children's school expenses for the new school year.
• The U Stretch Vouchers Programme provides relief to eligible union members by helping to stretch their dollar on daily necessities.
• Through the U Care Education Co-Funding Scheme, unions can be provided with 50% co-funding for every eligible awardee of scholarship and bursary given to children of union members.
• Under the U Care Caring • Sharing • Reaching Out (CSR) Co-Funding Scheme, unions and Labour Movement communities are given co-funding support for community service projects for the underprivileged in society.
For more information, visit www.ntuc.org.sg/UCare.