Lim Chai Ming became a physiotherapist at 25. Five decades later, she is still on the job.
Since joining the Ministry of Health in 1968, she has witnessed the rise and fall of several hospitals, as well as rounds of restructuring in the healthcare system.
To date, she has been posted to seven different hospitals across the island, including Khoo Teck Puat Hospital, where she now serves as a principal physiotherapist.
Mdm Lim said that she has her parents to thank for where she is today. They wanted her and her siblings to embark on a career that is secure, independent, and helpful to the community.
She shared: "I was very lucky. Back then, not many people can go overseas for education, but my father wanted to give us equal opportunities. He had seven children, and we were living in a small town in Malaysia, but somehow, he managed. Five of us got into medicine, and I got into physio."
Mdm Lim, who is also a Healthcare Services Employees' Union member, has just received the 50 years long service award.
Putting Patients First
According to Mdm Lim, a career as a physiotherapist was tough in the past, with salaries starting as low as $450. Progression was slow, and it took her 10 years to get promoted to a senior physiotherapist.
While it would have been more profitable to set up a clinic, Mdm Lim has never thought of that.
"In private practice, time is money. I can only do limited things with the patient. Whereas if I come here, I don't have to chase a person away because their timeslot is over. I can do the maximum that I can offer.
"Straight after physiotherapy, you see immediate results. You see, the patients get happier as you aid them towards pain relief, mobility, functionality, and recovery. That is my satisfaction and reward," explained Mdm Lim.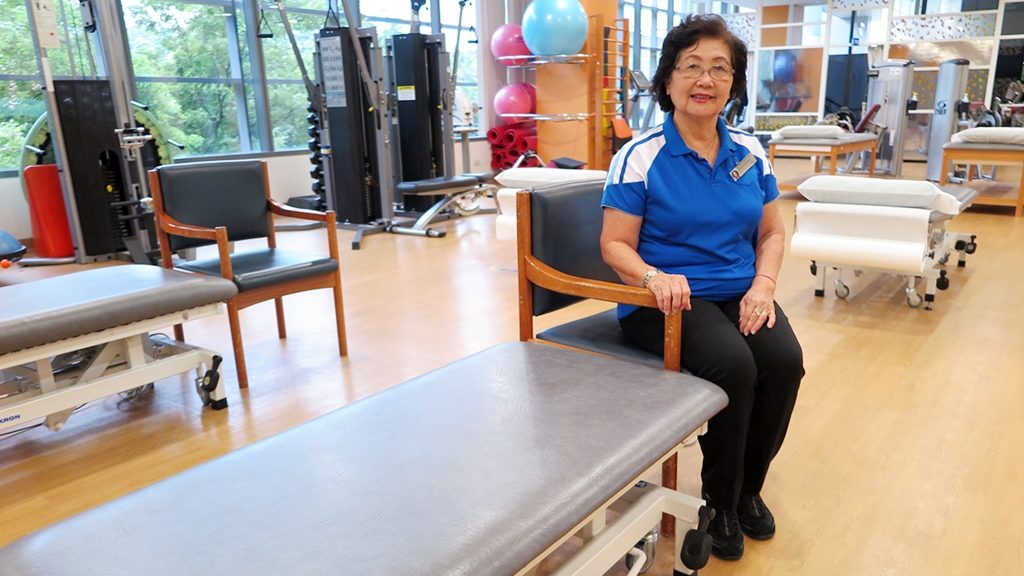 At Khoo Teck Puat Hospital, she sees up to 18 patients a day with the help of assistants.
Patients' welfare always has been Mdm Lim's guiding centre. She embraced her posting at Trafalgar Home (now defunct) for leprosy sufferers back when it was shunned by most for fear of getting infected.
She said: "It is the humane thing to do. Without help, their contractions will get worse."
Inspiring Generations
Mdm Lim is a lifelong learner and a fighter.
To keep up with new treatment techniques and specialisations, Mdm Lim has signed up for several upgrading courses over the years including a World Health Organization fellowship programme in neurodevelopmental and paediatric physiotherapy, and a geriatric rehabilitation course in London.
Even at 75 years old, she hopes to keep her mind alert and put her skills to good use at work for as long as she can.
"I always tell my older patients that whatever [mobility conditions) they have, I had them too and got better. You cannot prevent ageing, but you can manage your expectations and modify your activities. I always give them hope and confidence that they can still lead an active lifestyle," said Mdm Lim.
With the positive influence of Mdm Lim and her husband, who is a general practitioner, their three children have all chosen to join the medical field.
She emphasised: "I am blessed with a supportive husband and sensible children. They play a big part in helping me continue doing what I love."