We have all heard the saying that a mother's love knows no bounds.
For 66-year-old Jessie Tan – a soft-spoken, pint-sized individual – the reverse was also true.
Her love for her mother was limitless.
For the past few years, Jessie was the main provider for her 89-year-old mother.
She has two other younger siblings, a husband, and two grown-up children. However, Jessie took it upon herself to financially support her ageing mother, who needed constant personal care.
"My younger brother emigrated a long time ago. After my mother had her fall, my younger sister also hardly visited. So, I had to take up the responsibility," she revealed in Mandarin.
Every day after work, Jessie would take the time to visit her mother, despite her occasionally long working hours.
She voluntarily took on the night shift, so that she could visit her mother in the morning.
She would then spend a couple of hours there with her, before heading home to rest.
"My mum was living in a separate studio apartment with a helper, and I had to help pay for her utility bills, telephone bills and the helper's salary," said Jessie.
"I was already anxious [about my mother's health]. When the retrenchment came along, I became even more worried."
Three Times Unlucky
Like many workers from her generation, Jessie did not move around from job to job unless she did not have a choice.
She first started in an electronics factory and was there for 28 years before being retrenched.
She then joined another company in a similar capacity for another 11 years before once again meeting the same fate.
In 2010, Jessie decided to give the tourism industry a shot and joined Resorts World Sentosa (RWS) as a guest experience specialist.
Curious, I quizzed her a little further about her role.
She described it primarily as a role of a cashier at one of the F&B outlets at the tourist hotspot.
"I was doing a bit of everything. I tended the cash register, made coffee, prepared sandwiches and cleared the used dishes. Basically, I helped wherever I was needed," Jessie explained.
Her worries became a reality on 15 July 2020. RWS announced its decision to restructure after COVID-19 battered the economy.
After more than 10 years of service, Jessie was once again made redundant.
While the retrenchment was difficult for her, Jessie expected it after having seen how COVID-19 impacted the industry.
The Search for Employment
Concerned about being able to support her mother financially, Jessie was desperate to find another role.
Besides looking for jobs on her own, Jessie approached NTUC's e2i (Employment and Employability Institute) to find a suitable role she could fulfil.
Through e2i, she got an interview with Seoul Garden Group, the Korean restaurant chain currently with 13 outlets islandwide, for the role of a service assistant.
"I went for two rounds of interview, one at e2i and another with Seoul Garden Group," she recalled.
"After a week, when I did not hear back from either of them, I thought that was it."
Jessie started to be filled with self-doubt, thinking it was due to her age which was why she was not getting any offers.
"There was one particular interview I went for where the hiring manager asked me for my age," she recollected.
"When I told him I was 66, he paused for a while before replying, 'Sorry, the position has already been taken.'"
To her relief, Seoul Garden Group eventually got back to her and some of her colleagues in just under two weeks from when she first went for the interview.
However, her relief was then marred by another setback.
"Maybe mum could see how worried I was. So that could be the reason why she decided to leave," said Jessie.
Two days before she was due to start work, Jessie's mother passed away.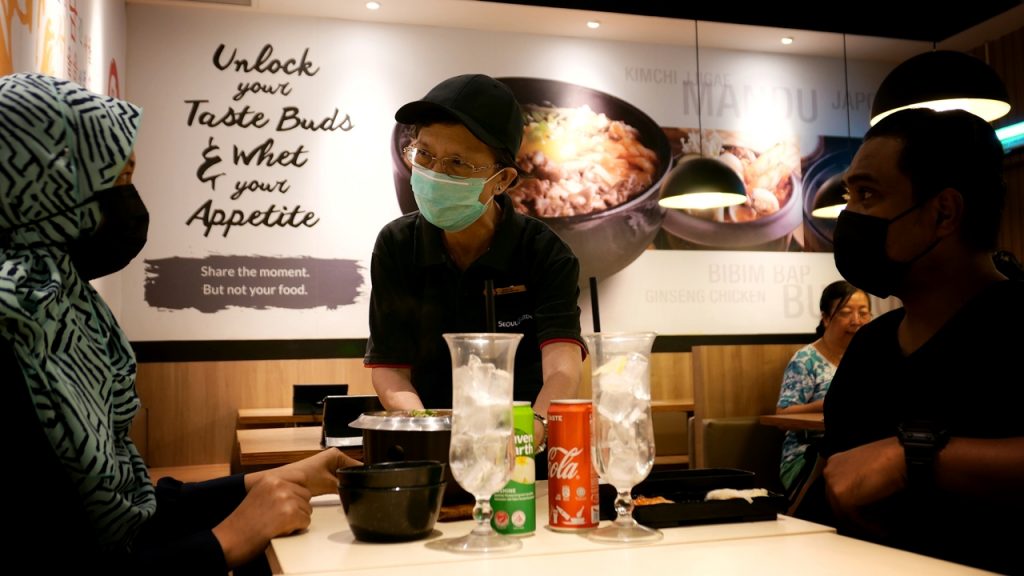 Still Soldiering On
A spokesperson from the Seoul Garden Group described Jessie as a responsible worker, stubbornly coming down to the outlet on her first day to personally inform the outlet manager that her mother had just passed on and that she needed to push back her start date.
While she no longer has to worry about providing for her mother, Jessie is still soldiering on and doing her best at work.
With no intention of retiring just yet, Jessie continues to bring to the role the same tenacity and helpfulness she brought to her previous role at RWS – helping however she can.
"She is always keeping herself busy. One moment she can be serving customers in the storefront, the next she can be packing drinks cans at the back," her colleague said.
Jessie is now learning to use the restaurant's order-taking technology, as well as memorising the items on the menu.
Throughout the interview, she repeatedly voiced her appreciation for her new employer for giving opportunities to mature workers such as herself.
"I am just really thankful to e2i and Seoul Garden Group for this opportunity," she said.