Today, the Ministry of Manpower released the annual Workplace Safety and Health Report. It is heartening to note that the number of workplace fatalities in 2017 had dropped to 42, the lowest in more than a decade since 2004. This brings our workplace fatality rate from 1.9 in 2014 to 1.2 in 2017. It is certainly encouraging that the sustained collective efforts by our tripartite partners to tackle workplace fatalities have borne some fruit.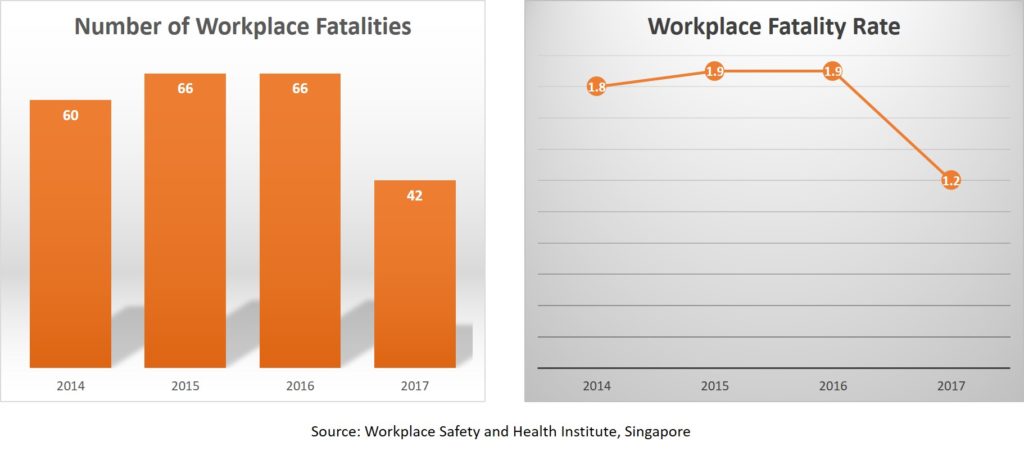 But while workplace fatalities have decreased, major workplace accidents have not.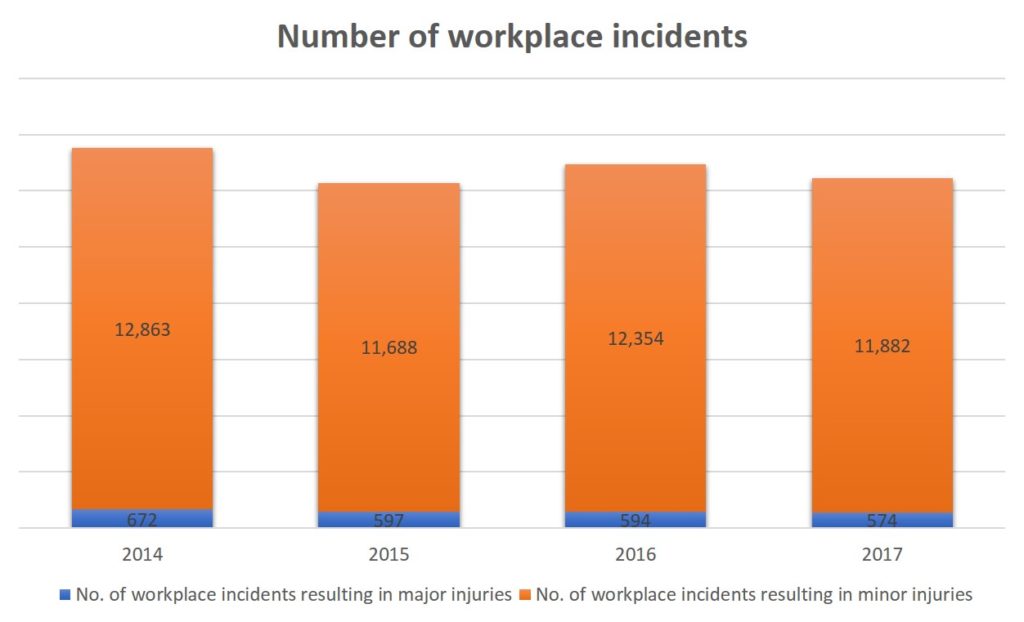 In September 2017 at the World Congress on Safety and Health at Work, Prime Minister Lee Hsien Loong set the target for Singapore to reduce our workplace fatality rate to below 1.0 per 100,000 workers by 2028. We have made good progress but we will need new strategies and action plans to make the next quantum leap.
What more can we do?
In our national quest for industry transformation, many sectors are focused on technology adoption, productivity improvement and workforce development. These are important, but it is critical that we do not take workplace safety and health for granted. On the contrary, we must constantly ask ourselves – how can we make WSH more pervasive in every workplace?
The current WSH Act in Singapore is prescriptive in mandating that a WSH officer must be appointed in some workplaces, such as shipyards, petroleum processing plants, worksites with contract sum of $10 million or more, and any other factories in which 100 or more persons are employed. Thus today, it is not compulsory to have a WSH representative in every company.
During a recent tripartite study visit to Finland, we learnt that it is mandated there that there must be one elected Occupational Safety and Health representative in workplaces where there are at least 10 employees working regularly. Should Singapore have a mandatory WSH officer in every company?
While we ponder over this, perhaps a more practical approach would be to make it compulsory for companies to appoint a WSH representative as part of the certification for BizSAFE Level 3. There is currently no such provision for those who apply for BizSAFE Level 3. For now, companies must appoint a Risk Management Champion (RMC) for BizSAFE Level 2. With structured training, the role of these RMCs can be expanded to "upgrade" them to serve as WSH representatives.
Today, we rely on many training providers to deliver WSH courses. To ensure training quality and up-to-date content, we should establish a Centre of Excellence (COE) for WSH to train new WSH representatives. The COE can also maintain a central database of WSH-trained individuals and serve as a centre for continuous learning and sharing of the latest industry best practices.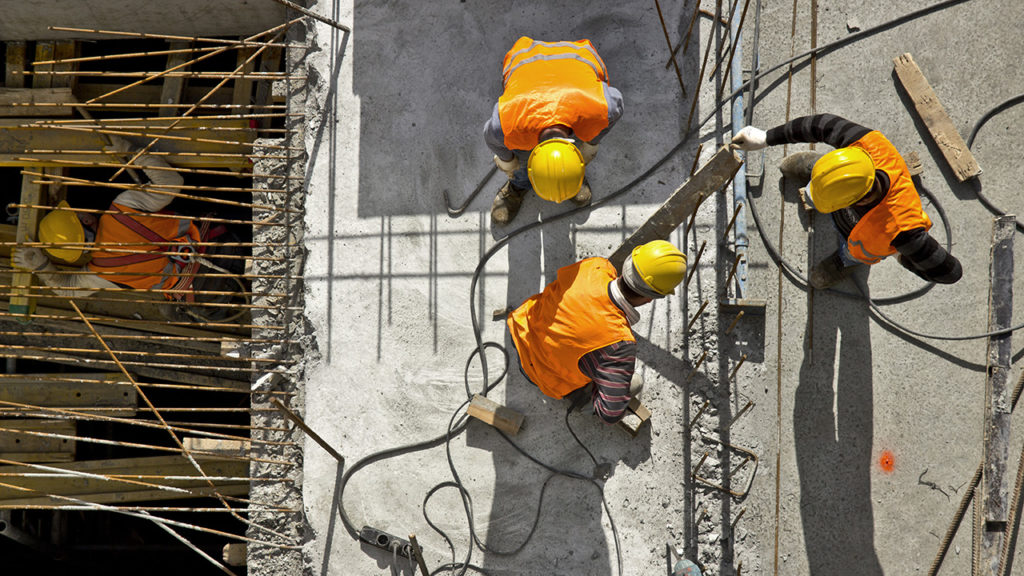 Helping the injured return to work
While it is important to have preventive measures to mitigate workplace injuries, it is equally important to help workers return to work in the unfortunate event of an accident.
At last year's Committee of Supply Debate, I highlighted the need for a support framework, beyond the existing Workplace Injury Compensation Act, to help injured workers return to work. The reality is that not many employers proactively help their injured employees during and after the rehabilitation process. I called for the Government to establish a scheme to better help injured workers – one which includes a structured case management system to help our workers with injury management, rehabilitation, job redesign and even job placement where necessary.
I am heartened that the tripartite partners launched the Return-To-Work (RTW) Programme in November 2017. The programme sees the WSH Council working with our public hospitals to provide early intervention for workers who are injured in the course of their work, as well as enable companies to help their workers ease back into their jobs. I urge companies to subscribe to this programme, which is voluntary at the moment.
As part of the programme, employers can tap on the RTW grant, which is capped at $7,000 per employee for the costs incurred for rehabilitation, case management, psychotherapy for the treatment of post-traumatic stress disorder, functional capacity evaluation and worksite assessment for workers whose medical expenses exceed the current Work Injury Compensation cap of $36,000.
The RTW grant is currently restricted to Small and Medium Enterprises (SMEs). To promote and deepen the RTW culture, the Government should consider extending the grant to non-SMEs too.
But I am happy to note that there are already companies who have appointed their own in-house RTW coordinators, such as Sembawang Shipyard. Ideally, such in-house coordinators will be the future of the RTW Programme. However, because these RTW coordinators are not accredited, companies are unable to tap on any Government funding. Can the Government accredit such in-house RTW coordinators so as to allow companies to tap on Government funding?
In addition, the current RTW grant does not cover vocational rehabilitation, in the event an injured worker requires a change of employer and work scope. The RTW grant should be extended to cover such cases.
With the RTW Programme in place, what more can we do for injured workers? In Australia, United States and the EU, the Return-To-Work framework is legislated. Would the Government consider legislating the RTW framework, or some aspects of it, at some point in time to better protect our workers and help those who are injured recover and reintegrate back to work quickly, so that their livelihoods are not adversely affected?
Pursuing Total WSH
Much of our WSH efforts today focus on workplace safety. Physical health and mental well-being, however, are sorely lacking in our WSH efforts and conversations. This is especially essential since we are faced with an ageing workforce, which may exacerbate the deterioration of workplace health issues.
Exposure to health hazards may result in occupational diseases or work-related illnesses. Many are treacherous and are evident only after a prolonged period of exposure. Some are irreversible and have no cure. Occupational health management is therefore critical to ensure that our workers are healthy at work and can perform their roles effectively and productively.
Some examples include compulsory audiometric examinations for those exposed to excessive noise1, periodic examinations for workers exposed to toxic substances2 or having practicable measures like proper rest areas to ensure protection from excessive heat and harmful radiations from the sun.
A build-up of stress and fatigue can lead to distractions, which will place our workers at higher risk of getting injured at work. Therefore, it is of paramount importance for us to practice WSH holistically, by focusing on the body, mind and soul, in order for our workplaces to truly be a safe and healthy environment for our workers.
Just as we have Total Defence, we must endeavour for Total Workplace Safety and Health.
1 as specified in the Schedule of the WSH (Noise) Regulations.
2 as prescribed in the WSH (Medical Examinations) Regulations.
This is a post by NTUC Director for WSH, Melvin Yong. Any extracts should be attributed back to the author. 13 February 2018.