"Do what you do best and outsource the rest!" was the advice given by the legendary business and management guru, Peter Drucker, who started the phenomena of 'outsourcing' in the late 1990s, where companies buy services (or goods) by contract from a service provider (or supplier).
Outsourcing makes good business sense because companies can focus on their core business and save costs by buying from the cheapest source (also called 'cheap sourcing'). Over time, the outsourcing craze gained momentum and even government agencies and statutory boards started buying essential services such as cleaning and security. Many proclaimed they were able to save on costs compared to providing it themselves.  (But do you know the cost savings were due to low wages paid to the workers?)
I recall that my auntie used to work as a carpark warden with a statutory board from 1977 to 2005. She started off earning a gross wage of $235 and her salary eventually increased to $1,459, which is the equivalent of $1,877 today. Since then, the statutory board has outsourced the hiring of carpark wardens and engaged service providers instead. Are the outsourced workers better off? How much does a carpark warden earn today? According to a service provider, it's between $1,000 to $1,200. Can they earn $1,877? (Good luck with that!)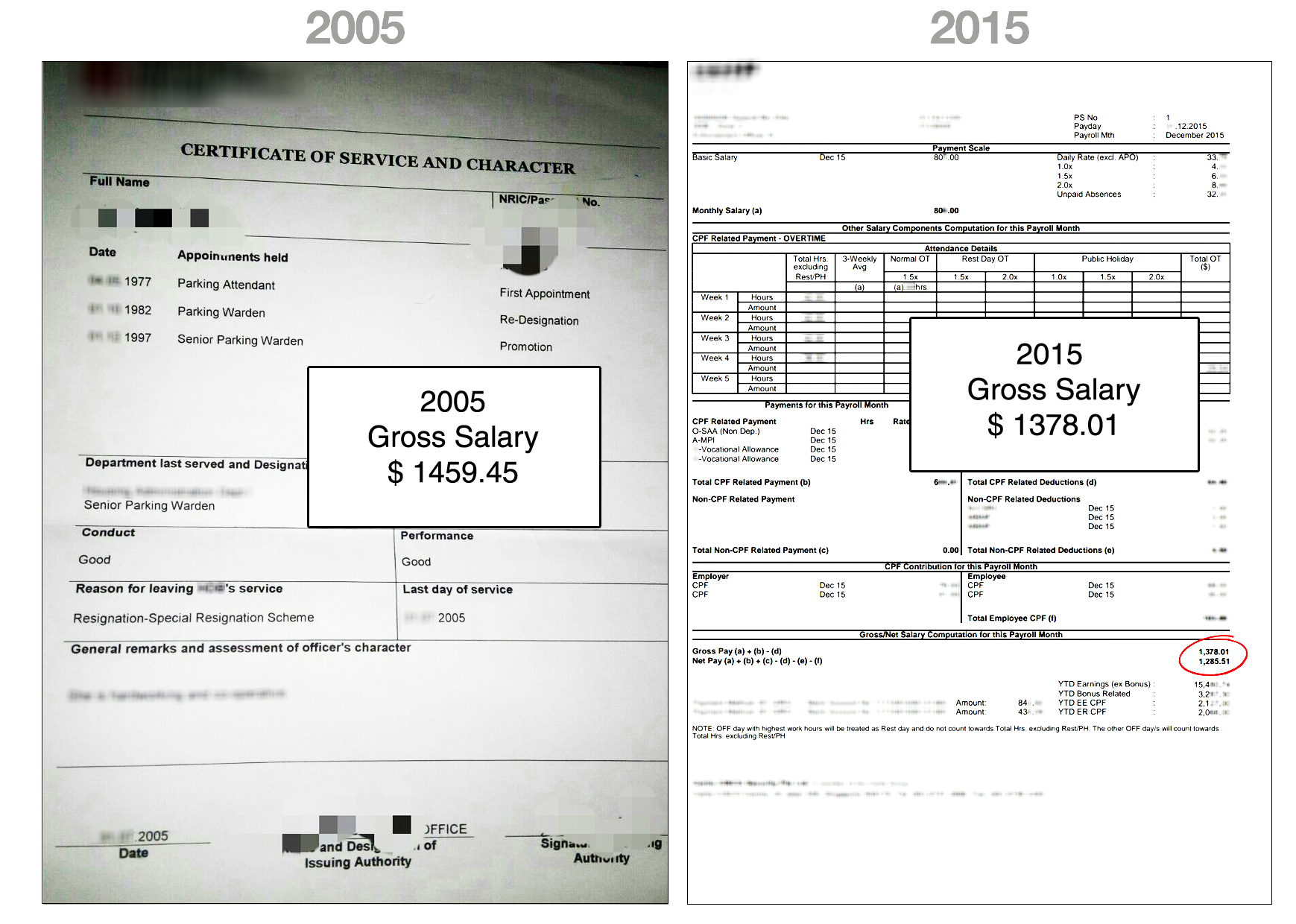 Unfortunately, outsourcing has led to market failure, contributing to the depression and stagnation of wages of many low-wage workers such as cleaners, security officers to name a few. How so?
Companies or organisations will call for tenders for such services and invite service providers to bid for contracts that come with a fixed time period. Typically, the lowest tenderer will be awarded the contract and the winning service provider has to keep its operating costs down to service the contract sustainably. As labour is a major component in such contracts, the service provider will usually pay their workers as little as possible and provide minimum employment benefits. These workers usually do not receive annual increment or 13th month bonus because their employer has to keep costs down. Hence, market failure then takes root where service buyers benefit with the lowest possible operational costs (that is, when they 'cheap source' of course by looking at only short-term profit margins), at the expense of the outsourced workers.
As the workers are often elderly, uneducated and with limited job options, they are vulnerable and will still take up the job to make a living. They might work under the contract for two to three years but with little or no wage increment (Attention to the National Wages Council – your recommendations did not work for these outsourced workers!).
Even if they do receive increments (Sorry NWC, it's usually not because of your recommendations) and see their wages increase over the contract duration, it would be 'reset' again in a new contract because their employer (or a new service provider) puts in the lowest bid to win the contract. This is why we often see the same workers working at the same place doing the same job, but in a different uniform. Sometimes, because the service provider puts in a very low bid so as to win the contract, their pay may be even lower than what they used to receive under the previous contract (these are called 'suicide bids' – when the bidding price cannot cover operating costs).
Are the service providers unscrupulous? Most are not.  They want to pay better wages and give better benefits to the workers but their hands are tied because all these mean higher operating costs to them. They are afraid of losing the contract if they are not able to put in a reasonable bid.
Perhaps, the service buyers are the 'demons' exploiting their outsourced workers? Majority are not as well but like any other businesses, they have to compete with their competitors and keep business costs low. I recall an instance when I spoke to the top management of a company that manages many commercial buildings. They shared that they were willing to buy services from service providers that provided good wages and benefits to the outsourced workers but only if I could guarantee that their competitors would do the same. In short, as long as the others were 'cheap sourcing', they would too as well (Thanks for the support, guys! But really, how much would it affect your competitiveness given that the costs of buying such services would be very small in relation to total operating costs and rental income received?).
Hence, we have a situation where service buyers 'pretend' they are paying for services (because of cheap sourcing); service providers 'pretend' they are paying their workers (because of low contract bidding price) and workers 'pretend' they are working (because of low wages). No wonder it is such a challenge trying to improve productivity in the outsourced sectors!
Unless there is intervention in these market forces, outsourcing will continue to keep wages low and stagnant for this vulnerable group of workers. What can we do?
Introducing the Progressive Wage Model (PWM) in outsourcing industries with many low-wage workers such as cleaning, security and landscape (yeah, been there, done that!) is part of the solution.  A prescribed wage level for the workers will create a level playing field for all service providers and service buyers. Service providers can now bid on the basis of productivity (we call this performance-based contracts) instead of lowering their bid price by paying their workers low salaries. Service buyers can rest assured that their competitors are also buying services from PWM compliant service providers.
However, the PWM cannot guarantee that the workers will get their annual increment or 13th month bonus. PWM cannot guarantee that their salaries (if they do receive increment over the contract duration) will not be reset at the renewal of the contract. But wait! There is still more that we can press on for! If we can make PWM mandatory for our cleaning, security and landscape workers, why can't we make annual increments (based on NWC recommendations) and 13th month bonus compulsory as well? If so, all service providers would have to comply and the workers would be better off. (Hint: Make it part of the licensing conditions, dude!)
PWM is not a magic wand. It cannot stop the resetting of wages during contract renewal. (Really? Why can't service buyers, government included, be more worker centric and try to maintain a long-term relationship with good service providers? If the service provider is good, continue to extend the contract with them even if the price is higher lah. Maybe, it's about time we change the government's bible a.k.a Instructions Manual). Unfortunately, this is the most difficult problem to solve. Maybe it's about time to push further on the Public Private Partnership (PPP) Model, and give it the same time and energy as we did on the PWM? If the public and private sectors enter into long-term partnerships to operate projects traditionally provided by the Government, it is also the Government's duty to play a bigger role, beyond that of service buyers, to ensure that private enterprises are committed to responsible and sustainable HR practices.
This may well be the tipping point that ensures that outsourced workers do not always end up as the disadvantaged lot every two to three years. With the PPP model in the outsourced sectors, these workers will have better wages, and more benefits that will keep them happier on their jobs. And isn't this something they truly deserve?
Do you have any ideas to help these workers? I wish Peter Drucker had said this instead: "Do what you do best, outsource the rest but don't outsource your responsibility!"
Zainal Sapari
This is a post by National Trades Union Congress (NTUC) Assistant Secretary-General Zainal Bin Sapari. Any extracts should be attributed back to the author. 13 February 2016.