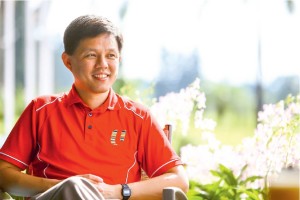 As we celebrate Singapore's 50th year of independence, our Labour Movement is proud that Singapore has a robust and capable workforce and enjoys strong tripartism and harmonious industrial relations. Our unemployment rate remains low and our workers continue to see real wage increases.
At a recent International Labour Conference held in Geneva, it was apparent to us that unionists from other countries were worried about many things that we often take for granted – good jobs, sustainable wage growth and harmonious industrial relations. Many could not build up a strong tripartite culture because of the lack of trust and continuity in their Government and its policies. Many of these policies were dictated by short-term political considerations rather than the long-term interests of the workers. In some countries, companies would actively avoid working with unions. Ultimately, it is the workers that suffer, as the economy stagnates and the number of quality, available jobs decline.
In Singapore, we have taken a different approach. The Labour Movement believes that cooperation and not confrontation is more beneficial to our workers. We understand that the best way to take care of our workers' interests is to build and sustain a successful economy with steady creation of good jobs with good pay for our workers. We achieve these through strong tripartism where the Labour Movement works closely with Government and companies to provide a conducive environment to attract quality investments, while ensuring that our workers are fairly rewarded. The improvements in our workers' wages and standard of living over the last 50 years is living testament of tripartism as our winning advantage.
While our tripartism is strong today, we must never take this for granted. It is a relationship that needs to be continually strengthened. We must groom a new generation of tripartite leaders, and extend the national tripartite movement to the sectoral level so more workers in every sector and level can benefit. While Singapore may face ever tougher competition, tripartism can continue to be a significant advantage for us in charting a winning strategy for the next chapter of the Singapore story.
As our population ages and our workforce shrinks, we cannot compete by lowering our prices or increasing our manpower to expand the economy. Instead, we must compete on the quality of our products and services, our innovation and the trust that people have in our Singapore Brand. In many countries, low-skilled jobs are being replaced by technology and other newly created high-skilled jobs. We must find new ways to improve our workers' capabilities so that they can take on these higher-skilled jobs and continue to enjoy real wage growth.
In order for our workforce to have a brighter future, we must not only be able to take on the better jobs of today. Our workers should continually upgrade themselves so that we can win the better jobs of tomorrow as well. To this end, the Labour Movement will work closely with the Government and businesses to ensure that SkillsFuture becomes a central pillar of our workers' skills and professional upgrading throughout their working life. We will work with our tripartite partners to map out the Skills Ladder for each and every sector and strengthen investment in training, so our workers of today can acquire new skills for the needs of tomorrow.
As we celebrate SG50, let us build on the Singapore Brand of trust and assurance. That when others do business with Singapore, our workers and companies can be trusted to deliver on our promises.
Let us work together for a vibrant economy where our workers have opportunities to progress and enjoy a fair share of the fruits of success. Together, we can build a better life for our workers and their families for the next 50 years.
Happy SG50! Happy National Day!
Chan Chun Sing
Secretary-General
National Trades Union Congress