"It is not my job."
"It will not happen to me!"
How often have we seen a potential hazard at the workplace and ignored it, thinking that someone else will take care of it?
According to the Workplace Safety and Health (WSH) Statistics Report 2016 issued by the WSH Institute, there were a total of 13,014 workplace injury cases in 2016. Of these, 66 were fatal. There were also 732 cases of occupational diseases confirmed in 2016.
The sad reality is that many of these injuries, if not all, could have been prevented. As we journey on in our Vision Zero mission, everyone – the Government, unions, management and individual worker – has a part to play. But to do that, each one of us must take ownership of our roles to make our workplaces safer and healthier.
Shared Responsibility
Let's check out companies that are best in class when it comes to workplace safety. They have one thing in common – the management takes workplace safety seriously and every one of their workers takes ownership of their own safety at work as well as that of those around them. Often, their mantra is "I am responsible for my own safety and the safety of my co-workers". Safety ownership has become an intrinsic value in their workplace culture.
Why is WSH ownership important? It signifies a shared responsibility, for everyone to embrace the same mindset – that it is not just my employer's or my supervisor's or my colleague's job to tackle WSH. With ownership, individuals are more likely to speak up when they see safety issues, report an incident, have a positive attitude towards safety and take new safety initiatives seriously.
One initiative encouraged by the Labour Movement is the Behavioural Observation and Intervention (BO&I) approach developed by the WSH Council. It operates with the underlying principle of "duty of care" where individuals learn to make safety a habit at the workplace. Beyond increased productivity and improved WSH performance, BO&I is a significant step towards establishing a positive WSH culture where employers and employees care for one another, exercise teamwork, and take greater ownership of their actions and those of their colleagues.
A Holistic Approach
Since joining the WSH team, I have advocated a holistic '3Cs' approach towards WSH ownership:
More targeted COACHING
Greater COMMITMENT
Better COORDINATION
More targeted coaching
First, a more strategic approach is needed to raise awareness of health and safety issues at the workplace, catered to the target audience. We can perform targeted coaching using the following '3Es' strategy:
ENLIGHTEN our workers, supervisors and employers on specific WSH concerns through awareness workshops and use of appropriate collaterals, guidelines and checklists. Essentially, we need to "open" their eyes to see the safety and health issues around their workplace.
ENABLE the individual to better understand how to identify and report WSH dangers through use of various Risk Assessment toolkits.
EMPOWER our workers and supervisors to put in place proactive WSH practices.
Over the years, our unions have made exemplary efforts to bring the WSH message to the ground.  Recently, National Transport Workers' Union (NTWU) piloted a health screening programme specially for bus captains. Bus captains' daily working conditions are demanding and they need to be physically and mentally fit so that they can ensure the safety of commuters and other road users. Coupled with their gradual aging profile, the union was naturally concerned about their health.
Almost 900 bus captains participated in the programme. Through the screenings, we found that eight out of 10 had unhealthy BMI, blood pressure and/or cholesterol levels. Working with Health Promotion Board, health coaches were deployed to:
Enlighten the bus captains on their specific health concerns.
Enable them to better understand health indicators.
Empower them with the right knowledge and skills to better manage their health.
With this, subsequent health screenings revealed that our bus captains managed to reduce their levels of BMI, blood pressure and/or cholesterol!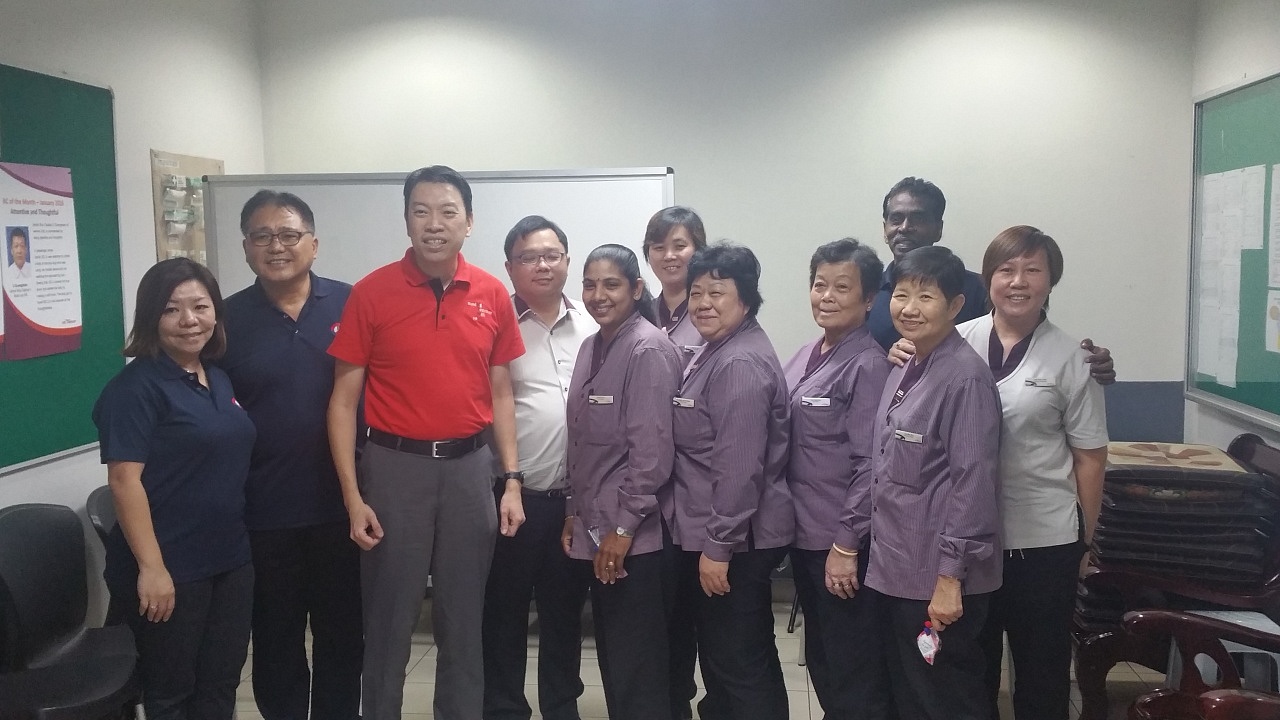 Greater commitment
Next, greater commitment is needed from all stakeholders. Regardless of our role in an organisation, every effort counts.
Gunasekaran Sivaganam, an assistant engineer who was also the General Secretary of Singapore Airport Terminal Services Workers' Union (SATSWU) at the time, initiated the Union Walk with SATS as he saw the need for greater WSH surveillance on the ground. Through this initiative, union leaders of SATSWU would regularly walk with the company's safety team through the operational grounds to promptly identify and address potential WSH hazards.
Gunasekaran also implemented tags for bags that are heavier than 32kg, making it easier for staff to identify heavy bags and seek assistance accordingly. This has helped to reduce the risk of back injuries amongst the baggage handlers.
These are simple yet effective measures initiated by an individual who took it upon himself to proactively address WSH gaps.
It is heartening to note that many employers are also committed to the WSH cause. Cleaning company Clean Solutions Private Limited, for example, introduced equipment to improve the work environment for its cleaners. The company worked with the Building Construction and Timber Industries Workers' Union (BATU) and NTUC's e2i (Employment and Employability Institute) to purchase the Nilfisk Park Ranger 2150 machine. The machine reduced the need for manual handling, which in turn significantly decreased the potential WSH risks for their cleaners. The company also benefited from better productivity outcomes.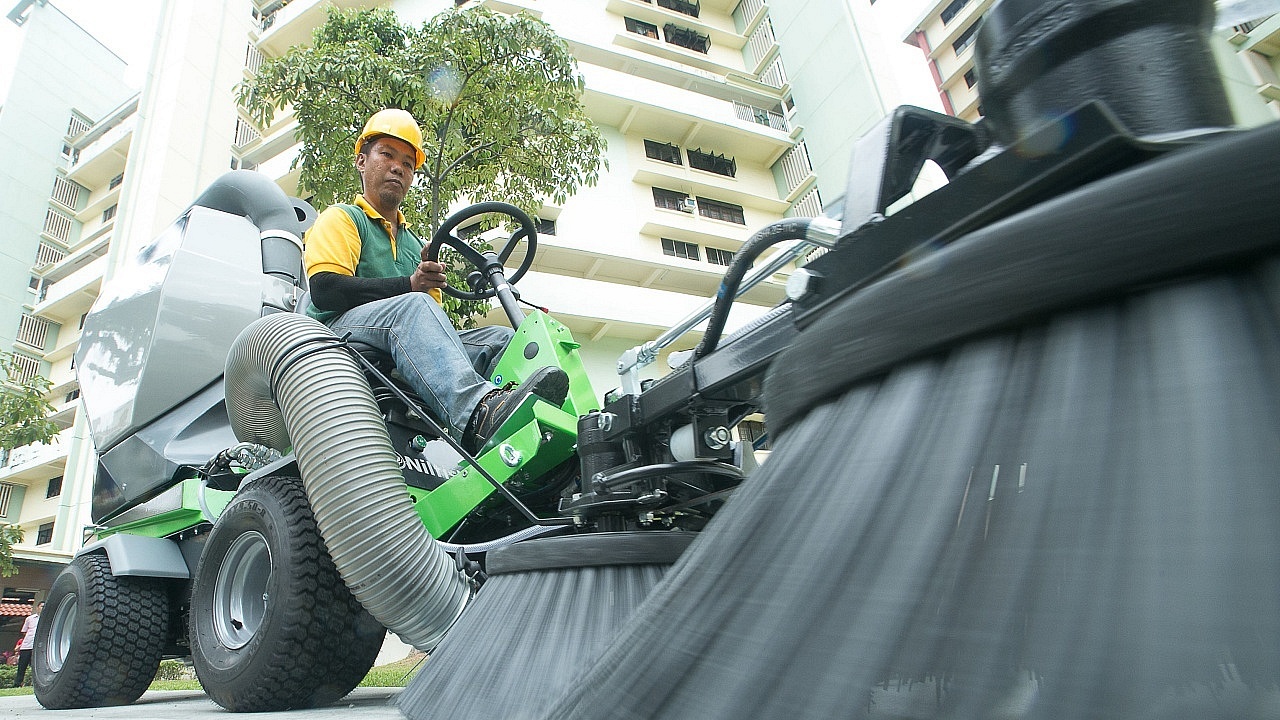 Better coordination
Finally, better coordination across all stakeholders can enhance WSH ownership.
BATU's Branch Committee Member Goh Lai Leong initiated a pilot health programme for cleaners working in Singapore Polytechnic. To ensure all cleaners could participate fully in the programme without compromising on operations, Lai Leong worked closely with his supervisors on manpower allocation. Through Lai Leong's efforts, more than 160 cleaners participated in a musculoskeletal assessment, as well as attended talks on injury prevention, muscle strengthening and chronic disease management.
In another example, senior technician Mohd Ismail Meerasah, who is also the Chemical Industries Employees' Union (CIEU) Branch Chairman, noticed that his co-workers were constantly falling ill while they were on site. He initiated talks with his management to find the cause of the problem. An investigation revealed that choked filters had resulted in worsening dust levels at the production area. After the filters were cleaned, the average days of sick leave taken per worker reduced from 10 to less than five per year. The company also removed the cap on annual medical claims.
Conclusion
In these examples, someone saw a problem, took ownership of it and acted on it. These resulted in positive outcomes not just for the workers, but for the company as well. Importantly, our unions were a key partner in promoting WSH on the ground.
The Labour Movement hopes to encourage more companies to partner their unions to take on initiatives to strengthen WSH ownership. When we take ownership, positive change happens! By working together, we can empower workers with the skills and knowledge to initiate and implement safe practices at the workplace.
So, the next time you see a potential hazard at your workplace, will you sound the alarm?
Melvin Yong
This is a post by Secretary for NTUC WSH Committee, Melvin Yong. Any extracts should be attributed back to the author. 19 May 2017.