"Technology changes really quickly in my industry, and Yokogawa constantly upgrades its systems every few years. It was very manual decades ago, but now we have the help of automation and computer systems. Technology is helpful, but only if we are open to learning how it can make our jobs easier. We don't have a choice. All of us need to keep up. Not only in my industry but in other industries too." ~ Ms Wang Mui Sin, 54, production planner, Yokogawa Electric Asia

Ms Wang, who has been working at Yokogawa Electric Asia for 36 years, is one of many who has seen changes in and adapted together with the electronics industry through the decades. They have worked through the days of assembling black and white televisions in the 1960s, then colour televisions, and today, semi-conductor wafers used in computers and mobile devices. More and more, they have to work with new machines and work alongside new colleagues (robots!) that do not need to rest.
In an era where disruptive technologies are altering the way things are made and how things are done, frequency of changes are now faster, and product cycles are even shorter.
Thus, the Labour Movement has been working closely with our management partners to push for productivity growth and innovation, and for our workers to be future-ready by acquiring new skills and knowledge faster and more regularly.
Building A Future-Ready Workforce
Robotics, artificial intelligence, big data, additive manufacturing and augmented reality are no longer things of the future. We are in the midst of Industry 4.0 – some call it the Internet of Things – and I expect to see more new jobs like robot coordinators and data engineers being created.
I also see the need to complement technical skills with soft skills like the ability to adapt, innovate and think out of the box to keep up with technological advances. This means that workers in the electronics industry need to be trained to handle robot-user interface or even acquire cross-industry skillsets to value add to their core functions.
Take, for example, 27-year-old Vignesh Kumar. He was previously from the aviation industry but has since switched to the electronics sector, joining Micron as a Process Technician.
Not only is he pursuing a part-time Specialist Diploma in Wafer Fabrication at Temasek Polytechnic as part of the Earn and Learn Programme (ELP), he is also concurrently doing a part-time degree in Electrical and Electronic Engineering at Nanyang Technological University to upgrade himself.
His background in the aviation industry, coupled with knowledge gained from the part-time degree, helps value-add to his role as a Process Technician. This aptly demonstrates the importance of possessing cross-industry skills to be future-ready at the individual level.
At the company level, they can encourage the growth of a future-ready workforce. To foster a culture of learning, they can support workers in their endeavours to upgrade through providing training grants or training leave. Today, there are companies that have set aside regular dedicated training time for their workers to stay abreast of the latest developments in their industry. Some companies even tie up with SkillsFuture to curate a list of relevant courses suitable for their workers' upgrading purposes.
For example, Systems on Silicon Manufacturing Company (SSMC) announced last May that they would provide its workers $500 learning credits on top of the Government's SkillsFuture credit to incentivise them to pursue skills upgrading.
SSMC also launched a new training centre called LEAN Centre to give their workers hands-on experiences working in a simulated min-fab environment; add value to their training; and help build a knowledge-based workforce.
As part of the Labour Movement, the United Workers of Electronics & EIectrical Industries (UWEEI) has been reaching out to our members to raise awareness and encourage skills upgrading.
UWEEI also works closely with managements to implement training-friendly employment practices. To future-proof workers that may be displaced in the near future, UWEEI has been working with both managements and workers to train them and place them in higher valued jobs.
Developing Sectoral Productivity
At the industry level, our industries need to continue to raise their levels of productivity and innovation in order for Singapore to stay competitive. This is even more crucial for the electronics industry as productivity directly impacts the companies' production output.
Last year, I visited various manufacturing plants and gathered some observations on improving productivity.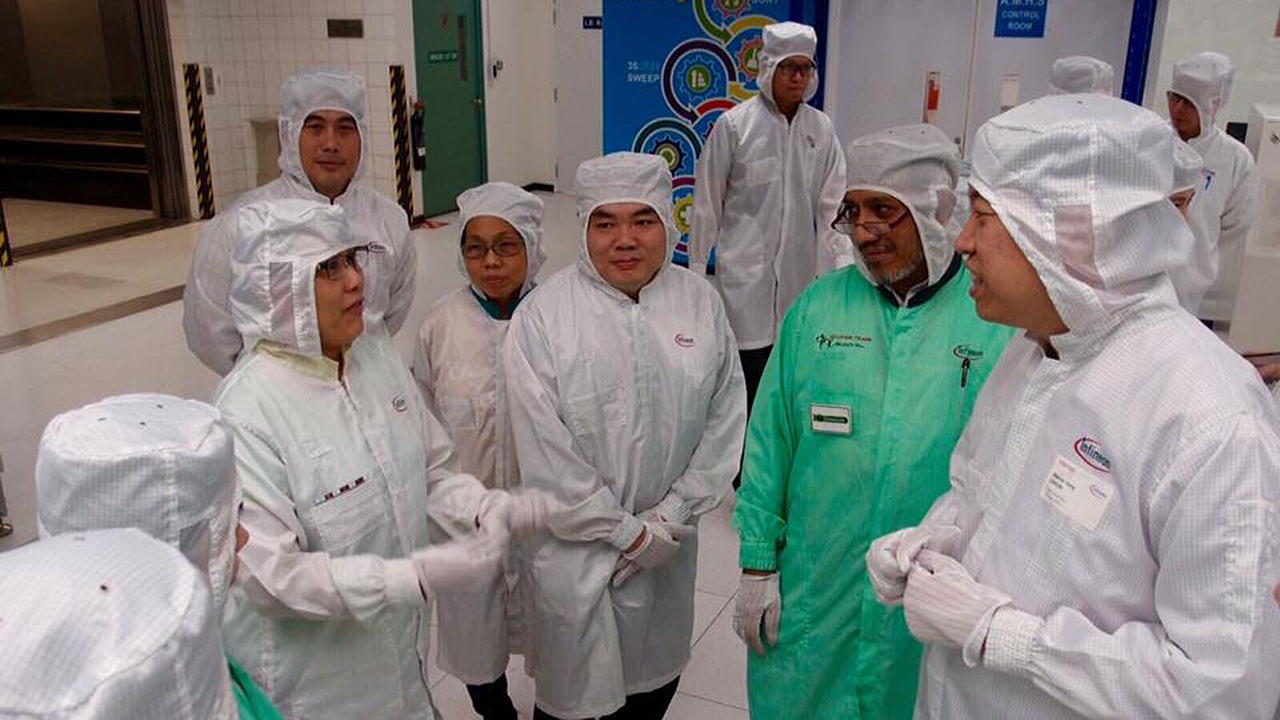 First, ground up ideas and innovation are important. Workers know the jobs that they do best so they are in a good position to provide feedback and suggestions.
Second, we need strong management support for suggestions to improve work processes. If management is willing to implement ideas from the ground, workers will be even more encouraged to keep innovating.
Third, the wide use of technology helps to improve work efficiency. The Government's support is helpful to fund some of the innovation initiatives.
The Precision Engineering Industry Transformation Map (ITM) was launched last October and it is a huge leap to raise productivity across the sector. The ITM will help chart out new growth areas, new jobs and new skills required across the manufacturing sector.
Some electronics companies have also adopted "lights-out" manufacturing. With the help of automation, robots can now fully manage the manufacturing process and engineers can monitor the process from a control room, even with the lights out at the factory floor.
This breakthrough in the manufacturing process can be adapted across the industry and will certainly help to raise productivity as a whole.
Conclusion
It is an exciting time for the electronics industry as Singapore progresses towards becoming a Smart Nation. While some jobs might be displaced, there will also be new higher valued jobs created.
Thus, workers need to constantly learn new knowledge, new skills to make themselves competitive, and help their companies stay competitive.
Last year, the Labour Movement announced that it will be raising $50 million with the Government matching $3 for every dollar raised, to work with Institutes of Higher Learning, like Nanyang Technological University, to support union members in their upskilling and reskilling.
The monies raised will go to the NTUC Education and Training Fund to help fund members' skills upgrading efforts to keep up with technology and industry developments. Members can also tap on NTUC's Union Training Assistance Programme (UTAP) of up to $250 per year to offset training course fees.
Companies also need to raise productivity to stay competitive. This is where management and Government support is crucial.
In the past 50 years, our manufacturing industries have gone through several transformations. Through our tripartite efforts, our workers have adapted, learnt new skills and grown together with their companies. The Labour Movement will continue to support our workers as we ride through this economy transformation together.
Melvin Yong
This is a post by Executive Secretary, United Workers of Electronics & Electrical Industries (UWEEI), Melvin Yong. Any extracts should be attributed back to the author. 6 January 2017.