This is a post by NTUC Assistant Secretary-General Patrick Tay. Any extracts should be attributed back to the author. 31 August 2018.
Disruption
The financial services industry has been subjected to disruption on many fronts in recent years, and at break-neck speeds too. With the rise of technologies such as Robotic Process Automation (RPA), Chatbots, Mobile Banking, Blockchain and Data Analytics against a backdrop of tightening regulatory demands, financial sector workers can expect their jobs to evolve and roles to change. Amidst these disruptions, a few groups of workers will be at-risk of displacement.
The Institute of Banking & Finance (IBF) Singapore carried out an online poll in June-July 2018 with more than 1,000 financial practitioners and these were the 10 top-line findings:
8 in 10 felt that new technologies could drive efficiencies and make work easier;
Over 70% felt that transactional and repetitive activities (not jobs) such as data collection could be replaced by automation and digital technology;
Over 70% have seen or expected changes to their scope of work in the near future;
About 1 in 2 believe that it is very important to acquire new skills;
About 50% felt they are skills-ready while 1 in 3 are proactively taking steps to acquire necessary skills;
31% believe that digital skills are most important, while 31% believe that willingness to learn is the most important;
47% are prepared to invest in a longer duration programme on their personal time;
Only 32% have attended technology-related training in the last 12 months that they found useful;
Nearly 80% are not fully aware of the current training opportunities available; and
63% believe that employees, employers and government should work together to acquire skills needed for change.
Displacement
With disruptions, it inevitably leads to displacement. As recent as 23 July 2018, OCBC Bank said it would cut half of teller jobs in the next two years as part of their digital bank push.  However, they reassured there would not be layoffs as staff were sent for reskilling to take on new and emerging roles within the bank.
In consumer banking, our branch tellers and customer service officers are vulnerable and their numbers have been declining over the years. With locals making up close to 90% of these workers, we need to provide immediate assistance to help them upskill and transit into new or adjacent roles while they are still employed. One such assistance is the Consumer Banking Professional Conversion Programme (PCP), which aims to move this specific group of affected workers into adjacent jobs like sales and relationship management and compliance-related roles.
In banking operations, roles in operations, transaction fulfilment and call centre can now be performed by machines. In response, the Operations PCP was introduced to help this group of workers move into adjacent roles such as client servicing and operating technologies like RPA and Chatbots.
Development
Together with IBF, NTUC's Future Jobs, Skills and Training (FJST) team has put together an infographic to highlight the at-risk jobs and the corresponding adjacent roles to move into. You can refer to the infographic below: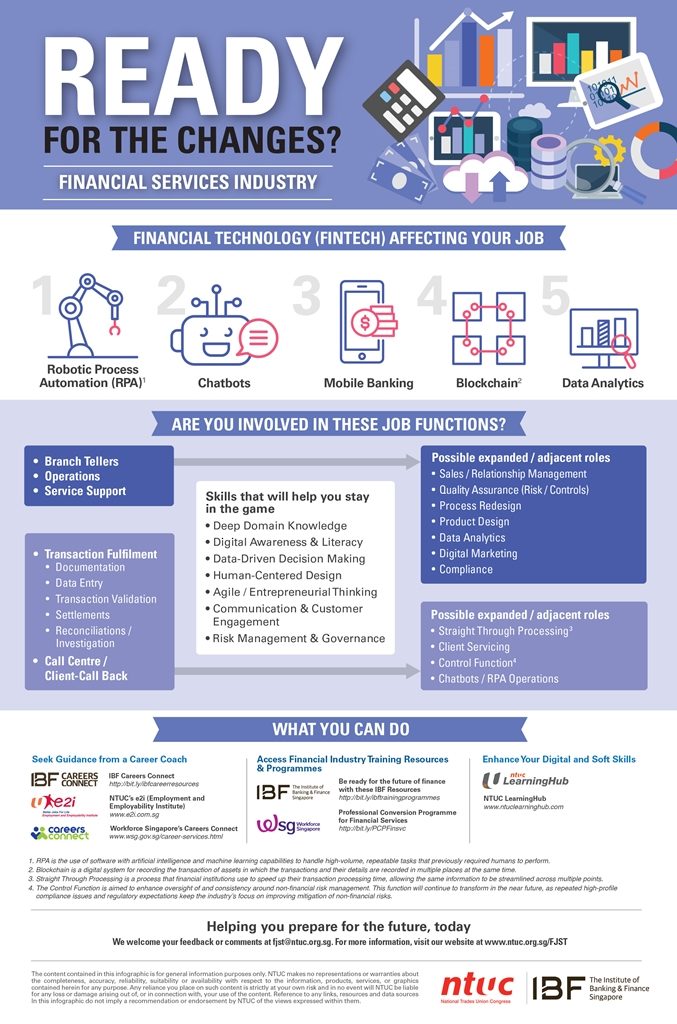 Notwithstanding, it is not all doom and gloom in the financial services sector. From the financial practitioners surveyed, 85% felt positive towards the increasing use of automation and digital technology in the industry and 98% saw potential to use this for transactional and non-client facing work activities. It is heartening to hear such feedback from the ground as Singapore moves into the next phase of digital banking.
But there is still work to be done in the area of raising awareness for training. While 95% of practitioners were willing to invest in training and acquiring new skills, nearly 80% were not fully aware of available training opportunities. For those who have seen or are expecting changes to their scope of work in future, some 40% did not see an urgent need to acquire new skills.
The financial services industry's tripartite partners and stakeholders (regulatory authorities, employers, workers and unions) are deeply committed to tackle these issues together. Initiatives are rolled out through collective action to align transformation efforts. To read more about the sector's key tripartite developmental milestones, please scroll to the end of the blog post.
On the Labour Movement front, we must continue to muster and bolster our efforts for workers in the industry. In early August this year, NTUC's Financial and Professional Services Cluster, together with e2i and IBF, organised the Financial Services Career Week to help workers develop new skills, explore career interests and fuel aspirations in the financial services industry through expert series talks, career skills workshops and engagements with HR professionals. You can visit the Financial Services e-Career Fair at https://www.fs.e2i.findsgjobs.com/ to find out more about the career opportunities in the industry.
Transformation is a constant and an enabler of progress. We cannot ignore the fact that with disruption, existing jobs will be transformed, some jobs or skills may be made obsolete and new ones be created. Today, the rate of transformation is quicker than before and we will need an all-hands-on-deck collective approach to ensure that no one is left behind. The financial services industry is one such example. We must continue to work closely with our tripartite partners and stakeholders to align transformation efforts and translate plans into real, tangible benefits for our workers, businesses and our economy so that workers can enjoy even better wages, welfare and work prospects.
The following are some of the sector's key tripartite developmental milestones:
Career Guidance for Workers: In April 2016, the Financial Industry Career Advisory Centre (FiCAC), a first industry focused career advisory centre, was set up as a tripartite collaboration by the Monetary Authority of Singapore (MAS), The Association of Banks in Singapore (ABS), IBF, Workforce Singapore (WSG), NTUC and e2i to provide career guidance to workers in the financial services industry as well as to workers looking to move to new jobs within the industry.
Collective Vision for the Industry: In October 2017[1], the Financial Services Industry Transformation Map was launched, setting out the tripartite partners' vision to make Singapore a leading global financial centre in Asia. The aim is to create 3,000 nett jobs in the industry, and an additional 1,000 nett jobs in the FinTech sector annually.
Progressive Human Capital Practices: The tripartite partners put together the Tripartite Advisory on Human Capital Practices for Banking in March 2018[2]. This sets out good practices for banks in hiring, reskilling, redeployment and retrenchment, encouraging banks to systematically equip their existing workforce with relevant future skills and capabilities, and encouraging professionals to continuously upgrade their skillsets and competencies. This was a first-of-its-kind sectoral tripartite advisory and paves the way for greater sectoral approach to manpower issues and tripartism.
Redeployment Professional Conversion Programmes (PCPs): Answering the call to equip their existing workforce for the future and to meet evolving manpower needs, banks have also embarked on intra-organisational PCPs to train existing staff to switch roles within their organisation. For example, Citibank[3] aims to reskill 2,000 employees over the next 3 years and they have since rolled out the PCP to 400 employees. At DBS, nearly two-thirds of their branch tellers have undergone training and the rest will do so within the next 12 months.
Dedicated Industry Career Center: In its time, FiCAC successfully placed more than 240 job seekers into jobs and reached out to over 3,100 PMEs[4]. With the success of FiCAC and stakeholders' commitment to do more for the industry, FiCAC has evolved into the IBF Careers Connect[5], a one-stop centre dedicated to the financial services industry. Launched on 1 August 2018, IBF Careers Connect aims to provide career advisory and job matching services to help workers cope with disruptive changes.
Psst, have you heard of insurtech? Want to find out more about this emerging technology in the financial services sector – click here to read how Julian Seah from NTUC Income keeps up with the insurtech trend!