This article is contributed by Labour Member of Parliament and NTUC Assistant Secretary-General, Patrick Tay. Any extracts must be attributed to the author. 10 February 2021. 
The current downturn brought about by the COVID-19 pandemic has impacted many PMEs in Singapore, especially those in their 40s to 60s. Total retrenchment numbers have reached an all-time high of about 26,000 in 2020 (compared with just less than 11,000 in 2019). It is worthy to take cognizance that more than half of those retrenched were PMETs, and only slightly more than half would re-enter the workforce within six months of their displacement.
Top Concerns of PMEs: Job Security and Employability
The NTUC-SNEF PME Taskforce, which was formed end 2020, has started to engage PMEs to better understand their concerns and priorities.
We found that PMEs are particularly concerned with job security and employability.
A recent survey conducted by the taskforce on 3500 PMEs discovered that six in 10 PMEs felt that they need protection against job losses and seven in ten expressed the need for more support in employment opportunities.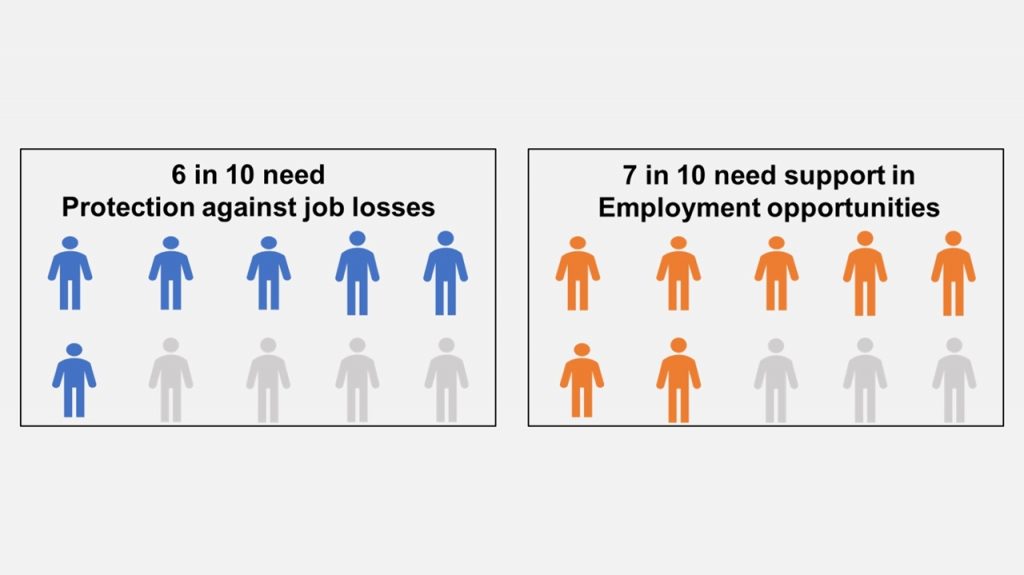 The taskforce also conducted a series of Focus Group Discussions (still on-going) with various segments of PMEs including our union leaders, and the PMEs we met highlighted concerns of unfair hiring practices, workplace discrimination, career progression as well as health and mental wellness issues. Many also shared their personal anecdotes on difficulties in getting employed due to their age, inability to land a job despite undergoing training, as well as coping with disruption and the next normal.

Despite that, it was encouraging to hear that many PMEs recognised the importance of continued upskilling and multi-skilling to ride the wave of disruption and stay relevant in the labour market.
In fact, 81 per cent of those surveyed attended training over the last three years and 98 per cent agreed that companies should send their employees for training to stay relevant.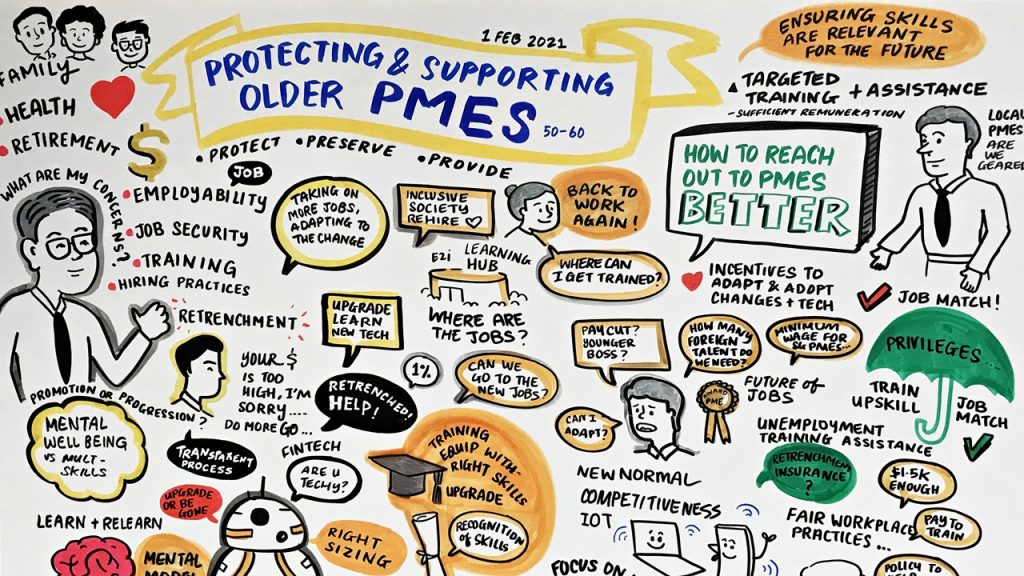 Can We Do More to Enhance Employment and Employability of PMEs?
Against the current economic climate and the challenges that COVID-19 has brought about, we need the job market and workplaces to put Singaporeans at the heart of our policies and programmes. More must be done to better protect vulnerable PMEs who are in their 40s to 60s. We need support from both government and employers to ensure that they are not discriminated at workplaces, have fair access to PME roles, as well as training and progression opportunities.
It is timely to review, expand, extend, and tighten related schemes, laws, policies and programmes which can better protect and support these PMEs in the areas of employment and employability.
Strengthening the Singaporean Core & Weeding out Discriminatory Practices
While many of us recognise the contribution of foreign PMEs to Singapore's economy and reasons why we need them, there remains a ground concern that the reliance on foreign PMEs has led to an unnecessary increase in competition in the job market and employment. To safeguard the Singaporean Core and curb discriminatory hiring, we must ensure that Singaporean PMEs have access to a level playing field for jobs while balancing companies' manpower needs in the immediate and longer-term.
The qualifying salaries of both the Employment Pass and S Pass holders were recently raised in 2020 – but this needs to be regularly reviewed and raised in line with rising median wages of PMETs.
The problem is some PMETs view the increase in qualifying salaries as "raising" minimum wages for foreign talents. There are also ground concerns pointing to employers who raise the salaries or repackage the compensation and benefits of their foreign PMETs to comply with the rules, and not give similar pay hikes to the Singaporean PMETs who work alongside these foreign PMETs performing similar or same jobs. This results in serious parity issues. We also hear that there are employers who "downgraded" their Employment Pass holders performing the same job functions to S-Pass to "comply" with the policy changes.
We therefore need to look at ways to further strengthen the S-Pass criteria and conditions to prevent such a back-door approach.
This also means we need continued stricter enforcement against errant companies with a weakening Singaporean core, especially those who continue to be 'triple weak' – companies with highly disproportionate number of foreign PMEs, weak commitment to nurture and strengthen Singaporean Core, and weak relevance to Singapore's economy and society. Besides administrative and penal sanctions that are already in place and can be enhanced, I have lobbied before and am highlighting again that enforcement can come in the form of revealing or publishing the 'triple weak' watchlist which Ministry of Manpower and Tripartite Alliance for Fair and Progressive Employment Practices (TAFEP) maintain so that the potential reputational loss would serve as a deterrence. We can also impose mandatory audits and penalties such as removing preferential tax and other benefits including curtailment of the award of public sector contracts on companies with discriminatory hiring practices and high proportion of grievance cases if no improvement is made within a stipulated time period.
To strengthen the Singaporean Core, employers must ensure locals have fair access to PME roles and progression opportunities. Often, employers bring in foreign PMEs to fill skills or knowledge gaps in their current workforce. 
As such, it is imperative that we monitor and ensure concerted, structured, and institutionalised skills and knowledge transfer from these foreign PMEs to our local PMEs within a stipulated and agreed time frame. Employers must also have clear development plans to grow the Singaporean core and build a pipeline of locals to fill roles at all levels of the hierarchy including the top. 
Anecdotally, some companies increase the hire of only the entry-level Singaporean PMEs to increase the workforce size and avoid the issue of a disproportionate percentage or number of foreign PMEs.
Besides the above, which is a form of nationality discrimination, we continue to hear anecdotally of ageism (especially the mature PMEs) as well as other forms of discrimination impacting workers. 
Perhaps, it is time to consider promulgating anti-discrimination legislation to give a stronger set of teeth to existing institutions like TAFEP. Such a legislation could send a stronger signal than the current tripartite standards and guidelines, to eradicate all forms of discrimination and discriminatory practices at workplaces or by employment agents or agencies.
Enhance Employability: Skills Security for PMEs
Besides job security, PMEs are also worried if they become 'unemployable' amid disruption and therefore skills security is the way forward – where PMEs stay ready with new in-demand skills, relevant to the new/transformed jobs, and build resilience amidst disruption and the next normal.
With numerous skill options available, how can our PMEs start their quest for skills security? What can they do on their part?
Here are 3 A's to help our PMEs:
Awareness of future skills;
Assessing the skills gap; and
Acquiring skills to fill up the gap.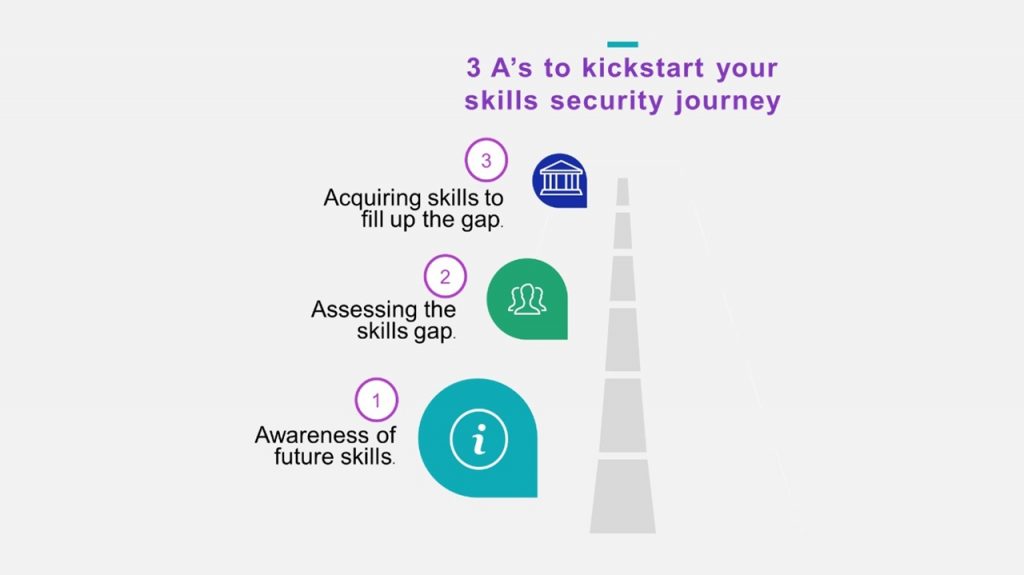 First, we need to do self-reflection – spell out our career aspirations or identify our desired career. That will help us understand or recognise the future skills necessary to attain future roles that we aspire to be employed in. Consideration of future roles does not have to be limited to our current employ only. The sky is the limit, be open to considering roles within or even across industries and jurisdictions.
Second, we can then proceed to assess our skills gap by comparing our current skillset with our desired future skills. Each one of us is already in possession of a unique set of skills that has been shaped by our diverse experiences, talent, and knowledge. Identifying the skills gap help pinpoint the skills that we lack and wish to acquire.
Every ending is a new beginning. At the last step of the 3 A's, we can begin to embark on our quest to skills security by acquiring skills through the pursuit of training and skilling opportunities to fill our skills gap.
This three-step approach is not limited to simply charting one's transition from one job to another. It is especially useful for charting one's future career progression. The 3 A's to skills security emphasises the importance of building upon current skills to attain future skills; enlarging one's capability with new skills that will enable PMEs to seize better employment opportunities in existing, expanding sectors and new growth sectors.
How to Support PMEs in Acquiring Skills Security
Skills acquisition is a boon for both employers and employees. On the union front, the Labour Movement is actively collaborating with employers and the government to undertake appropriate strategies to help our PMEs achieve skills security by supporting them in their pursuit of training opportunities. This is especially important in the current environment – with digital and technological disruption impacting jobs. Job requirements are evolving, and new skills are needed.
For example, in collaboration with PSA and Institutes of Higher Learning, Port Officers' Union (POU), one of the 59 trade unions affiliated to NTUC, continues to prepare PMEs for current and future roles in the evolving sea transport industry through the provision of training opportunities. For example, various engineers, executives and analysts were supported to pursue training in systems engineering. Once, they used to work in isolation across various ports. Now, they have been deployed to be part of an integrated team that focuses on designing and implementing automated equipment systems. These workers have successfully transitioned to future roles which offer better working environment, wages, and work prospects.
As part of the Industry Transformation Programme, the tripartite partners across 23 different sectors have launched the Skills Framework for each of the sectors.  This compendium of skills framework contains an array of information about career pathways and emerging skills required for various job roles that employers can leverage.
I strongly recommend employers to deep dive into these skills frameworks, work with our unions, to develop individualised skill maps for their current employees based on the framework for the different sectors and industries. These maps will serve to provide personalised career and training recommendations for every employee and help meet every worker's unique aspiration and needs.
The company and its workforce will then be more ready, relevant, and resilient to future disruptions.
Conclusion
We recognise the growing need to ensure PMEs are adequately protected, have access to good jobs and are equipped with the relevant skills. As we prepare for the next normal, it is important that we continue to entrench progressive and fair practices at workplaces and extend schemes to support local PMEs, especially the vulnerable workers. The Labour Movement and our unions can support local PMEs by working closely with employers to put in place multi-faceted support and strategies to enhance one's job security and skills security through our company training committees and job security council.
However, we also need support from the Government, especially in the upcoming Budget 2021, in areas like an extension of the Jobs Growth Incentive to encourage the hiring of Singaporeans, expansion of the Professional Conversion Programmes with a focus on mid-career PMEs, as well as continuing to support the deeply affected sectors such aviation, aerospace, travel, tourism, and hospitality to ensure they stay afloat and workers' livelihoods protected as it will be some time before 'business as usual".  It continues to be crucial to level the playing field for Singaporean PMEs, strengthen the Singaporean core and eradicate all forms of discrimination through tougher measures and targeted legislation.
By the same token, employers and PMEs need to embrace the changes and disruptions with the right attitude and right mindset and to see this period not as a threat but as an opportunity to re-invent and transform. To put it simply, we need to prepare ourselves with new skills, pivot to new industries and jobs in demand when needed and persevere amidst the next normal.