The Ministry of Manpower (MOM), NTUC and Parkway Shenton have stepped in to assist 15 vaccinators and nurses who sought assistance from the Tripartite Alliance for Dispute Management (TADM) and Small Claims Tribunal (SCT) for outstanding salaries.
The workers were hired by the Singapore Ambulance Association (SAA) earlier this year to work at the Bukit Timah Community Club vaccination centre. The vaccination centre is run by private healthcare provider Parkway Shenton.
Fourteen of the workers had earlier filed claims with TADM, while one approached the SCT, when SAA failed to pay them their salaries since 15 June 2021. As of today, the workers have yet to receive payment from SAA.
It is understood that there are a total of 54 workers from the vaccination centre who are owed salaries. The amounts owed range from approximately $1,000 to over $3,000.
Parkway Shenton had hired manpower recruitment agency Megamanpower (MMP) to supply workers till early June 2021. MMP had then approached SAA to supply medics and nurses to the centre.
As a gesture of goodwill, Parkway Shenton has agreed to pay the salaries owed to the 15 workers who filed the claims.
NTUC met with more than 10 of the affected workers on 13 September 2021 – most of whom were students.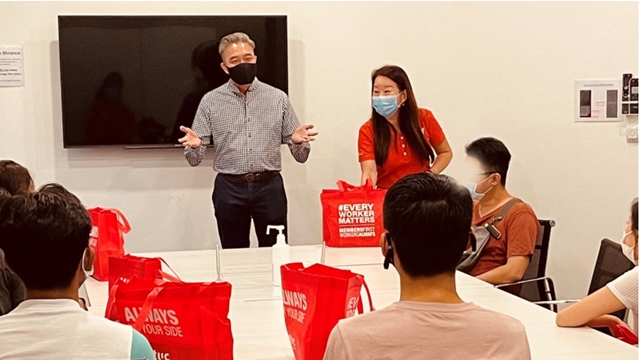 Step Forward for Assistance
NTUC had also given its contact to all 15 workers to disseminate to their other affected colleagues in hopes that they would step forward for assistance.
"NTUC was notified and explored ways where we could help recover the money including a writ of seizure on the subcontractor company. Thankfully Parkway Shenton came forward out of goodwill though they have already paid the contractors the money. 
"While the 15 workers who sought assistance from TADM and SCT will be getting their money back, we urge those who are owed salaries to come forward to TADM@NTUC to seek help," said NTUC Deputy Secretary-General Cham Hui Fong.
Actions of SAA Unacceptable
An affected worker whom LabourBeat spoke with also urged other affected workers to come forward.
"What I would say [to my affected colleagues] is to get help from NTUC and TADM, as in professional opinion and professional help. It wouldn't hurt to give it a try," he said.
NTUC Secretary-General Ng Chee Meng has also condemned the actions of SAA, saying that their actions over the non-payment of their staff have been unacceptable.
Mr Ng said: "Tripartite partners will always ensure that the errant employers are held accountable. We will not hesitate to pursue employers such as the Singapore Ambulance Association who have clearly not done right by these workers."
The first nine complaints were lodged with TADM at the Bukit Timah Community Club vaccination centre on 2 July 2021.
The workers were alleged to have been owed salaries, some for the month of May and others for the initial weeks of June.
On 7 June 2021, the affected workers received a message in a Telegram group chat informing them not to turn up for work the next day.
MOM said then that it would investigate the case further.
After Parkway Shenton re-engaged some of the affected workers to ensure they remain employed after the private healthcare provider's contract with MMP ceased in June 2021.