As we move into Industry 4.0, more companies are automating their processes with robotics. What many do not know is that there is still a lot of manual prep work that needs to be done before tasks can be handed over to the robots.
Local small- and medium-sized enterprise (SME) Soda Vision is using vision technology that does away with the manual aspect to make robots that are smarter, come with 3D vision and with built-in recognition capabilities.
Soda Vision can augment their clients' existing robotic pickers to give them the ability to 'see', or build customised robotic pickers integrated with 3D vision.
Managing Director Eng Chin Jack said: "Before vision kicked in, robots did not understand the world. They did what we call static jobs, indexing point A to point B. 3D vision has opened up a lot of new applications that can be used in factory automation and in daily life."
This means companies no longer have to mobilise their staff to categorise, place, and align various components in a specific manner for their robots to pick them up. The technology eliminates the tedious process, which can sometimes be straining, dirty or even hazardous, depending on the type of objects.
According to 37-year-old Chin Jack, 3D vision is deemed as a "holy grail" to vision-guided robotics because of its difficulty. The new technology was imported from Slovakia, and Soda Vision's mission is to bridge the technology gap in Southeast Asia and elevate companies in the region.
Harvesting Technology
Established six years ago, Soda Vision's clients come from industries such as semiconductor, oil and gas, shipping and construction.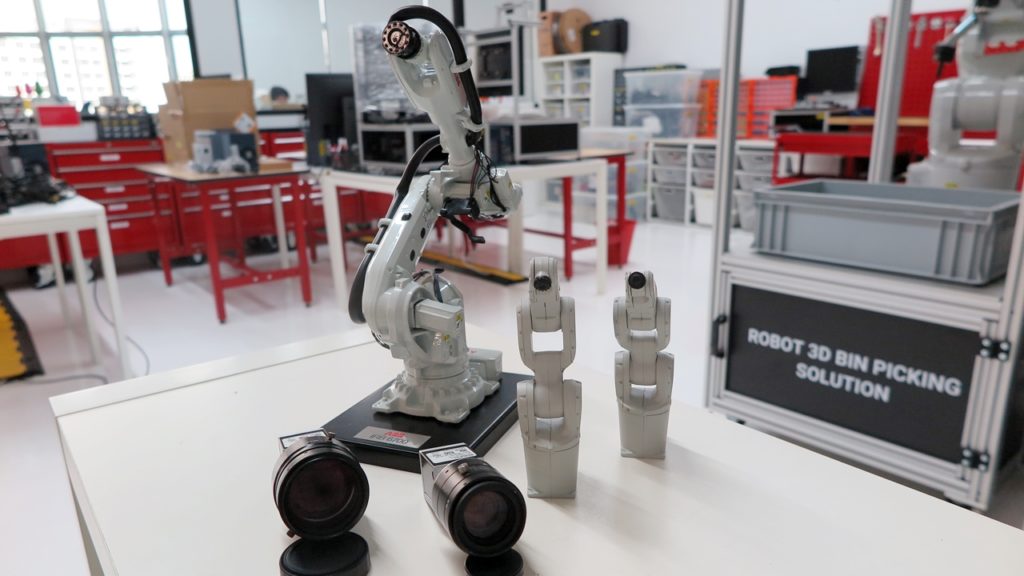 The cost of a robot with 3D vision can be anywhere from $30,000 to $100,000. Three such robots working concurrently can mean freeing some 10 workers from manual tasks to work on more meaningful ones.
"The objective for most companies is to increase productivity to reduce cost or to produce more with the same resources. It is also easier for companies to scale up. They can start a new product line or factory by simply duplicating the machines.
"Technology is like an arms race. Once your competitors start using a technology that you are not, you're losing out," said Soda Vision Technical Sales Manager Bobby Leong.
Soda Vision has been building technological capabilities to meet consumers' rising demand for quality and safety. Medical and food industries, for example, are looking for track-and-trace technologies to record details of every product batch and enable specific recalls, when necessary.
Besides 3D robot picker solutions, Soda Vision provides other vision technologies such as deep learning visual recognition.
Bobby, 36, explained: "In the past, the way to process image, to identify or sort certain objects, was by programming. But with the advent of artificial intelligence and deep learning, we go by training. It's like a new baby – you teach him to recognise and learn. The algorithm has to be done by an engineer or programming, but the training can be done by anyone afterwards."
Behind the Scenes
Soda Vision is mainly marketed through international robotics or vision shows and seminars. There are currently 15 employees in its offices across Singapore and Malaysia, including four engineers and four double-skilled in sales and engineering.
Chin Jack and Bobby, who both hold a bachelor in mechanical engineering from Nanyang Technological University, are also co-founders of the company. Two years ago, they were certified vision professionals by the Global Association for Vision Information in the United States.
They will be growing the team to gear up for aggressive regional expansion in 2019.
"There are no studies in vision technologies, so we can't hire plug-and-play graduates from any school. We are looking at people who take initiative and are eager to learn. That's more important," shared Chin Jack.