To mark our nation's 51st birthday in a meaningful way, a group of youths were out and about, doing their bit and giving back to society. Under the Young NTUC U Heart 2016 initiative – organised in collaboration with Income OrangeAid – they accomplished 75 'do good' projects which benefitted some 8,200 underprivileged as well as those who often toil behind-the-scenes.
Of the initiative and more importantly, our youths' efforts, Desmond Choo, Executive Secretary of Young NTUC says: "We had only wanted to create simple platforms to empower our youths to do good, and appreciate those who have done good. We thought that with the right support and trust, our youth can get great things done. We hoped that they could realise their dreams to give back with the needed resources; funding, resources, partners and mentorship. The results took us by surprise!" Read more of Desmond's thoughts here.
Alternatively, check out some snapshots of how our volunteers kept the "Singapore Spirit" alive and made a difference this National Day, captured in the smiles of our beneficiaries.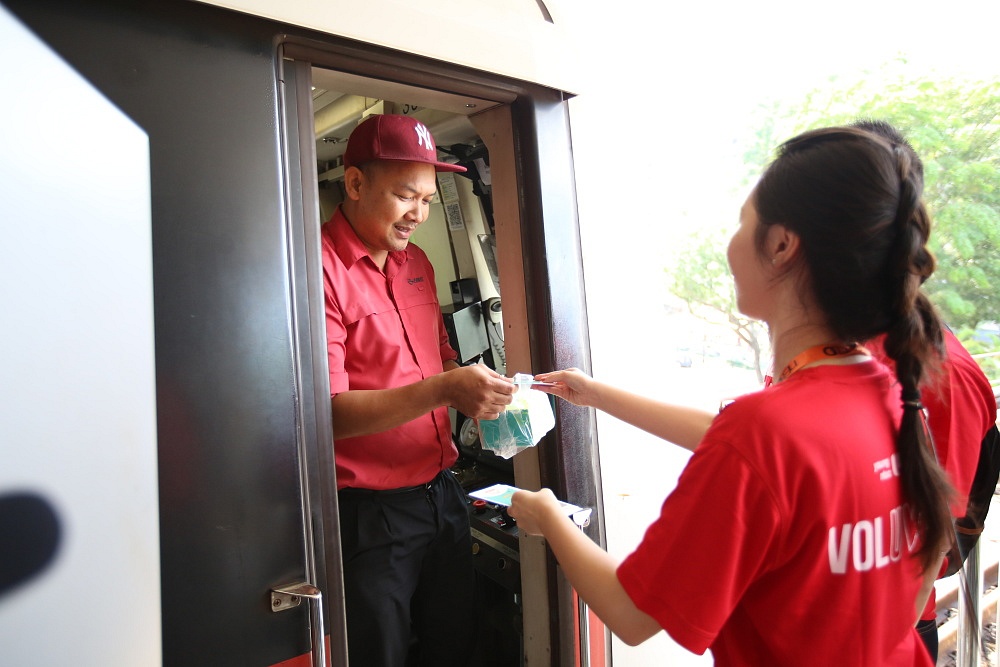 Appreciating those who keep Singapore moving – young volunteers from nEbO and Young NTUC went around distributing snack packs to about 300 transport workers including ground staff, bus captains, train drivers and ticketing crew.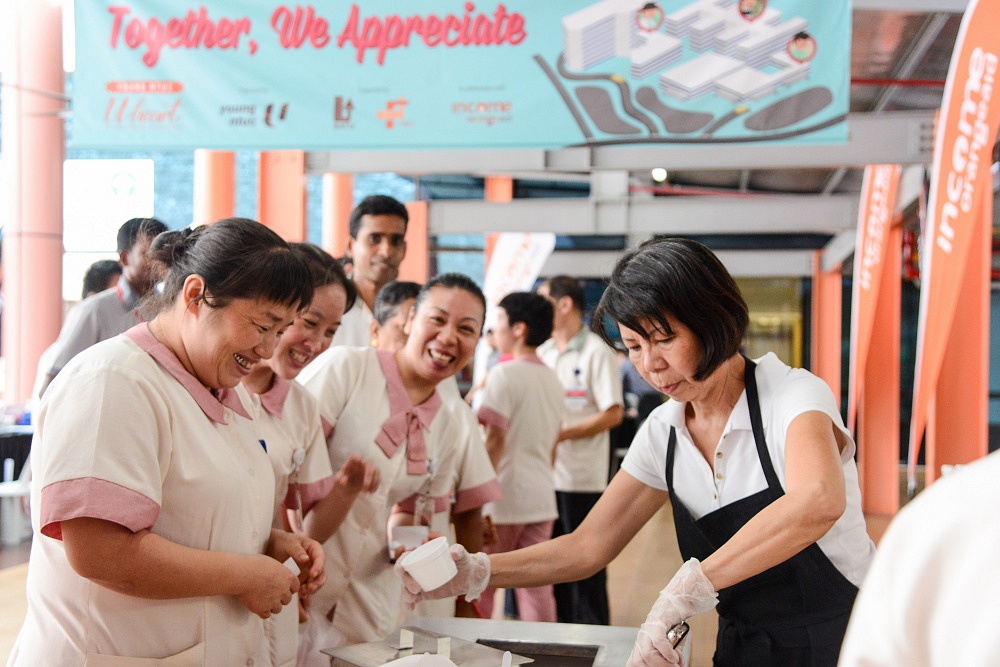 Caring for those who care for others – over 650 staff at National University Hospital were treated to lunch, in appreciation of their hard work.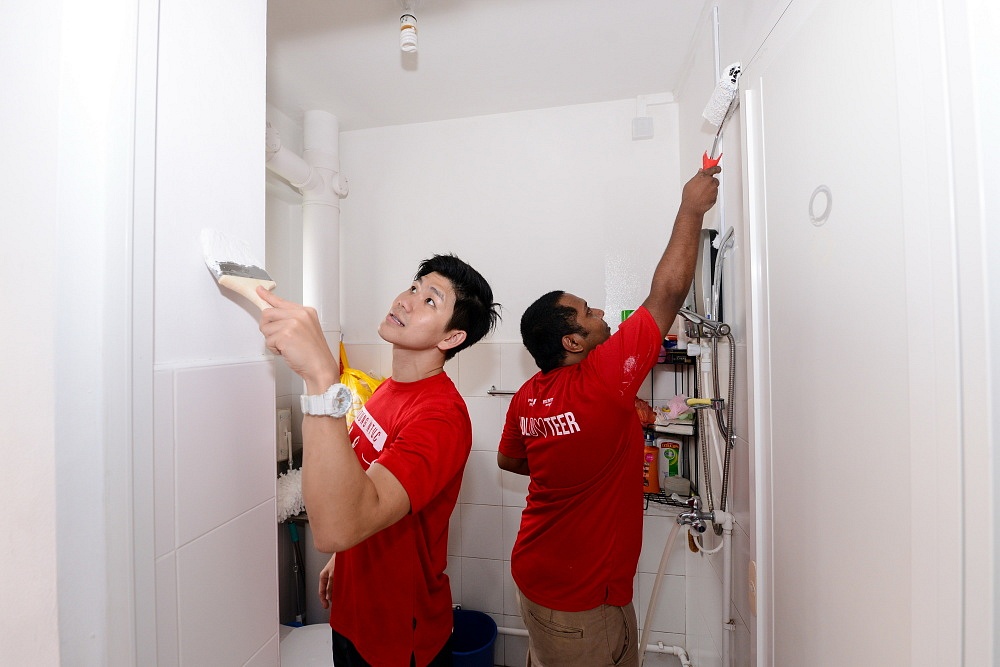 These HDB flats got more than just a fresh coat of paint when volunteers from Young NTUC and various unions helped to refresh the homes of some 30 low-income families.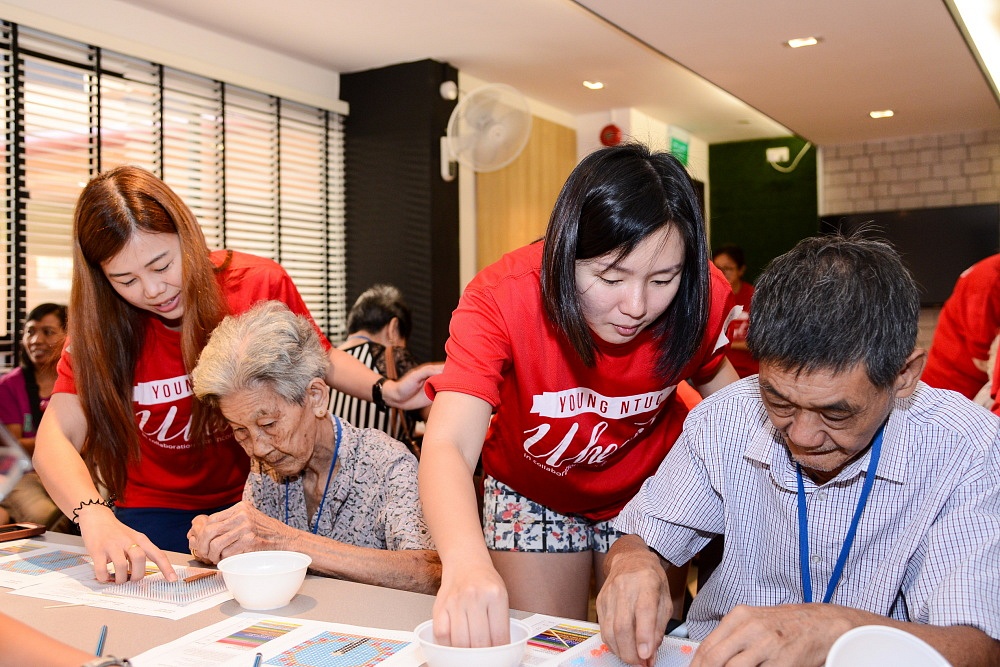 Team Young NTUC Volunteers brought cheer to the elderly at SilverAce Centre through three simple and interactive activities – perler beads handicraft, bingo and karaoke.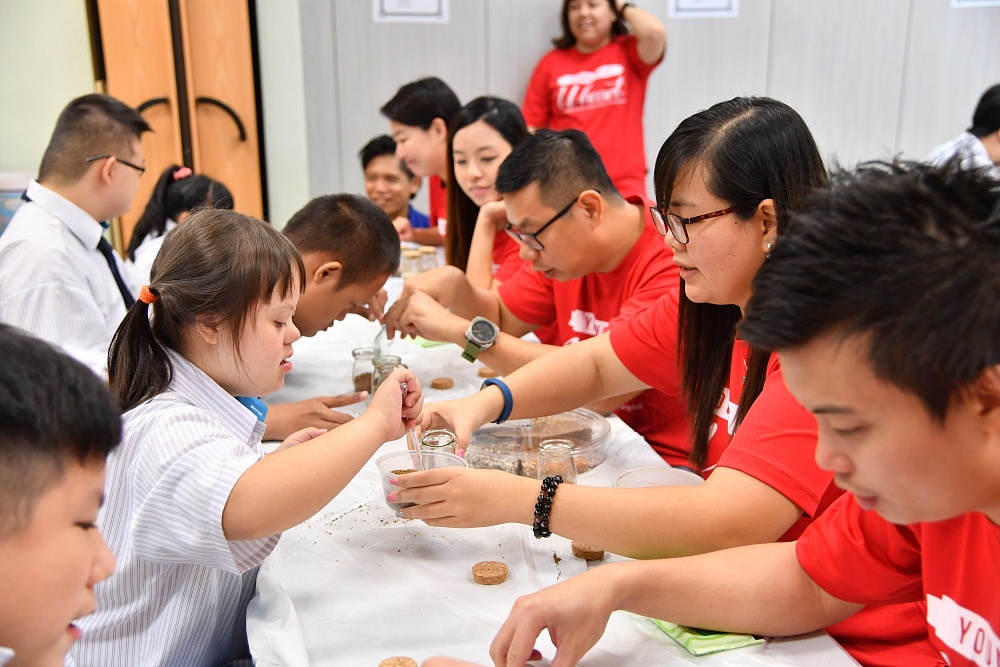 Volunteers help students from the Movement for the Intellectually Disabled of Singapore (MINDS) make terrariums as an appreciation gift for their teachers.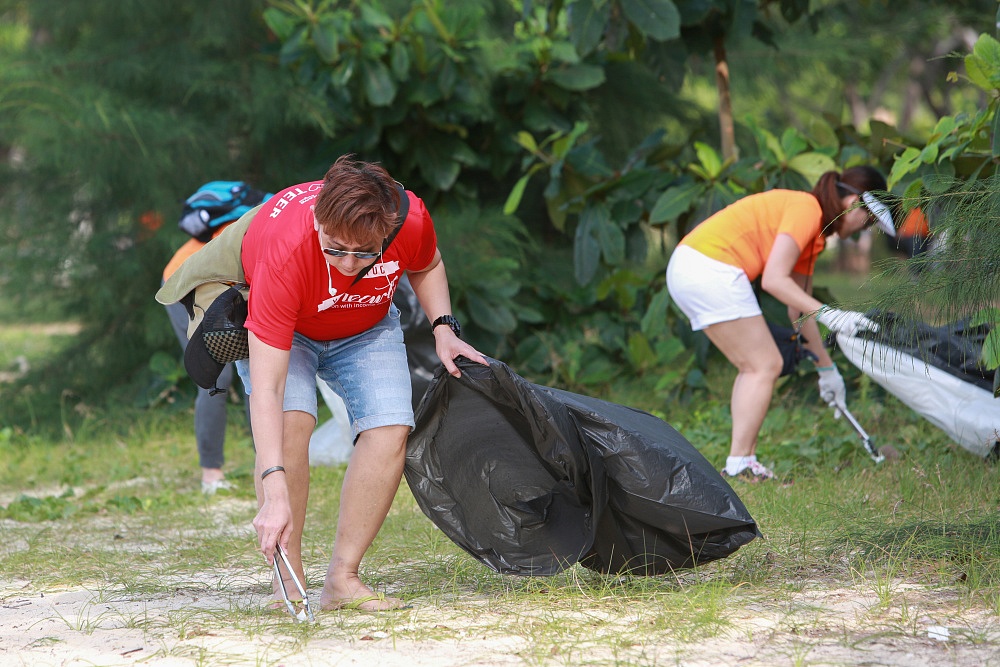 When it comes to saving the environment, every effort counts! Volunteers from NTUC Income came together to clean up the coastlines of Changi Beach.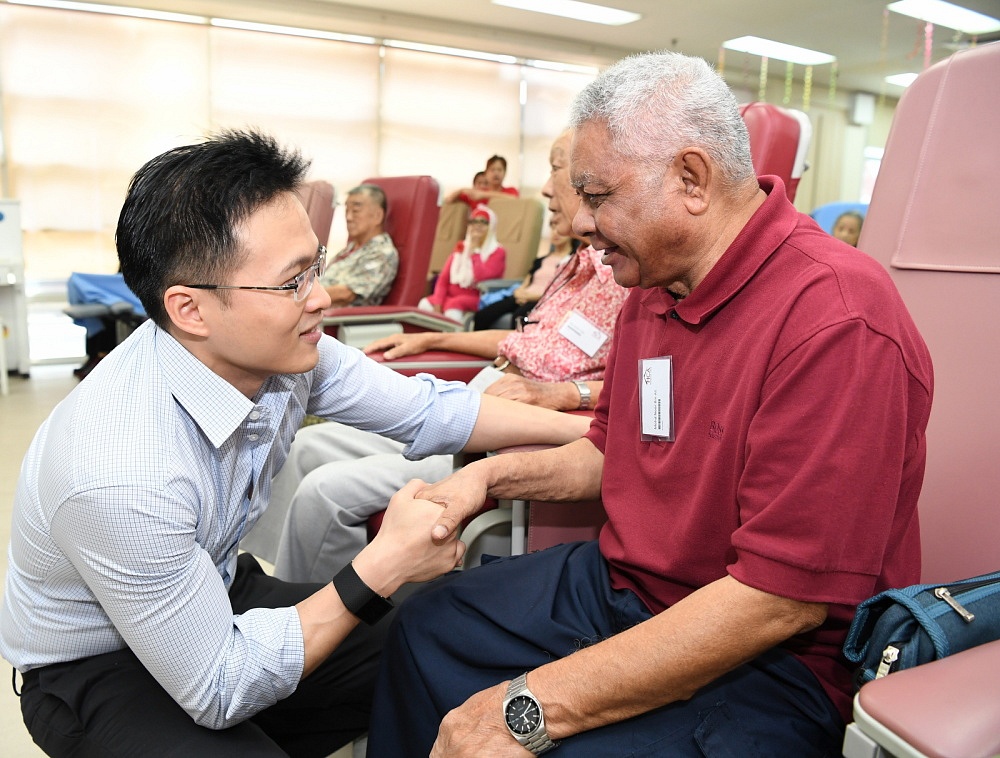 Young NTUC Executive Secretary Desmond Choo speaks to a beneficiary of HCA Hospice Care. Volunteers spent the day singing karaoke and doing handicraft with the patients.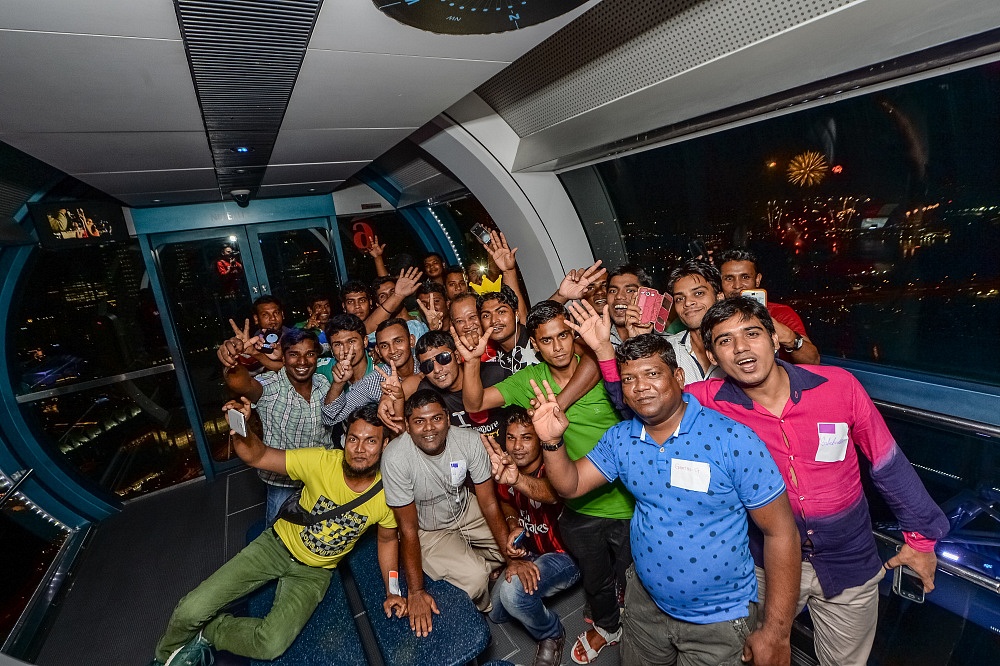 Organised by the Migrant Workers' Centre, these migrant workers from Tuas View Dormitory were treated to a ride on the Singapore Flyer.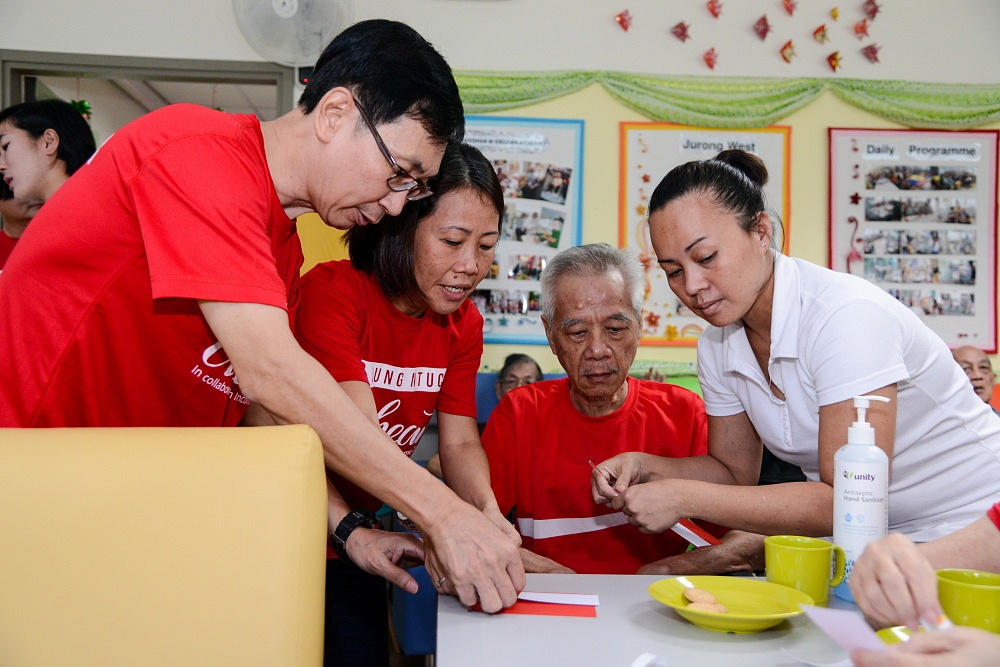 The elderly at NTUC Health were treated to an early National Day celebration. Together with volunteers from U Live, they made handcrafted Singapore flags, played bingo and were treated to a magic show.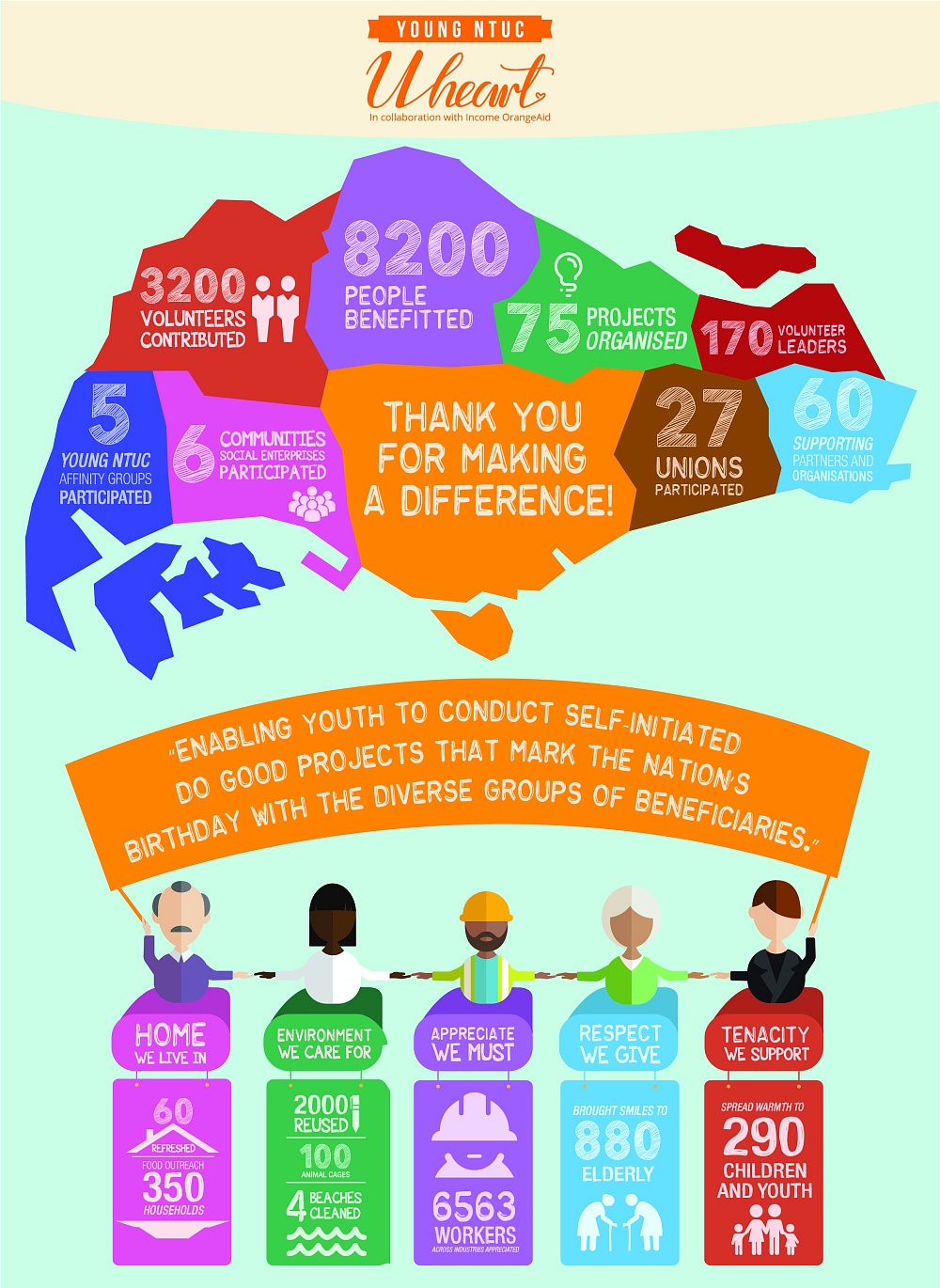 All in all, the conclusion of U Heart 2016 saw some 8,200 people benefiting from the efforts of Young NTUC and some 3,200 volunteers. As Young NTUC Executive Secretary Desmond Choo said: "We will continue to rally the Labour Movement's network to make positive changes like this. Together, we can spur generations to care, hope and love."
Till U Heart 2017!
Interested to find out how you can be a part of positive change? Check out Young NTUC's website for more info today!