The rising cost of living, COVID-19 and job security are valid concerns. And with that, we must find a way to leave no worker behind as the economy recovers and continues to transform.
Finance Minister Lawrence Wong gave his inaugural Budget speech this year. He announced various measures and schemes to help workers overcome challenges and cope with the changes.   
If you missed the speech, we've picked out for you the top five ways workers are getting more support. 
More Support to Cope with Rising Cost of Living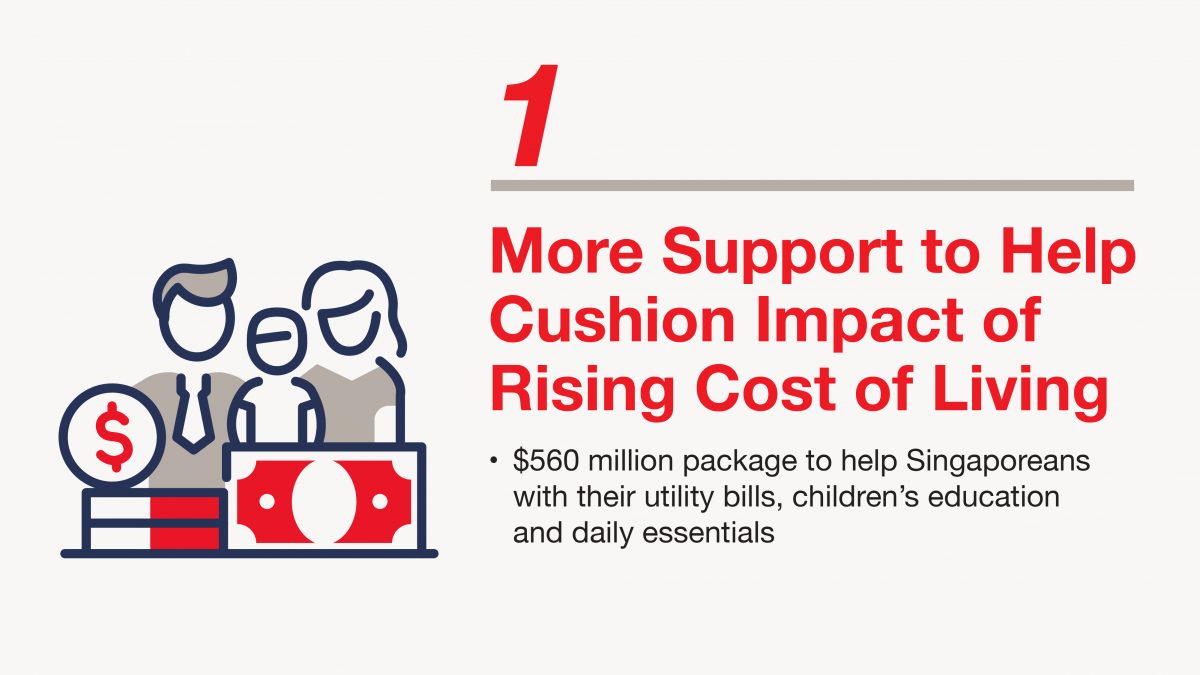 Household Support Package
Many are already feeling the strain of dealing with the rising cost of living due to inflation.
To give Singaporeans immediate support this year, the Government has set aside a $560 million Household Support Package.
The package includes additional GST Voucher – U-Save rebates where Singaporeans will get double the regular U-Save of up to $570 for April to December this year.
Your household will also receive $100 Community Development Council (CDC) vouchers to help you with your daily expenses. These vouchers can be used at participating heartland merchants and hawkers.
If you have children aged 20 and below, they will get a top-up of $200 to their Child Development Account, Edusave Account, or Post-Secondary Education Account.
What about long-term support, given that the Government will raise the GST to 8 per cent next year and 9 per cent in 2024?
For that, a $6.6 billion Assurance Package has been set aside to help you offset the increase.
Assurance Package
If you are Singaporean, you will receive a cash payout of $700 to $1,600 over the next five years, at least.
Your household will also be getting two tranches of $200 CDC Vouchers in 2023 and 2024, respectively.
All eligible households will receive additional $330 to $570 GST Voucher – U-Save rebates for the next four years, starting from 2023. And if you're an eligible senior-aged 55 and above, you will also get a senior's bonus in cash worth a total of $600 to $900 for the next three years.
The package will also go to topping up funds for those vulnerable among us through self-help groups and the Citizen's Consultative Committee ComCare Fund.
More Support for Mid-Career Workers
If you're in your 40s and 50s and looking to do that mid-career switch, you'll be given exceptional help.
The Government will be launching the SkillsFuture Career Transition Programme in April this year for a start. Through this new train-and-place scheme, you will gain access to industry-related courses to help you secure a job in the sector of your choice.
The courses will be delivered by continuing education and training centres and contain industry experience elements such as work attachments or industry projects.
You will also be able to benefit from the SGUnited Mid-Career Pathways Programme – Company Attachment, which is an attach and train scheme where you will receive full-time attachment opportunities of between four to six months.
The programme will see trainees receive a training allowance of up to $3,800 a month for the duration of the attachment.
More Support for Older Workers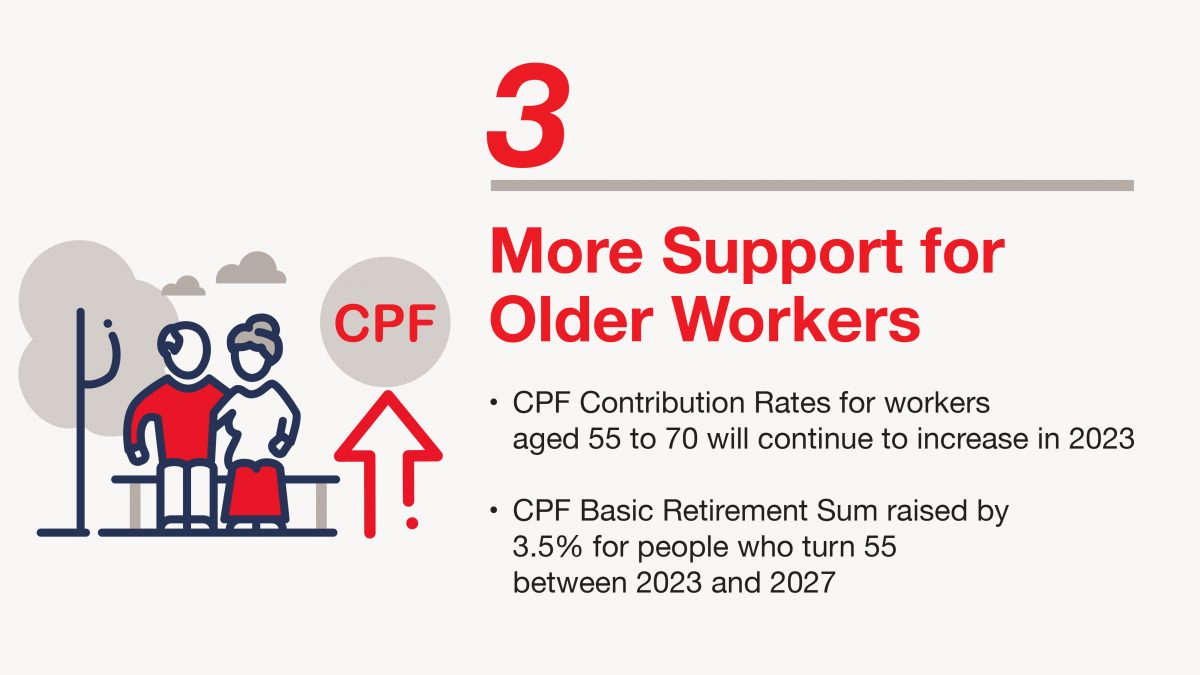 Our older workers aged 55 to 70 will also continue to get an increased employer and employee CPF contribution rate.
The Government will continue to increase the contribution rates in 2023 and provide employers with an offset.
Together with the increase already implemented this year, workers will see a total increase of three to four percentage points in their CPF contribution rates over two years.
To help older workers with their retirement adequacy, the Government will also raise the Basic Retirement Sum payouts by 3.5 per cent a year for Singaporeans turning 55 between 2023 and 2027.
More Support for Lower-Wage Workers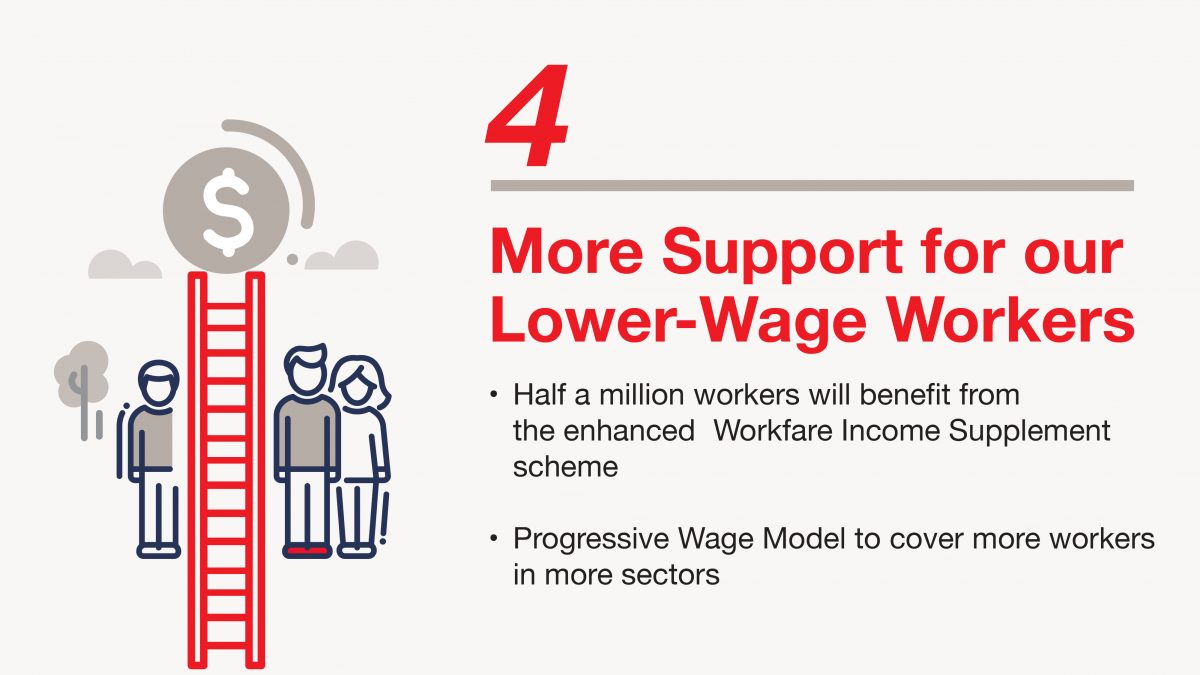 We must leave no worker behind, and wage growth must be inclusive.
For lower-wage workers, the Progressive Wage Model will be extended to sectors such as retail, food services, and waste management in the next two years. And now, companies who employ foreign workers must pay all their local employees the Local Qualifying Salary of at least $1,400.
Additionally, Government contracts will require all eligible suppliers to be accredited with the Progressive Wage Mark from March 2023 to encourage employers to pay workers a progressive wage.
To give companies enough time to adjust to the changes in paying their employees progressive wages, the Government will set up a Progressive Wage Credit Scheme. Through the scheme, the Government will co-fund wage increases between 2022 and 2026.
To give lower-wage workers a further boost, the Government will enhance the Workfare Income Supplement (WIS) scheme by increasing the qualifying income cap from $2,300 to $2,500 a month.
The scheme will also be extended to lower-wage workers aged 30 and above. Currently, only lower-wage workers aged 35 and above are eligible.
With the enhancement of the WIS, more than half a million workers are expected to benefit. 
More Support for You to Train and Get Better Jobs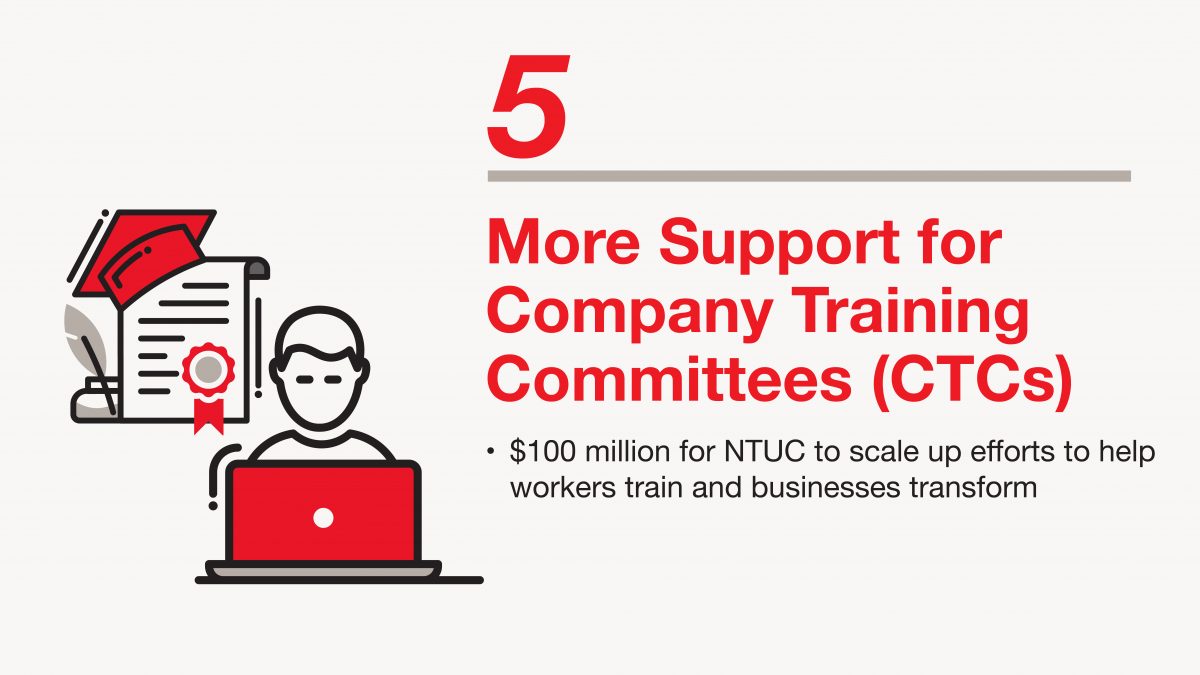 We know that technological disruption is now an undeniable reality for many companies. And to keep up, companies must transform. However, the transformation will not be possible without equipping workers with relevant skills.
Enter – Company Training Committees (CTCs).
The CTC is an initiative started by NTUC in April 2019 where unions and employers develop company-level transformation plans, including relevant worker training programmes.
In support of this initiative, the Government has set aside $100 million for NTUC to scale up its CTC initiative and further assist companies and workers in their transformation journey.
We're especially curious to find out more about how the grant will be used to help workers. So if you're interested too, watch this space in the coming weeks.