"You're just a poor helper. You should not look at yourself in the mirror," 51-year-old Sugiyem Samad Radimah recalled what her former employer told her.
Over the next six months in 2020, the former Indonesian helper would eventually lose the ability to see in both eyes due to the abuse. Sugiyem's former employer had repeatedly battered her in the eyes, face and head.
Being struck by clothes hangers, being slapped repeatedly, and getting burned with a hot iron were some of the things Sugiyem had to endure before she went blind.
She could not even cry openly.
Sugiyem said: "I kept crying on the inside. I could not cry because if my employer saw tears, she would hit me more."
"I want you to suffer for the rest of your life," Sugiyem recalled her employer saying.
Sugiyem had tried all means to get out of the situation. Her cries to be returned to her agent fell on deaf ears.
She also could not ask for help as the house door was constantly closed.
Sugiyem said she was suffering and felt like giving up.
"When I was abused, I lost hope of living," she said.
"Maybe one day I'll forgive her, but I cannot forgive her now. I am trying to forget the whole ordeal," Sugiyem said through a WhatsApp call from her hometown in Semarang, Indonesia.
Her former employer, 43-year-old Ummi Kalsum Ali, never apologised for what she did to Sugiyem.
Adapting to Current Life
When Sugiyem started working for Ummi Kalsum in 2019, she had dreams of opening a grocery store back home in Indonesia.
Her dreams have been dashed and she now relies on her 30-year-old technician son to live.
She said she is still trying to adapt to life without her sense of sight.
She can feel her way through the house alone, but her daughter-in-law has to help with food and going out of the house. She would sometimes seek help from her neighbour.
She spends most of her time now at home with her 11-year-old grandson.
Her right eye still hurts, but that is not the most painful part.
"What hurts the most is not being able to see my grandson's face. Sometimes I feel like giving up, not being able to see the world anymore," she said.
No Regrets
Despite of what happened, she does not regret coming to work in Singapore.
Sugiyem said the first employer she worked for in 2016 was a good family. And whatever happened to her by the hands of Ummi Kalsum was fated.
She said she is relieved to have closure and that justice has been served.
On 25 October 2022, Ummi Kalsum was sentenced to 10 years in prison and fined $4,500.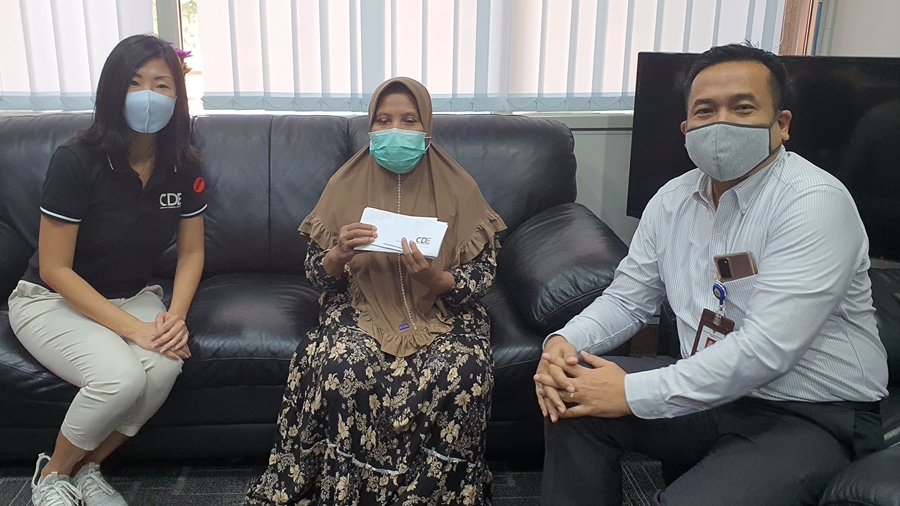 Help from CDE
When the Centre for Domestic Employees (CDE) found out about Sugiyem's incident in October 2020, it was amidst the pandemic with various travel restrictions.
CDE arranged with the Indonesian embassy to bring her back to Singapore. She stayed in Singapore for almost nine months while CDE investigated and placed a court order.
CDE also closely monitored her health and mental well-being.
CDE's charity arm Domestic Employees Welfare Fund also funded Sugiyem's medical treatment and offered her an ex-gratia.
"We ensured that she received all the necessary assistance, such as counselling, medical attention, and a pro bono lawyer to assist with legal matters. CDE is truly grateful for all the support received, which finally concluded in the conviction of her employer," CDE said.
Sugiyem said she feels thankful and relieved for the help and medical attention from CDE and the Indonesian embassy.
For domestic workers who are forced to leave Singapore despite having unresolved issues with their employers (e.g. outstanding salaries, physical/sexual abuse), please do not suffer in silence. If you have a valid claim, approach the immigration and/or police officers on duty at the point of departure and tell them your issues. They can help you.

You can also call the Centre for Domestic Employees at the toll-free 24-hour helpline:
1800 2255 233 (1800-CALL-CDE) to seek advice.