Art defines Mr Tay Han Koon. And what keeps him actively rooted in his intricate abilities to create art is his ardent love for learning new techniques.
He recalls leaving school when he was pursuing secondary two education. The switch to learning in English medium from a primarily Chinese medium-based curriculum in primary school years at Tao Nan School did not sit too well with him.
But his penchant for learning was set in other areas he would later explore in his career. At 16, Mr Tay joined a company specialising in jewellery as a 'goldsmith', who was tasked to craft ornamental pieces to replicate designs from various artists.
During those times, he realised that the designers and goldsmiths often conflicted as the finished ornaments did not always reflect the designers' original designs.
The situation inspired Mr Tay to learn jewellery designing, and he later forked out his own money for course fees to pick up that skill during evening classes.
After some 19 years on the job, the financial crisis set in. Mr Tay then took a break from the industry for two years.
The Union Connection
Over this span, as the avid learner he is, he took up courses for a taxi license at the National Taxi Academy, alongside keeping up with his jewellery designing classes.
There, he met a union leader who constantly engaged his coursemates and him on the benefits of union membership and how unions protect workers' rights.
Among his peers, Mr Tay was the first to sign up as a union member.
"I felt that unions are important in safeguarding workers' interests in difficult situations. And as we were living in uncertain times, I didn't hesitate to join NTUC. As my family also occasionally shops at FairPrice outlets, we also get to enjoy some Linkpoints," he said.
Shortly after, he landed a job as a polishing watch technician at a company dealing with boutique luxury watches and jewellery. He learnt on-the-job to repair complex watch systems.
He kept this job for another 18 years before calling it a day.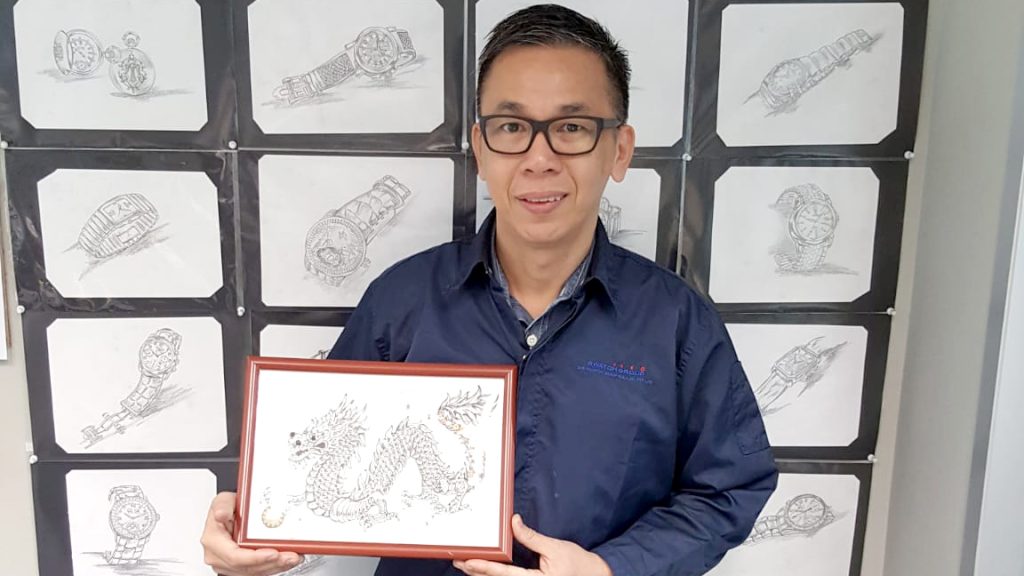 The Art of Giving
Throughout the time he learnt the fine works of designing jewellery and repairing watches, he fused his knowledge of both aspects to create art pieces.
These pieces are truly his labour of love, as he only creates one unique piece of every design he is inspired to work on – from materials such as watch spare parts, coins and printed fabric.
And these pieces are either given away as gifts or framed up on the walls of his HDB flat.
"This is a valuable skill that I gained from the different jobs I took on in my career path. This has been my interest all my life and I enjoy creating these artworks with my skills.
"Even today, I look for new designs to create. And by creating and working with my hands and learning with my mind, I am always active and living a purposeful life," he said.
Four years ago, at 53 years old, Mr Tay decided to help his wife run her drinks and fruits stall at a secondary school near his home.
"Many people may perceive this to be a 'retirement' activity for me. The truth is, our day starts at 5am and ends at 5pm as we begin our preparations before school starts. At the end of the day, what matters is that we are both very happy on this job," he said.
The couple has three children aged 30, 28 and 13 years, and they also have three grandchildren.
Having fostered close-knit bonds with the students who are regular patrons of his stall at the school, he said he also encourages them to learn useful skills that will enable them to lead meaningful lives.
Learning should never stop, and hard work with a purpose is the best gift, he said, sounding very much like an ambassador for the Labour Movement in his advocacy for training and upgrading.
It is no wonder that he refused to believe that he had won a Tesla in Trust Bank's lucky draw just last month.
All new Trust accounts users will receive a $25 FairPrice e-Voucher and a chance to win a brand new Tesla car till 31 December 2022.
Meet Mr Tay Han Koon, the first winner of the draw.
For more information, visit the lucky draw website.