Photo Credit: Jonathan Tan
It is in the moments we leave the comforts of familiarity that we realise what else is out there in the world. Through one such experience with 51 young unionists on Young NTUC's learning journey to Ho Chi Minh City, Vietnam, from 23 to 26 March 2017, this writer gained some valuable insights about Singapore's role in regional development and how one can prepare for the opportunities and challenges in the future.
"Coming to a place like Ho Chi Minh city in Vietnam allows our younger union leaders to understand how Singapore is doing on its globalisation efforts and how we go into things like governance, the development of industrial parks and bringing Singaporean companies in to establish a presence there.
"I think it is important to appreciate this and these young union leaders will be able to compare and contrast how things operate in Singapore and how things operate overseas. It requires a different set of skills, and when they see a lot of Singaporean companies expand overseas, it can trigger the understanding that the job market must be wider than the Singaporean context. This can also help them understand what are the skills needed to help them succeed within and even beyond Singapore," said Executive Secretary of Young NTUC Desmond Choo.
Day 1: Co.opXtra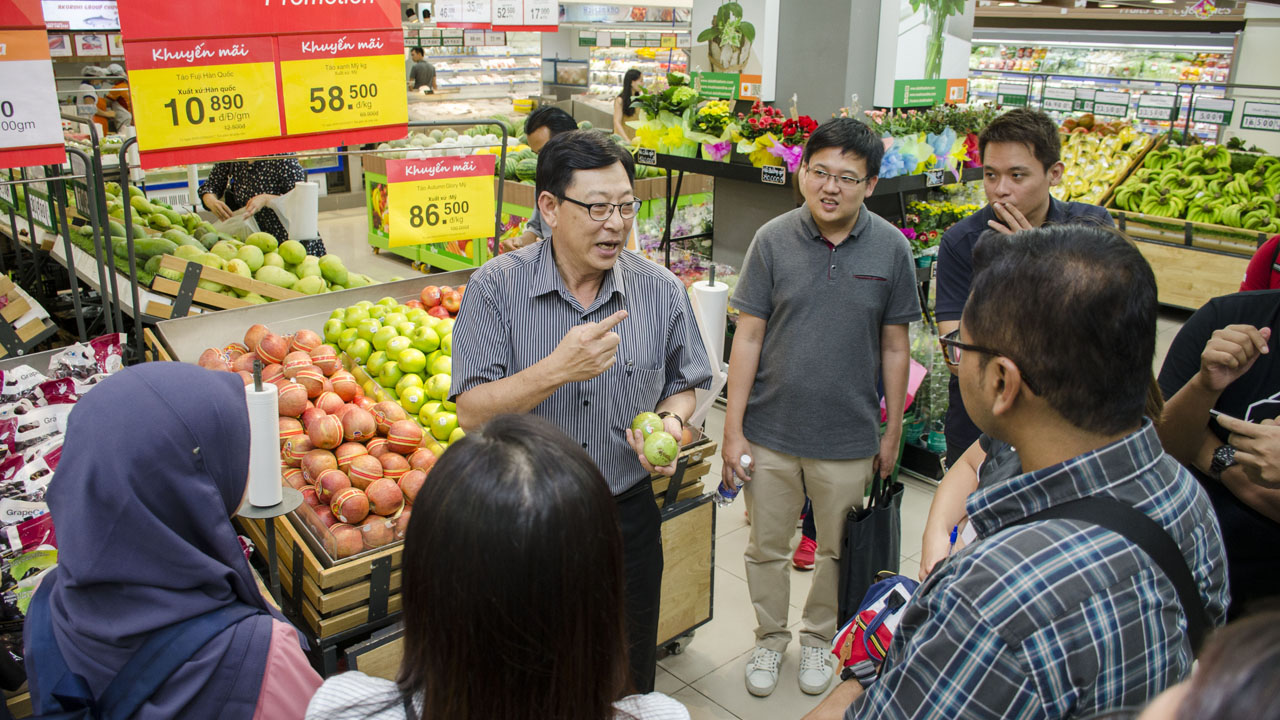 The three-day visit kicked off with a visit to Co.opXtra Tan Phong, a joint business venture between NTUC FairPrice and Saigon Co.Op.
With a staff headcount of 90 serving some 27,000 customers a week, Head of Operations Vincent Toh shared that the three-year-old store has been able to carve out a niche for itself while delivering value to its customers. Rather than competing on price, the store prioritises what matters most: retailing quality produce and food safety. To ensure that, Co.opXtra even has a team of staff dedicated to quality control.
Responding to questions on working with staff from an altogether different background, Vincent shared that understanding the Vietnamese culture is central to effective operations.
"Getting physical staff is not a problem, but retention is as there are many foreign companies in Vietnam hiring as well. We always try to see how we can motivate them. One of the ways is to know the staff more personally, and we address them by name and show interest in them," said the Singaporean.
Takeaways
"I was very enlightened to know that FairPrice kept within its values by choosing a partner company who shares the same values. I think that is not easy because when you talk about a business venture overseas, you have to think about profit and they've somehow managed to strike that balance. The key takeaway was that the co-operative could bring in the standards and quality that Singapore is known for, which is food safety, and they try to keep the regulations in check," shared Muhammad Hamizan, 30, from the Amalgamated Union of Statutory Board Employees, participating on such a learning journey for the first time.
Day 2: Visit to the Vietnam-Singapore Industrial Park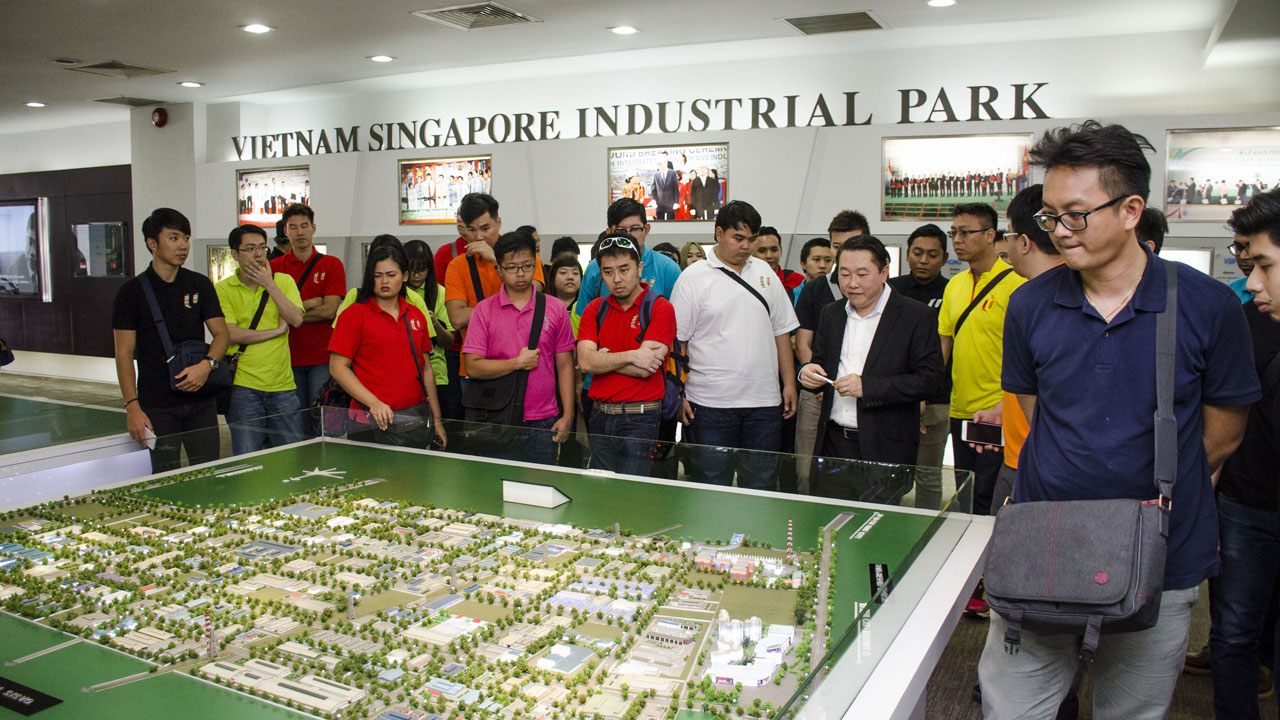 Where the first day zoomed in on how a single company's operations, day two presented a glimpse of how a large-scale Singapore-Vietnam joint operation has made an impact.
Co-developed by Sembcorp and local partner, Becamex IDC Corporation, the 20-year-old Vietnam-Singapore Industrial Park (VSIP) in Binh Duong revealed a Singaporean double, complete with the same degree of efficiency, organisation and trust you would experience back home.
Through a guided bus tour around the Sentosa-sized 500-hectare industrial park, the young union leaders got to see how Singapore's expertise in town planning, organisation and in legislation has enabled it to build up a strong reputation, and in the process attract 250 international companies.
Recounting his experience, Kevin Koh, 32, from the DBS Staff Union shared: "Seeing the joint venture gave me a sense of pride. It's an eye opener because in Singapore, we sometimes take things for granted. This makes us appreciate what we have in Singapore and the impact we've been making in the lives of others. In this case, 200,000 jobs have been created in the industrial park."
Beyond pride, the visit also helped put into perspective the progress Singapore's neighbours are making.
Hasrul Passarebu, 35, from the United Workers of Petroleum Industry said that while it was a proud moment for him to see Singaporean companies like Sembcorp heading developments like VSIP and putting our country's name on an international level, it was scary to see how quickly Vietnam is catching up.
"The industries and companies in Vietnam at VSIP weren't just the low-value chain types of production, there also was high-value production. What scares me is that back home in Singapore, these companies and the jobs may be moved over to Vietnam.
"I will tell my branch members that if you are not going to do anything, you are not going to upgrade and upskill yourselves within the next five years, you will lose out. It's a harsh reality," he said.
The Union Scene
Offering a taste of Vietnam's local union scene, the young unionists were hosted by Foster Electric, a Japanese-owned electronics manufacturer with a staff strength of 20,000 and a 100 per cent unionisation rate for full-time staff.
They also got to learn more about the similarities and differences between Vietnam and Singapore's labour movements through a dialogue with their Vietnamese counterparts from district union Federation of Labour of Binh Duong Province, the Vietnam-Singapore Industrial Park Trade Union, and the Foster Electrics company union.
Like the unions in Singapore, Foster Electric's company union priorities amicable approach towards solving issues. Beyond taking care of the needs and welfare of employees, the union shared that quarterly employee conferences help share information and address potential issues before they crop up.
And unlike Singapore's easily grasped union network, the Vietnamese system comprises company unions (of which there can be hundreds in a single district alone), district unions, province unions and then the national union. So just imagine having to manage all of that.
"The manner in which the Vietnamese companies can unionise everyone in the company, including the professionals, managers and executives (PMEs), is something we can learn from. In doing so, it will enable the unions to better mobilise the entire workforce. We can try to learn their methods which can help our Singaporean unions expand our reach to include PMEs too," said Tan Hui Hui, 35, from the Education Services Union.
"We are researching and learning the good things about other labour movement systems and we will apply the good things to the Vietnam system," said Foster Electric union representative Vuong Kim Dien, when asked about the opinions on Singapore's Labour Movement.
Day 3: Service Learning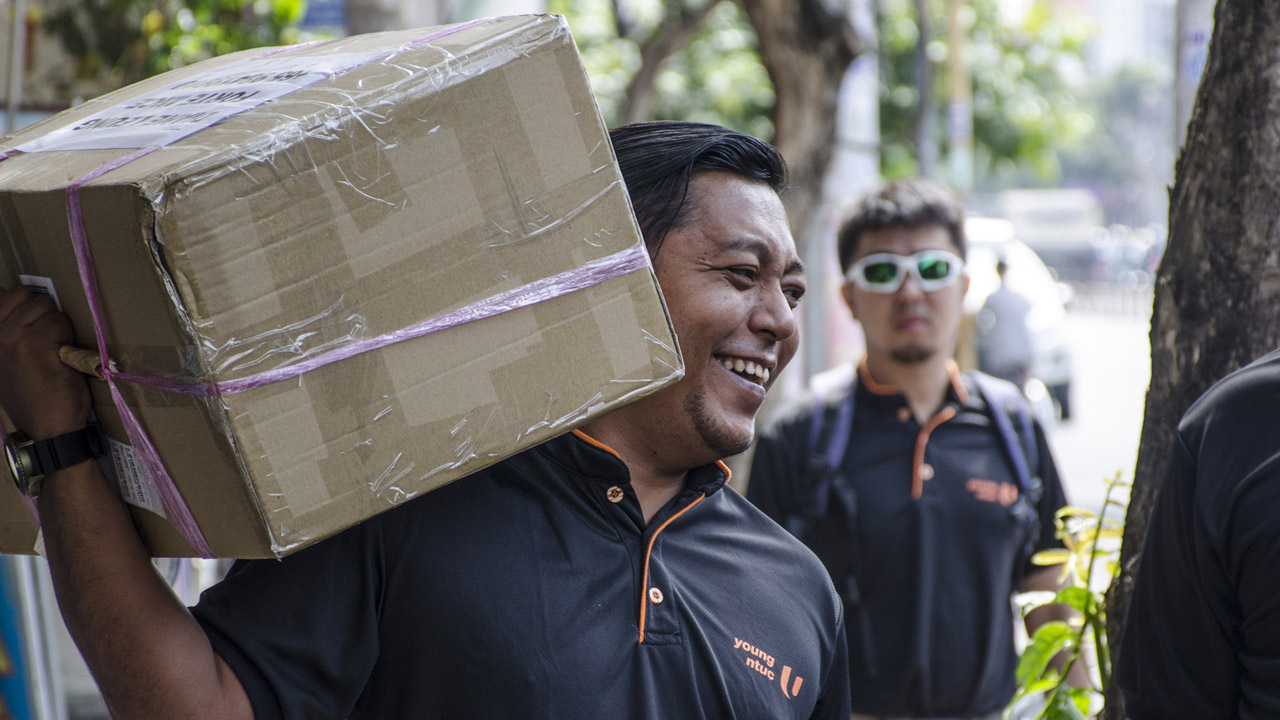 In a break from traditional team building activities, the young unionists came together to organise a visit to the Ky Quang Pagoda Orphanage Centre.
Home to 235 orphans, many of whom are disabled and intellectually-handicapped, the orphanage relies on donations to maintain its care operations for the children. Donations of essentials and gift-giving aside, the young unionists had organised an afternoon of games for 40 of the children aged between six and 12-years-old.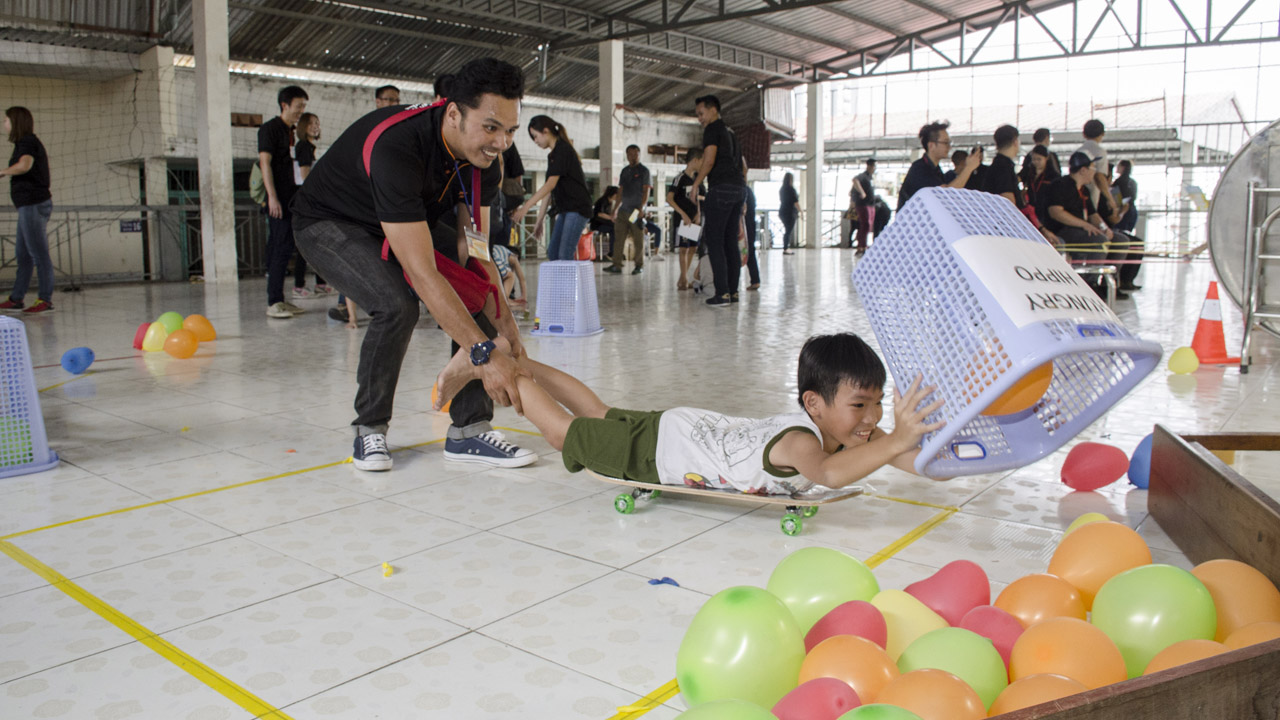 As the photos of the experience reveals, all it takes is a little improvisation with some easily available resources to enable everyone to have a jolly good time. Team building efforts need not necessarily mean going out and doing something fun together. Rather, it's about coming together, working together for the shared outcome of bringing a smile to someone else—in this case, the children in the orphanage!
"Service learning is not about going to a place where you see disadvantaged people. Being overseas, you have to work closer together as a team, across unions, to execute projects together. There will be certain challenges they will face at the orphanage. Language is an issue and you will see different underprivileged people. They will learn teamwork, understand that our work goes beyond just picking up skills for our own benefit but to help a larger community out there," said Executive Secretary of Young NTUC Desmond Choo.
"For the service learning project we are doing at the orphanage, it is a memorable experience. Not only are we doing good deeds, but we can also share the idea that travelling overseas need not always be all about going shopping and sightseeing because there other meaningful things which we can do as well," added Hui Hui.