In January 2016, the Government gave Singaporeans, aged 25 and above, $500 in their SkillsFuture Credit accounts. With the aim of encouraging Singaporeans to take ownership of their skills development and learning, individuals like you and me can use the credit to offset the costs of approved courses across a wide range of topics.
Nearly three years on, SkillsFuture Singapore has reported that that some 431,000 Singaporeans have tapped their SkillsFuture Credits to pick up new skills. There have also been skills frameworks developed for over 25 different industries which serve as guides to help individuals develop themselves and pick up relevant skillsets which can then be used to advance their careers.
Here's a quick peek at 2018 in review for SkillsFuture Singapore.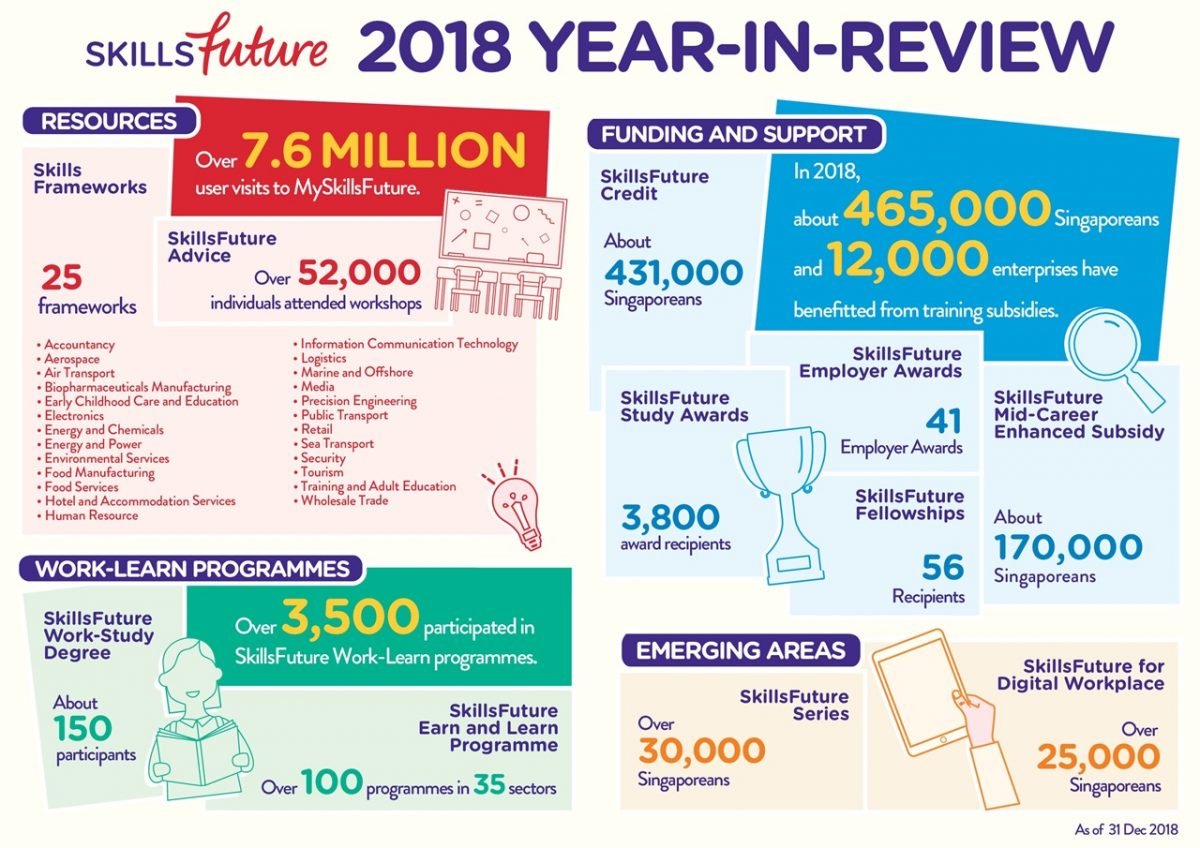 For those of us who have yet to tap our SkillsFuture Credit, here's a list of five short courses you can consider to up your game.
Stress and Time Management
Long hours, tight deadlines and the desire to perform well – these factors can all contribute to stress. Through this day-long workshop organised by NTUC LearningHub, you'll be able to discover your stress triggers and pick up techniques to manage it.
Find out more here.
Professional and Personal Branding
First impressions matter and this one-day workshop will help you learn more about your personal strengths using the StrengthsFinder Profiling Tool. You'll also get to understand the skills you possess and how to accurately brand yourself in the workplace.
Find out more here.
Cultivate Workplace Relationships
Start off the new year right by building #teamgoals with a #winningattitude. This two-day course is focused on helping managers, or aspiring leaders, discover how to forge quality relationships and build trust within their teams in the workplace. No one said leadership was easy, but this WSQ (Workforce Skills Qualification) certificate course should make it easier.
Find out more here.
Fundamentals of Project Management
Good project management goes beyond knowledge, talent and team mates. It includes an understanding of determining factors such as scope, timeline and communications. You will learn all these in a one-day course designed for working professionals.
Find out more here.
Critical Thinking and Analytical Skills
Technology has quickened the pace of work and along with this comes the need to think fast, think critically and be innovative. Years of work and life experience may help, but in the meantime, this half-day lecture can help shape the way you analyse issues and consider solutions.
Find out more here.