In this day and age, what do you do if you experience unfair or discriminatory treatment at the workplace?
Do you openly threaten to report your employer to the Ministry of Manpower (MOM), or do you discreetly reach out to the folks at the Tripartite Alliance for Dispute Management (TADM)?
Many, it seems, would seek the opinions of the anonymous masses on the Internet.
While one can find some genuine gems of wisdom from the online world, LabourBeat has decided to take some of these workplace complaints to TADM@NTUC Master Consultant Charles Ng and Principal Industrial Relations Officer Kelly Koh.
We find out if these complaints have merit, and the advice they would give to tackle these problems.
Is It Legal to Be Discriminated for Taking MC?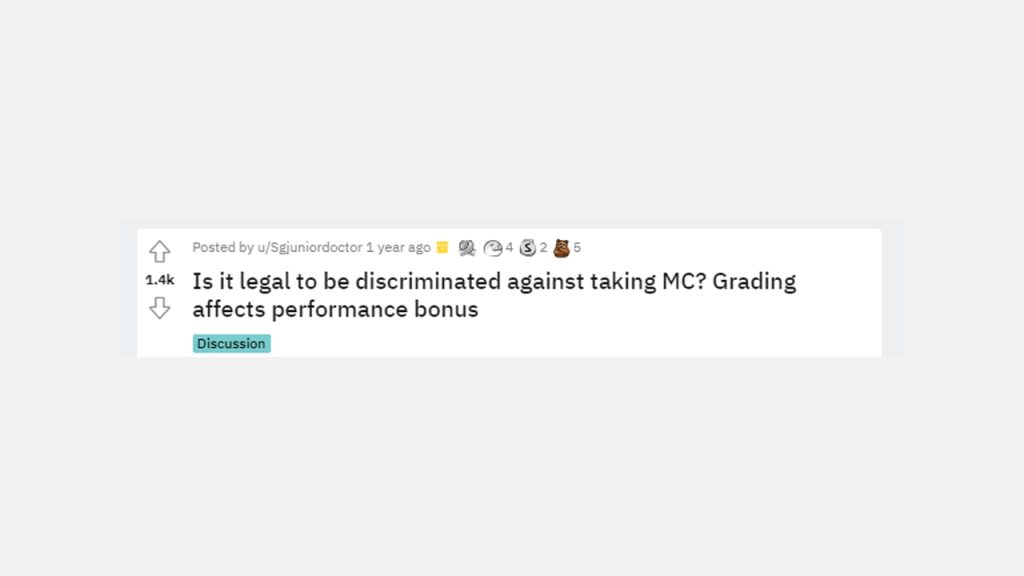 According to Kelly, paid sick leave is a statutory benefit – legally mandated by law.
"When employees approach us about this sort of issue, we will advise the company that if a worker has been certified as unfit for work by a doctor, it means that he or she is unwell, and they shouldn't be discriminated against taking MC to rest," she explained.
However, if an employee's grading and performance bonus has been affected, it is not a clear cut case.
She said: "At the end of the day it also depends on what extent has performance been affected. If there is a strong correlation between attendance and productivity, such as a worker only being able to perform his duty while at the workplace, then that might affect performance."
Charles pointed out that: "During the Covid pandemic, workers are told to stay away from the workplace if they do not feel well.  Thus, workers should not be discriminated if they are taking MC when they are not well."

Loading ...
Boss Reprimands Worker for Asking for Money Owed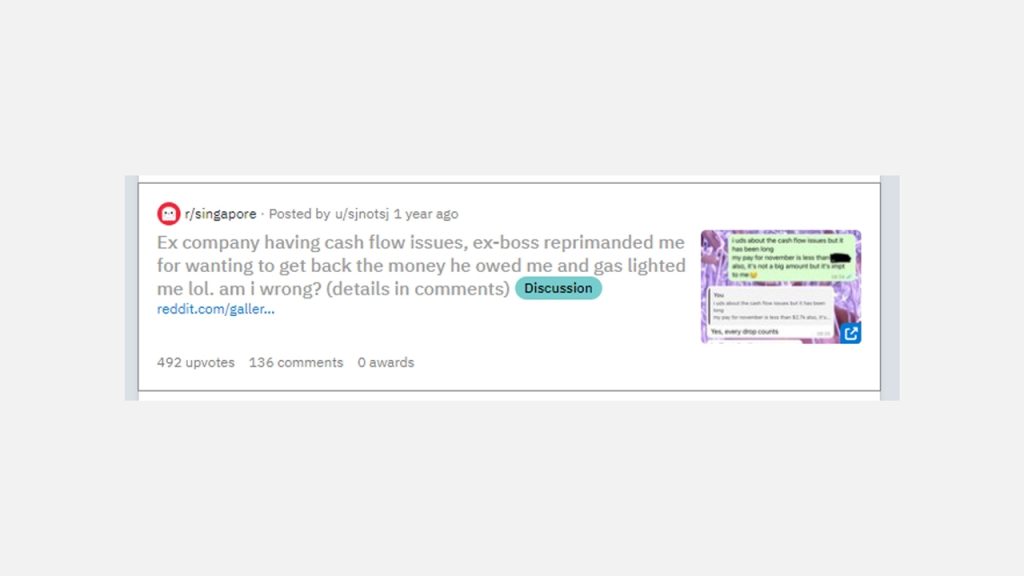 It is bad enough when one is not getting paid, let alone being reprimanded for questioning why.
Kelly shared: "For this kind of problem, we will focus on the key issue which is the salary or money owed.
"If it is a salary issue, we will advise the worker that salary has to be paid within seven days after the end of the salary period. This is in accordance to the Employment Act.
"If the worker is unable to get it [the salary owed], we will ask if the worker is comfortable for us to approach the company directly to resolve the issue."
Charles added that if the company is a unionised company, TADM@NTUC officers will usually work with the respective unions to have the issue resolved within the workplace.
"We will typically work on the principle of resolving grievances from the lowest level first. Only if the problem cannot be resolved or both parties [employer and employee] are in a deadlock, then the problem should be escalated [to MOM/TADM]," he said.

Loading ...
Employee Feels Discriminated for Not Being Considered for More Valuable Projects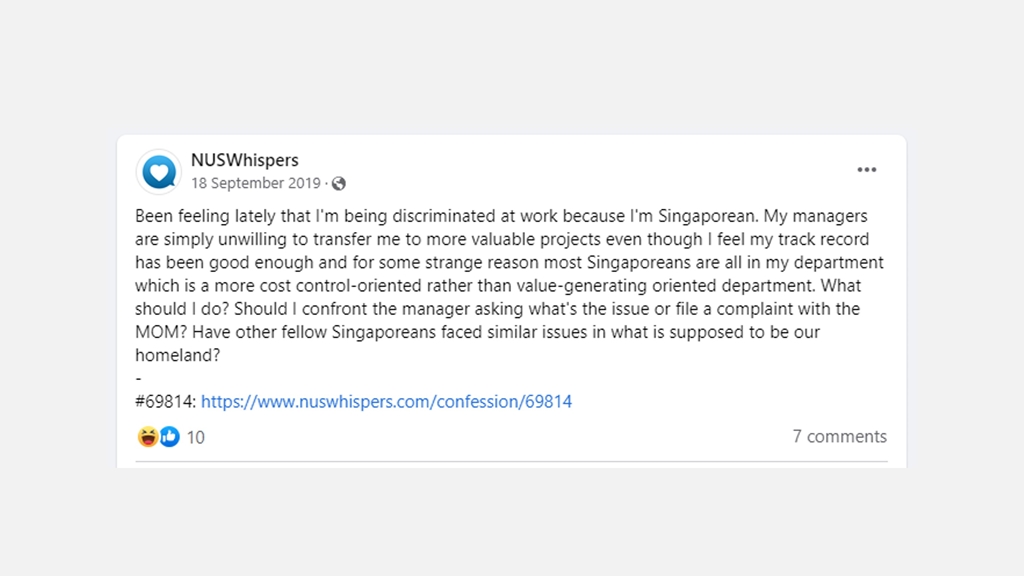 Given the limited information in the post, Charles said that he would first try to ascertain why the worker is not being considered for the role based on objective factors.
He said: "There are just so many possibilities in a case like this. Firstly, it is whether such appointments [being assigned valuable projects] are given through promotion, application or transfers. What are the criteria for applying for such a job?
"We want to look at objective factors. If you have met all these factors, then we can question why is it you are being passed."

Loading ...
Worker Asked to Leave Because He Was Not a Right Fit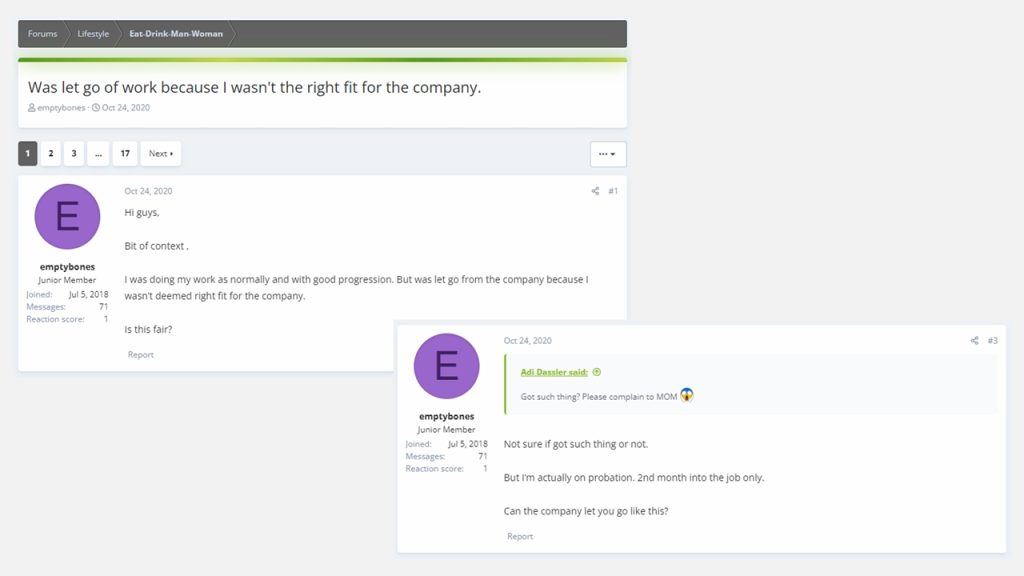 Kelly shared that while this scenario is something she sees quite frequently, it is difficult for workers to prove that any unfair or discriminatory practice has taken place.
"It is very hard to prove that anything unfair has taken place, especially so when the person was still under probation.
"We will also look into other issues such as whether the company had paid him or served him all the necessary obligations by law and stated in the employment contract," she shared.
She said: "Dismissals without notice are usually due to misconduct. From there, we'll go into whether company has done the necessary inquiry process before dismissing the worker. The worker can pursue a claim on wrongful dismissal if the he or she was dismissed without just or sufficient cause."

Loading ...
A Case of Involuntary Resignation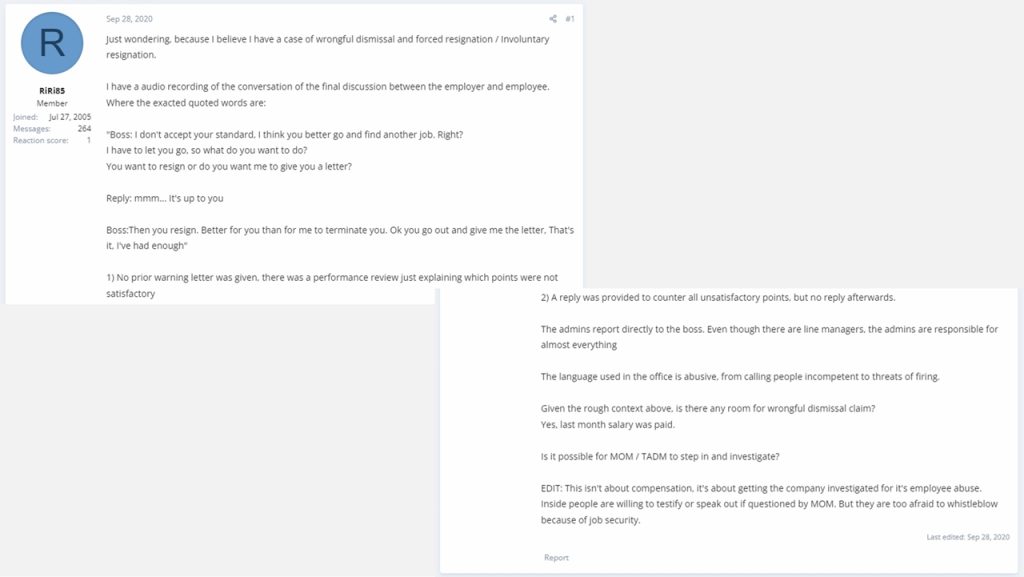 While the worker believes that he has a case, Kelly and Charles pointed out that poor performance was the reason for the dismissal.
Kelly said: "Poor performance is a valid reason for termination. If the company quoted unsatisfactory performance as the reason, then the onus lies on the company to prove that there was indeed a performance issue.
"However, if the company is unable to prove that, then there is some ground for a wrongful dismissal case."
Charles added: "For such cases, the lesser the company does to help the employee improve, the more they have to answer when a case is filed on whether or not the dismissal was fair.
"If the employer was a progressive employer, and they tried to help the worker improve through programmes such as a Performance Improvement Plan (PIP), at least that gives the worker a clearer understanding on where they are lacking."
It is also important that both employers and employees mutually agree to what was raised in the PIP for the purpose of improvement.

Loading ...
Need advice for managing employment or payment-related disputes?
Non-union members can visit TADM's website for more information.
Union members can visit TADM@NTUC. There is no mediation fee, and members can file a claim for up to $30,000 ($20,000 for non-union members)