Guess who is turning 60 this year?
No, I am not referring to Barack Obama, nor am I referring to the Disney animation 101 Dalmatians.
I am referring to Singapore's own National Trades Union Congress (NTUC), which was incorporated back on 6 September 1961.
Over the last 60 years, NTUC has been at the forefront when it comes to workers' welfare, helping to uplift their wages, as well as improve their work prospects through training and legislation (you can learn more about its history here).
As part of the celebration, NTUC Enterprise has launched a series of union member deals up to the end of 2021.
The deals span across various social enterprises under the group, such as FairPrice Group, NTUC First Campus, NTUC Health, NTUC Income, NTUC LearningHub, Mercatus and MoneyOwl.
Total estimated savings these deals will bring union members? A cool $20 million from now till the end of the year.
What's more, NTUC Enterprise also opened a newly revamped Kopitiam outlet at Plaza Singapura, where union members can enjoy $0.50 coffee or tea all day, every day as part of union member deals!
But enough chatter, let's take a closer look at the union member deals .
FairPrice's 50% Super Savers
Of course, no deals from NTUC would be complete without discounts from FairPrice.
From 22 April to 2 June 2021, union and Plus! members get to enjoy 50 per cent off six selected items for six weeks at FairPrice's retail outlets.
Not a union member yet? FairPrice has also extended the promotion to its online platform, though the six items available weekly at 50 per cent off will differ from those at its stores.
The selected items will be refreshed weekly to give consumers a wider variety of choice during the promotional period.
$0.50 Beverages at NTUC Foodfare and Kopitiam
As mentioned earlier, union members stand to enjoy $0.50 hot kopi/teh all day, every day!
Available from 1 May to 12 June 2021.
NTUC LearningHub's LHUB GO Grow60
Touted as the largest continuing education and training centre in Singapore, NTUC LearningHub (LHUB) is letting union members experience 60 of its online courses for a mere $6 (U.P. $26) through their LHUB GO Grow60 deal. That is literally $0.10 a course!
Available from 26 April to 31 December 2021.
Complimentary Term Life Insurance
To celebrate NTUC's 60th Birthday, NTUC Income is offering complimentary LUV basic coverage of up to $50,000 to NTUC members who are currently not insured with its LUV Insurance.
The LUV insurance provides the insured with protection against death and permanent disability, as well as hospital cash benefits in the event of hospitalisation.
Available from 1 May to 31 December 2021.
NTUC First Campus
NTUC First Campus (NFC) operates a diverse portfolio of pre-school brands to suit families with various childcare service needs.
As part of the celebration, NFC is offering a one-time Child Development Account (CDA) top-up and NTUC First Campus sponsored NTUC Membership Programme. Terms and conditions apply.
What's more, for parents who sign up for NFC's "Scientific Techniques Explained to Parents Simply" two-hour workshop will get a free "Early Experiences Matter" one-hour webinar worth $20 and a goodie bag.
The workshop will be available till 30 September 2021.
LinkPoints with NTUC Link
Union members will get a bonus of $2 worth of LinkPoints when you make three transactions at three different Plus! partners.
Available from 1 May to 31 Juily 2021.
M Malls E-vouchers
Members who shop at Mercatus owned or managed establishments will stand to receive $5 M Malls e-voucher with every $200 spent ($300 for supermarket/hypermarket receipts).
Available from 1 May to 31 December 2021.
What's more, new member signups will also receive a $5 M Malls e-voucher. Available for the first 2,000 union members from 1 May to 31 August 2021.
NTUC Health Services
From home personal care services to dental services to fitness programmes, NTUC Health is offering a wide range of discounts and promotions for the year.
Find out more about they have to offer by clicking here.
Investments with MoneyOwl
Union members can get up to 60 per cent commission rebate on insurance policies purchased through MoneyOwl.
For those looking to invest, they can enjoy zero percent advisory fee on WiseIncome till 31 December 2021, and an additional 10 per cent off on all other investments till 30 June 2022.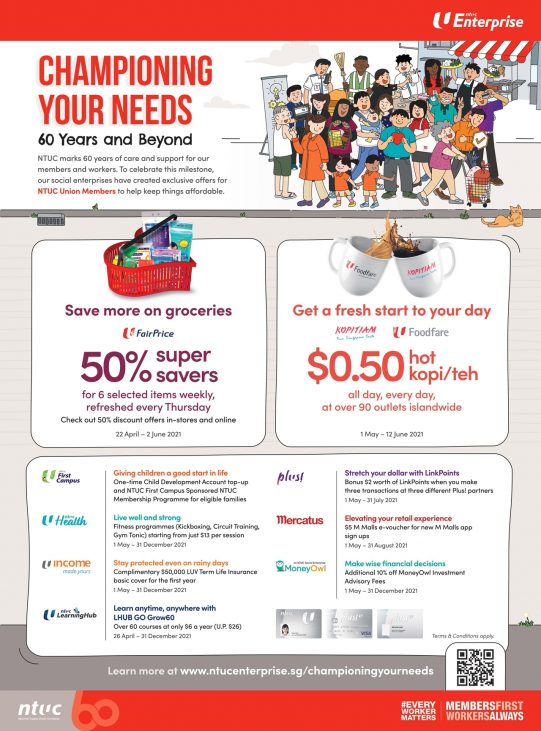 Visit NTUC Enterprise's website to find out more about these limited time deals.