As COVID-19 continues to smother the global economy, more and more sectors here in Singapore will begin to feel the impact brought about by this pandemic.
On 29 July 2020, the Ministry of Manpower (MOM) announced employment numbers have dropped, and that overall unemployment rates rose from 2.4 per cent to 2.9 per cent from March to June 2020.
According to experts, this trend is unlikely to end anytime soon.
In such uncertain times, what can you do if you are one of those retrenched?
1. Look for a New Job
While many who face retrenchment will naturally be hard-pressed to get a job, there are things you can do to improve your chances of finding one.
Update your resume and LinkedIn profile – If you have been in the same job for the last several years, chances are your resume and LinkedIn profile does not accurately reflect the skills and experience you have acquired over the years.
Recruiters and head-hunters will need updated information to better match you to an appropriate role, so spend some time to update your career experience.
Search for job vacancies – While it is understandable for many to use popular job search sites like jobscentral, jobstreet and glassdoor – consider visiting Workforce Singapore (WSG) as well.
They provide valuable resources such as mid-career pathway programmes, workshops, career guidance and more.
Find out more about WSG's job vacancies
Look out for upcoming job fairs – NTUC's e2i (Employment and Employability Institute) and WSG have really ramped up their career fairs during these unprecedented times.
If you would like the opportunity to directly meet up with prospective employers, you can find more details by visiting their events page.
Find out more about e2i's events
Find out more about WSG's events
2. Get Financial Assistance
Living from paycheque to paycheque? Perhaps you are the sole breadwinner of your household?
If you are facing financial difficulties, there are several avenues you can reach out to:
NTUC Care Fund (COVID-19) – NTUC is providing a one-off cash relief of up to $300 to eligible union members who are facing hardship due to COVID-19, helping them tide over daily necessities during this challenging period.
Find out more about the NTUC Care Fund (Covid-19)
Self-Employed Persons (SEPs) Income Relief Scheme (SIRS) – SIRS helps Singaporean SEPs with less means tide over this period of extraordinary economic uncertainty.
COVID-19 Support Grant (CSG) – Meant for Singapore Citizens or Permanent Residents who are involuntarily unemployed due to retrenchment or contract termination; involuntarily placed on no-pay leave (NPL) for at least three consecutive months; or presently experiencing a reduced monthly salary of at least 30 per cent as a result of the economic impact of COVID-19.
Find out more about the COVID-19 Support Grant
Approach Family Service Centre (FSC) or ComCare – FSCs are community-based to provide help and support to individuals and families in need. In contrast, ComCare supports persons and families who need temporary help as they work towards self-reliance.
Support Go Where – This site provides a comprehensive list of available grants, funds and packages for individuals.
Find out more about Support Go Where
3. Go for Training
One thing a lot of people undermine is the need to go for training, thinking they can rely solely on their experience.
As technology evolves and skillsets change, it is always wise to keep yourself up to date with relevant skills.
You can consider getting help or searching for courses through:
Union Training Assistance Programme (UTAP) – UTAP is a training benefit for NTUC members to defray their cost of training.
This benefit is to encourage more NTUC members to go for skills upgrading.
SGUnited Skills (SGUS) – The SGUnited Skills programme is a full-time training programme ranging from six to 12 months.
The programme comprises certifiable courses delivered by Continuing Education and Training (CET) Centres, including Institutes of Higher Learning.
Find out more about SGUnited Skills
4. Seek Career Guidance
If you need any help – from assessing your career path to arranging for a one-to-one session with a career coach – you can seek advice at:
Career Pit Stop – Take a career health check by visiting this site.
Developed by e2i, Career Pit Stop allows you to be aware of your strength and weakness in areas such as performance, influence, network and clarity.
Find out more about Career Pit Stop
Meet a career coach – Need help with your job hunt? A career coach can do just that.
Pair up with a certified career coach and get personal help with establishing your professional path.
Find out more about e2i's career coaches
Find out more about WSG's career coaches
e2i's Employability Workshops – be it for skills upgrading or job matching, e2i's employability workshops can help you with your career goals.
Find out more about e2i's employability workshops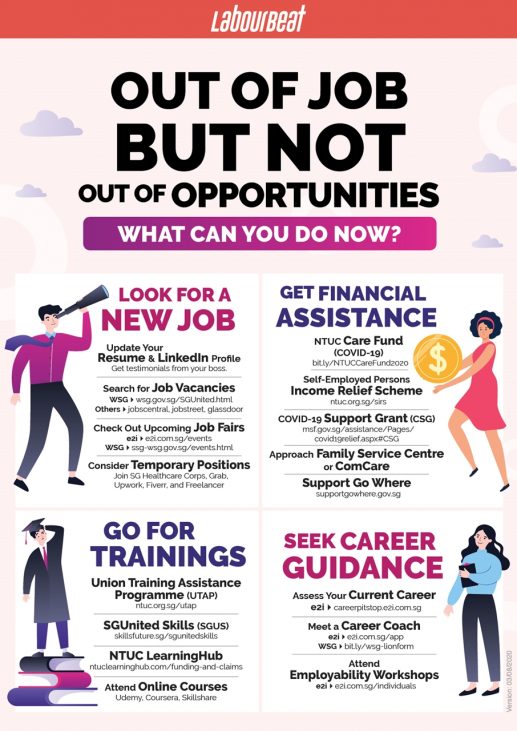 Download the above image in our PDF Guide , with all the links in this article.