We know how work piles up and leaves you glued to your seats. We know the frustration of chope'ing seats and queuing up at the hawker centres. And most of all, we know how hitting the restaurants is not going to be healthy for your wallets in the long-term.
Office ladies and gentlemen, we hear your lunchtime-in-the-CBD (Central Business District) woes – all the above, crowd, hot sun, pouring rain, finding a seat, long queues… but we've found a solution. We sent the team on a food hunt to get the best, tasty deals delivered without them having to step out from the vicinity of the building!
WhyQ
At the top of our list is WhyQ, simply because it has no minimum order. You don't need to find a lunch buddy or chalk up a bill just to indulge in some comfort food.
I was a little skeptical about the flat delivery fee of $1.50 and nominal mark-up in food prices, so I tried out the platform to see if it delivers (pun intended). And, it didn't disappoint!
A bowl of curry chicken noodles from Ah Heng Curry Chicken Bee Hoon Mee set me back by only $6.80 after a $0.30 takeaway charge (read on to find out how to get it cheaper!). It's a hawker stall featured in MICHELIN Guide 2017 – imagine how much time and sweat I had saved from not queuing!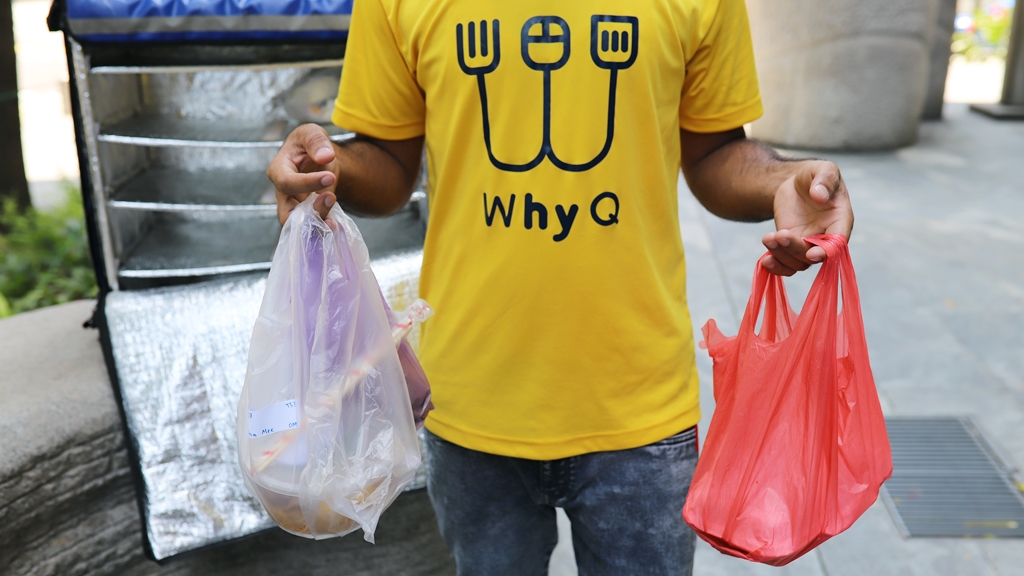 Also available on both Android and iOS app stores, WhyQ provides delivery timeslots at 30-minute intervals from a variety of hawker centres. However, it only delivers to the CBD and there is a minimum lead time to meet.
How much in advance you will need to order varies, depending on where you order from. Here's a quick reference:
30 minutes: Amoy Street Food Centre, Maxwell Food Centre, Hong Lim Food Centre, The Arcade
75 minutes: Tiong Bahru Market, Chinatown Complex Food Centre, Market Street Interim Hawker Centre, Lao Pa Sat, Golden Mile Food Centre
85 minutes: Tanjong Pagar Plaza Food Centre, People's Park Complex
Pro Tip 1: Book in advance
If you have seen or even been in one of the snaking long queues, you can imagine how popular such a service will be. So, I was not surprised when at 11.45am, the earliest timeslot I could get was 1.15pm even though the minimum lead time is 30 minutes. It arrived earlier than it promised, at 1pm.
Pro Tip 2: For large orders, bring someone with you during collection
For those in multi-story office buildings, you will have to take the lift down as it only delivers to the main lobby. You will receive an SMS when their staff arrive.
Pro Tip 3: Call 6914 2673 if you have any enquiries.
No long waiting time or an automated phone attendant on the other end. The customer service officer picked up my call on the third ring!
Pro Tip 4: Pay with DBS PayLah! or POSB/DBS cards for 50 per cent off delivery fee.
Lucky Café & Restaurant
Here's a Halal-certified eatery that you can order from together with your Muslim friends!
Lucky Café promises to get hot food to you within 45mins. There's a minimum order of $15 online but I don't think you have an issue hitting that given their extensive menu comprising ala carte dishes, finger food, as well as Philippine and western cuisines. Delivery charge is $3.
Delivering only within 5km of their establishment at North Canal Road, it hits most offices in the CBD, including locations like Raffles Place. If you are a little off their radar, I recommend you ring up their friendly staff over the phone and see if they can make an exception.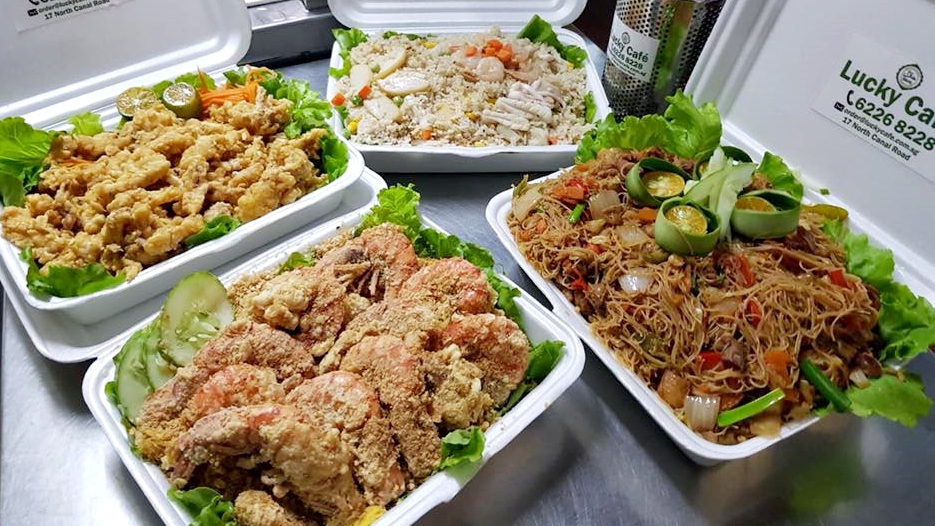 Best thing about this place? It opens 24 hours!!! Well, almost. Below are their opening hours.
Weekdays: 10am – 4.15am
Weekends: 5pm – 4.15am
That means you don't have to go hungry when you work overtime, overnight or even on weekends. Not that I'm encouraging you to, of course.
Pro Tip 1: Order through their hotline at 62268228 instead
They allow orders below $10 and charges just a dollar for delivery. Delivery charge is waived for orders over $10 and a five per cent discount is extended for orders $15 and above!
Pro Tip 2: Get a Malay-speaking colleague to make the call, if possible
The staff does not seem to be very proficient in English. So, if you have more complex enquiries, communication may be an issue.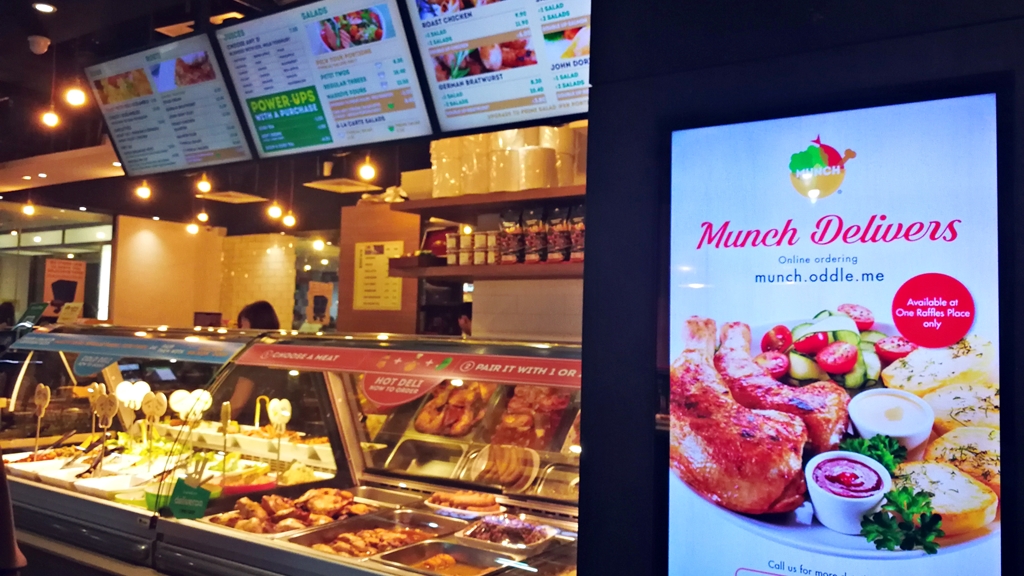 Oddle.me is a platform increasingly being used by food establishments to roll out their online ordering service.
For fitness fanatics, we have pinpointed two restaurants in the CBD using the platform that deliver healthy eats! The $15 delivery fee and minimum order requirements are a little steep but it will be manageable if you get a few lunch kakis to chip in.
Munch.oddle.me
Munch offers two rare gems in the CBD –  affordable proteins that come without carbs and sharing salad bowls.
For proteins, choose amongst roast chicken, dory or German bratwurst and DIY your accompaniments, from the quantity to the type of salads.
For larger groups, their sharing bowls feed six to eight people. If you need some healthy carbs, they have a selection of quinoa, cous cous, multigrain, soba, vermicelli and pasta offerings. Otherwise, check out some of their salads that come with premium ingredients or creative Asian flavours.
Minimum order: $50
Retail store: Munch Saladsmith Rotisserie, 1 Raffles Place, #B1-16, One Raffles Place, Singapore, 048616
Giojioconcepts.oddle.me
Giojioconcepts is famous for their Seattle-inspired fares. Yes, think lobster rolls! But that is not the only thing they have.
They have come up with quite an array of gourmet salads, chowders and sandwiches using a mix of seafood including scallops, clams, salmon, shrimps, crabs and oysters!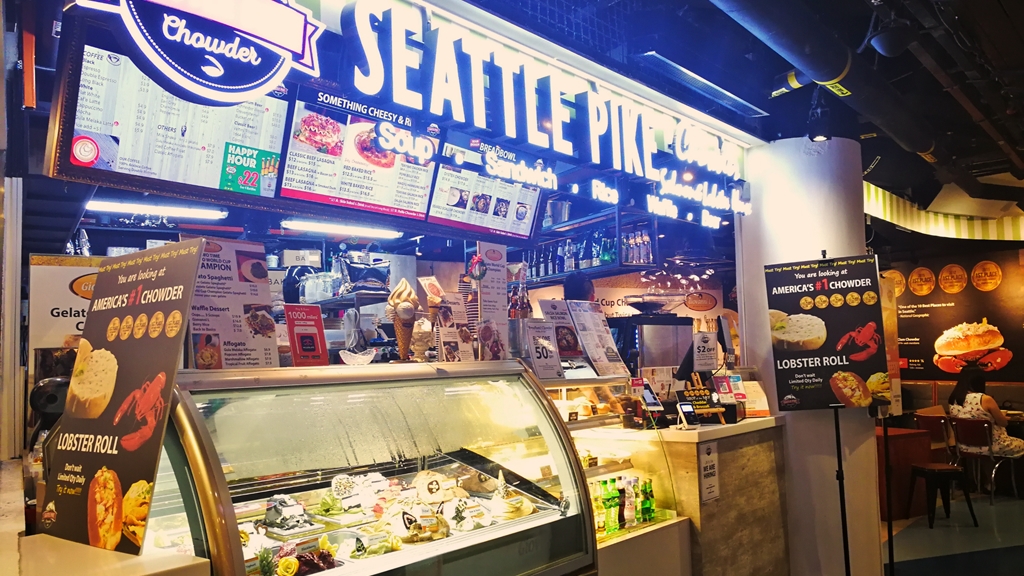 If you are thinking of indulging yourself on a bad workday, consider rounding up your meal with an avocado Gula Melaka milkshake or gelato cone.
They are giving a five per cent discount for island-wide delivery now!
Minimum order: $40
Retail store: Seattle Pike Chowder & Giovanni L, 1 Raffles Place, #B1-28/29 One Raffles Place, Singapore, 048616
As you can see, food solutions and hawker fares are getting more creative and we are loving it! While you are at it, check out our interview with some youth hawkerpreneurs here.