As a parent with three kids and no domestic helper, working from home was probably one of the most significant benefits that I got out of the pandemic over the last two years.
But this benefit was not without consequence.
Before COVID-19, through just my daily commute to and from the office, I used to clock at least half an hour of walk time every day. Today, it takes me less than ten steps to commute from my bed to my laptop in the living room.
As a result of this largely sedentary lifestyle, my fitness has plummeted while my weight has skyrocketed.
And all my old work clothes no longer fit.
But things at work are about to change. With the Government making plans to further re-open our economy, it is only a matter of time before we head back to the office full-time.
If you are like me and want to slowly start exercising and not return to the office looking like you have spent the last two years at an all-expense paid buffet, partaking in something like the U Sports' Run to C.A.R.E might be just what you need to get started.
What Is It?
Organised by NTUC Club's sports community arm, U Sports, Run to C.A.R.E is a virtual fundraiser which hopes to raise funds for some 15,000 lower-income union members and their families.
Unlike bigger running events such as the J.P. Morgan Corporate Challenge or the Standard Charted Singapore Marathon, Run to C.A.R.E is not about setting new race records or pushing yourself to the limit but about helping others.
How Will It Help You?
It Is for A Good Cause
Proceeds of your $20 registration fee will go towards the NTUC-U Care Fund, which will, in turn, be used to better the lives of lower-wage union members and their families.
While you have decided to get fit, you also have decided to help better the lives of those in need.
Targets For You to Achieve
There are five different milestones to achieve for Run to C.A.R.E, and they range from 5km to 42km.
Upon achieving the said milestones, you will receive e-badges to keep track of your achievements. In addition, once the event is over, you will also receive an e-certificate and an e-medal!
Do It Anywhere, Anytime
As it is a virtual event between 16 March to 10 April 2022, you can complete your milestones after a day at the office or around the vicinity of your neighbourhood.
There is no need to worry about joining large group sizes or safe distancing measures.
Do It at Your Own Pace
One of the most daunting things about the other running events I mentioned earlier is that they are competitive and not for just any regular Joe.
Run to C.A.R.E is a charity event, so it is all about participating. Whatever your fitness level, whether you want to walk, jog or run, it is all up to you.
Rally Your Friends and Family
For those thinking of pushing themselves further, Run to C.A.R.E even has a fundraiser challenge, where you can rally your friends and family to donate to your own campaign page.
Or, if you just want to have an active time with your children, you can participate in the event's Facebook contest. For a chance to win, snap a photo of your kids going on a run with you.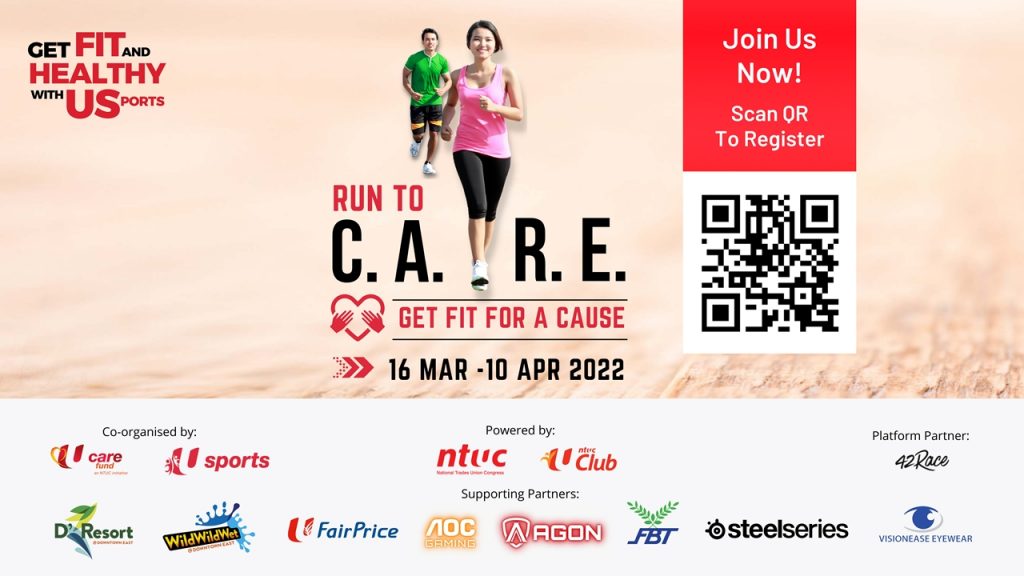 Alternatively, click here if you are interested in finding out more about Run to C.A.R.E, how to join or even how to donate.