I will be honest. At this point, I am starting to miss attending live training sessions.
While I can ramble on about what I miss most about physical training classes, the current safe management measures in place today can make attending such classes troublesome.
But the learning must go on, which is one of the reasons why many are turning towards online learning.
Recognising this shift, NTUC LearningHub (LHUB) launched its Learning eXperience Platform (LXP) app for mobile on 17 November 2021.
While the previously launched LHUB GO focused on tailoring bite-sized learning to fit workers' busy lifestyles, NTUC LHUB touts the LHUB LXP mobile app as a one-stop learning application. The app aims to be a key enabler for lifelong learning not just for you as a worker, but for companies as well to help them upskill and re-skill their workforce.
As of today, LHUB LXP provides on-the-go access to over 75,000 courses across 60 categories. The app is also one of the three online subscription platforms where you can use your SkillsFuture Credit to make an already affordable training tool even more economical.
I tried signing up to the service earlier this week to see if it was truly a training app that was catered for the masses.
Getting on Board the LXP Bandwagon
Step 1: Signing Up
Signing up for the LHUB LXP can be done so at this link here.
While I should have tried subscribing to the LXP services using my mobile phone (it is after all Singapore's largest subscription-based online learning mobile application), I performed the subscription via my laptop since I was working on this article concurrently.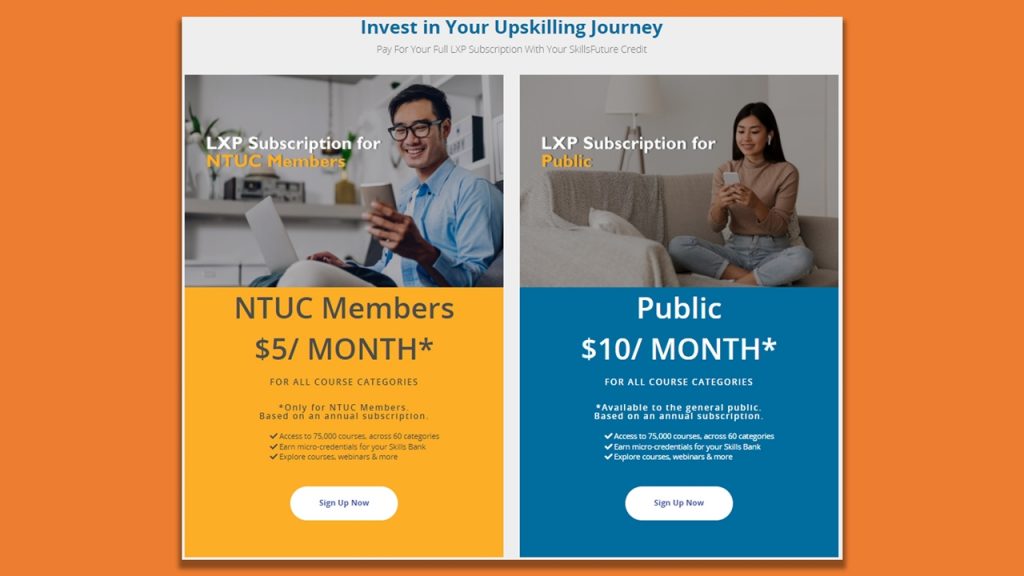 We will first be presented with two subscription options, to either sign up for the service as a general member of the public or an NTUC member, with the main difference being the price that we would have to pay.
Non-NTUC members may access the courses at $10/month, while NTUC members need only pay half the price at $5/month (note: course fees are charged on an annual basis).
After selecting the NTUC member option, I keyed in my email and proceeded to the next step.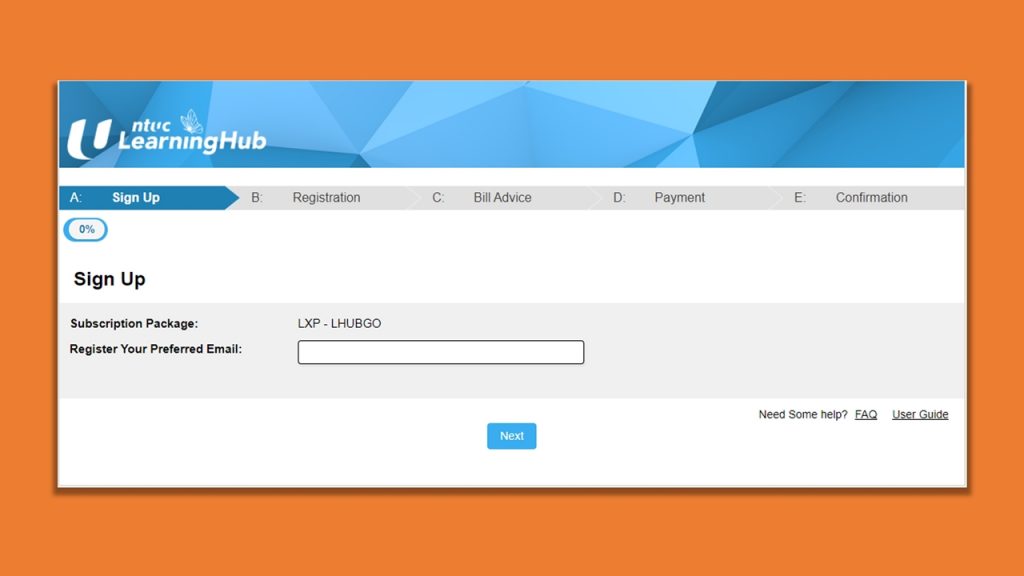 Step 2: Registration
The next step was to verify my NTUC membership, which made me wonder if this step would have been omitted had I selected the "LXP Subscription for Public" option.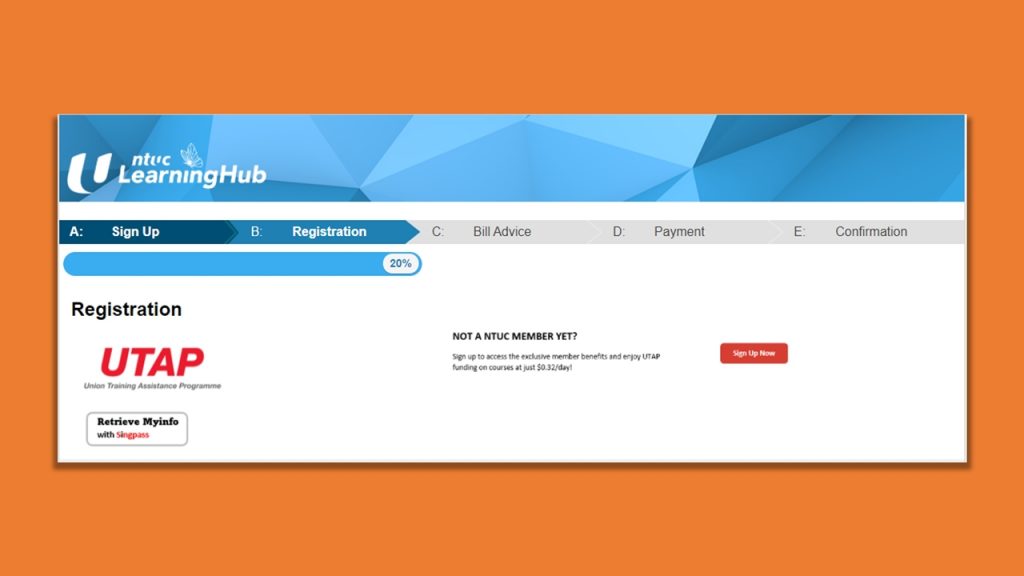 Nevertheless, I clicked the "Retrieve MyInfo with Singpass" button and proceeded to scan the QR code presented with the Singpass app on my mobile.
After which, it led me to another page with the option to have all my particulars automatically updated, which I only needed to verify.
Step 3: Bill Advice (Part 1)
Once my particulars had been verified and submitted, a billing advice appeared with a $60 payable amount.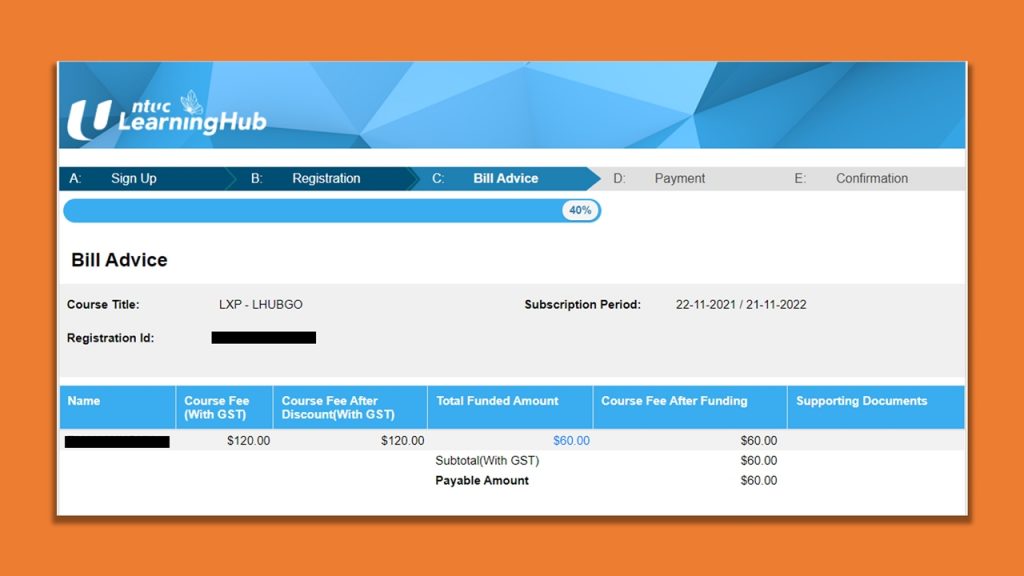 There was also a prompt that notified me that I had to remain a union member to use my UTAP funding, as well as complete at least one online course on the LXP within three months from the date that subscribed to the service.
Since I have no intention of ending my union membership any time soon, and I wanted to complete at least one course to better understand the learning experience, I proceeded.
Step 4: Bill Advice (Part 2)
Just as I was about to pull out my credit card to pay the $60, I was prompted if I wanted to use my SkillsFuture Credit to pay for the remaining amount due.
"Finally, I have something to use my SkillsFuture Credit on!" I thought to myself.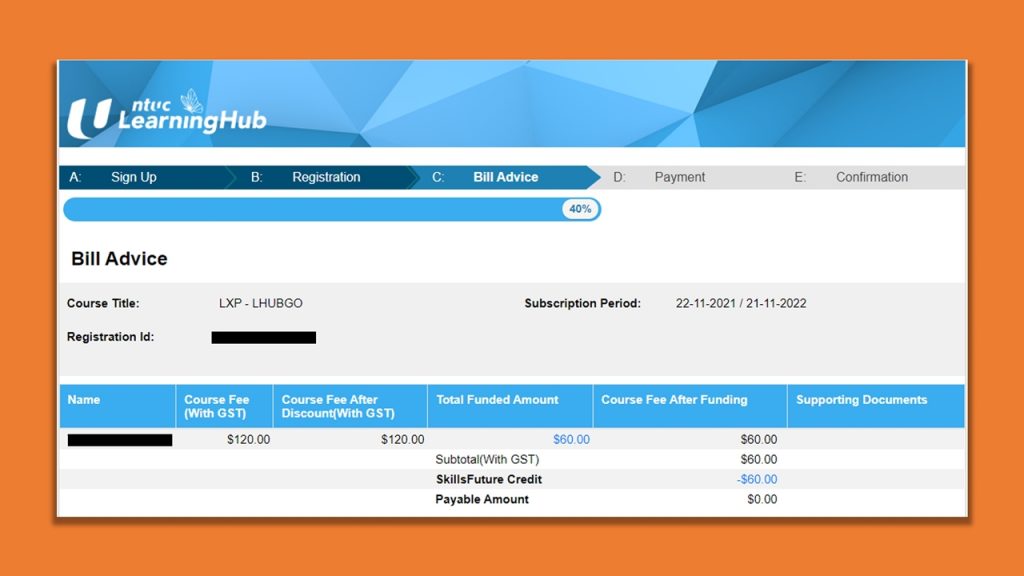 Step 5: Payment and Confirmation
Once I proceeded with the zero-dollar payment, an email confirmation was sent to the email that I had entered in Step 1.
I went on to download the mobile app on my phone, and I was all set.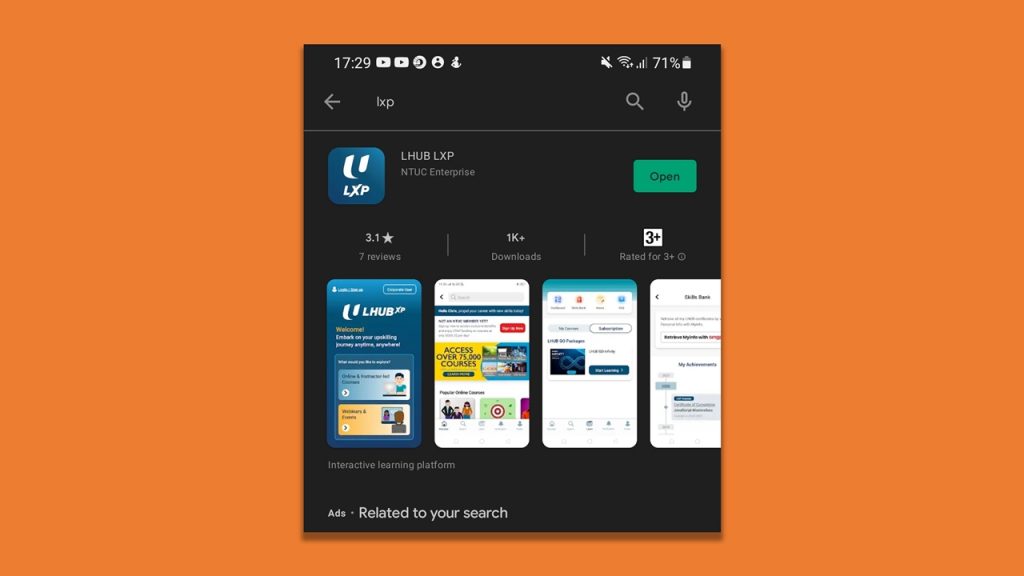 First Impressions
I tinkered around the application on my PC for a bit and found the overall useability straightforward, though I must admit I spent a few seconds clicking these two images below to see where they would lead me, but they were actually not clickable (so don't).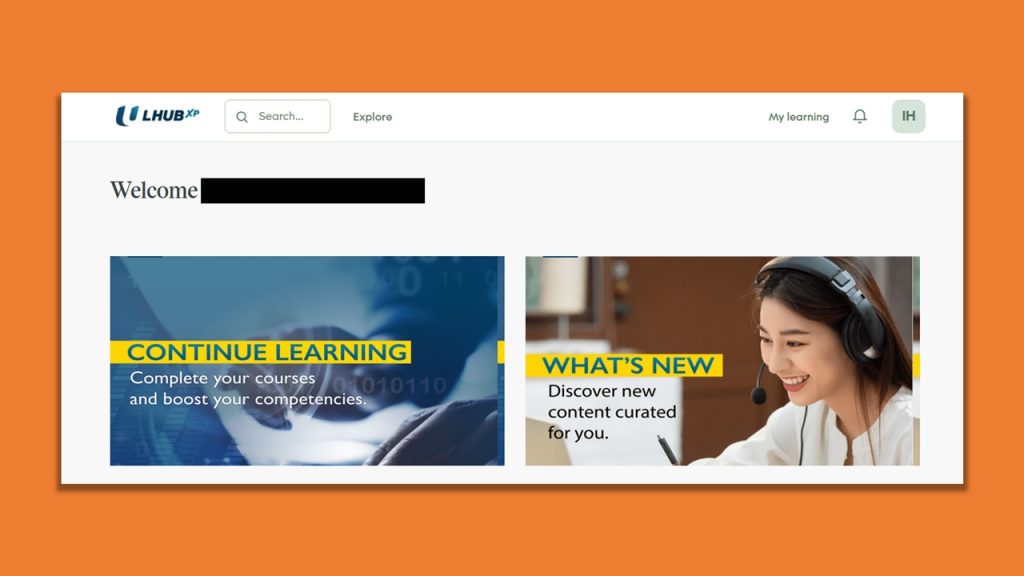 I also noted that there was an obvious lag trying to scroll up and down the page using a computer; a problem that was not noticeable on the mobile app.
Commencing a course on an "Introduction to Digital Marketing", I realised that it was more than just a video watching session like some of the online courses that I had attended previously.
There was a lot more additional information for me to read, along with interactive "flip-card" like exercises to test my understanding of what I know about the subject.
Overall, I think the NTUC LHUB LXP is a great starting point for people who have yet to use their SkillsFuture Credit, hoping to gain some additional knowledge in their spare time.
Perhaps once I dabble more into the platform's offerings, I will come up with a more in-depth review of its courses. So watch this space!