The June Holidays are the perfect time to bond with your family. Make this June Holiday special by signing up for some activities for you and your child and experience the fun together!
Here are some exciting activities you and your family can enjoy making the most out of your holidays!
Redraw Your Summer
Head on over to Downtown East to spend some quality time as a family at Cartoon Network's very own event, Redraw Your Summer!
Spread over two weekends (June 17 – 19 & 24 – 26), Cartoon Network will be hosting three main activity sections to ensure a fun time for your children.
1. Meet and Greet event at All Stars Theatre
Make your kids dreams of meeting their beloved Cartoon Network characters come true! Characters such as the We Baby Bears, Tom & Jerry, and Krypto and Ace from the movie DC League of Super-Pets, will be making their appearance and will be able to engage with their audience.
This activity section is on available from 17 to 19 June so make sure to head on over to Neptune Cove, Outside Wild Wild Wet to catch your child's favourite characters!
2. Cartoonito Sensory Playground
Specially designed for pre-schoolers to learn through play, this playground encompasses the different Cartoon-Network characters in its design, to make learning even more fun.
This section is available on both weekends, and is located outside FairPrice, E!Hub Level 2. Children aged 2 to 5 years old are entitled free admissions.
3. We Baby Bears Magical Obstacle Course
In this section, your kids can bounce, climb and join the three bears as they go on adventures in their magical box.
Held at Event Square @ E!Avenue Level 2, children aged 6 to 12 years old are entitled free admissions. Snap a picture after completing any section to redeem an exclusive Cartoon Network goodie bag (worth $50)!
Click here for more information about the Redraw Your Summer event.
More Fun For Everyone
Besides Redraw Your Summer, here are more fun-filled family activities available throughout June that we think you and your children will love:
1. Drive-in Flick
Escape into the world of cartoons and catch your favourite comedic duo on the big screen as a chaotic battle ensues between Jerry Mouse and Tom Cat with the screening of Tom & Jerry: The Movie (2021)!
The drive-in movie screening will take place on June 25, 7.30pm, at Downtown East's Begonia open-air carpark, with admissions at $32 per car. Each person will be given a headset to tune in to the movie's audio at the drive in, as well as some complimentary snacks.
Pre-book your tickets now on Eventbrite and receive an exclusive Cartoon-Network goodie bag worth $50!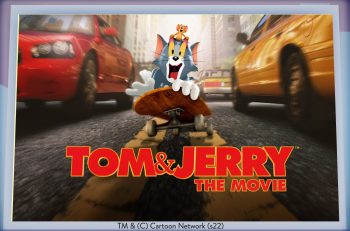 2. Camp UP!
Camp UP! is a 2-day indoor climbing camp organised by Upwall Climbing, where your kids can learn teamwork and develop their social skills and build confidence through climbing. Here, kids will learn to develop movement skills, flexibility, and core strength, through various games and even arts & crafts.
The 2-day workshop is priced at $240/child, and the available dates are 6-7 June, 13-14 June, and 20-21 June.
Secure a spot for your child at a camp that truly embraces learning through fun by scanning the QR code in the banner or visit this website.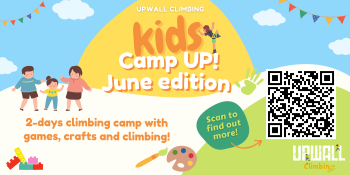 3. No.1 Dad Colouring Contest
Tayo Station, an Indoor playground for children aged 12 and below, recognises all dads this Father's Day through its No. 1 Dad Colouring Contest.
The indoor play area in Singapore is home to Tayo & friends, engaging attractions such as the 3-storey-high Gani's Playground, a Ball Pool equipped with a Cliff Wall, Hinoki Wood Pit and the start attraction, Tayo's Road Circuit.
All children with the Tayo Station child admission pass (June 18 & 19) may participate for free and stand to win prizes worth up to $199. Engage your child's creativity and create bright memories together by purchasing your admission passes at the Tayo Station website.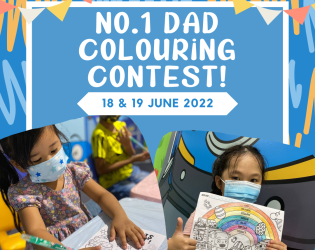 4. Find Your Green Thumb!
For aspiring green enthusiasts looking to discover their passion and develop their skill for urban gardening, Find Your Green Thumb is the activity for you and your family!
On the first two weekends of June (3 – 5 & 10 – 12) from 1pm to 5pm, Convallaria is offering Succulent Potting Workshops suitable for beginners.
Learn more about gardening as a family and make your advanced booking to 98190028 on WhatsApp now!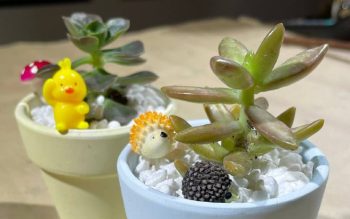 Alongside the activities mentioned above, catch some of the latest happenings this June Holidays to wind down and relax with your family.
New and Ready For You
1. Aranda Country Club
Aranda Country Club introduces the opening of a Catch & Cook Live Seafood service. Guests can now enjoy their freshly caught seafood in various cooking styles offered at the restaurant. This family-friendly prawning activity offers a wholesome experience you and your children can enjoy together! So head on over to Aranda Country Club's restaurant open 24 hours daily to enjoy this new style of dining!
Aranda Country Club is also reopening its 10 Dollar KTV Club this June with a new and improved interior and sound system. Bop to the latest hits with friends and family and pre-book a slot now!
Come on down to Aranda Country Club at 60 Pasir Ris Drive 3, Singapore 51949.
2. Buey Tahan See-Food
A home-grown seafood restaurant with several outlets around Singapore opens its newest location at Downtown East. An affordable yet delicious place to take your loved ones to, if you are looking to enjoy some local seafood.
The restaurant is located at E!Hub, Level 4. Call 65555300 to make your reservations or visit this website more information!
3. Organic Express Hair Color Lab
Thinking of getting a new look? Organic Express Hair Color Lab's got you covered! Look good and feel good through organic and natural hair products, designed to be gentle on the hair and on the pocket.
If you are looking for a good pampering, call 86619539 to book an appointment or visit this Downtown East website to find out more about the salon!
Always Rewarding You
Lastly, what is a holiday without gifts? For the whole month of June, Link brings you the best promotions and rewarding experience. Members can redeem an assortment of vouchers for places such as Starbucks, HaiDiLao and Wild Wild Wet at Donwtown East.
NTUC members can also redeem a FREE Tom & Jerry Travel Organiser with a minimum spend of $50 or $70 for Link members.
So come on down to E!Avenue Level 2 Information Counter at Downtown East to grab these major deals and share them with friends and family! Click on this to find out more on redeeming the Linkpoints.