We won't belabour the reality that career success comes with having to make sacrifices and rough it out in the workplace.
For youth hawkers Jason Chua and Poh Chee Eng, the road to success meant trading in work-life balance, holidays and a social life for an average of 16-hour work days in the cramped confines of their hawker stalls. The two youths tell us how they're serving up bowl after bowl of delicious eats that they hope will slowly, but surely, help them fulfil their aspirations.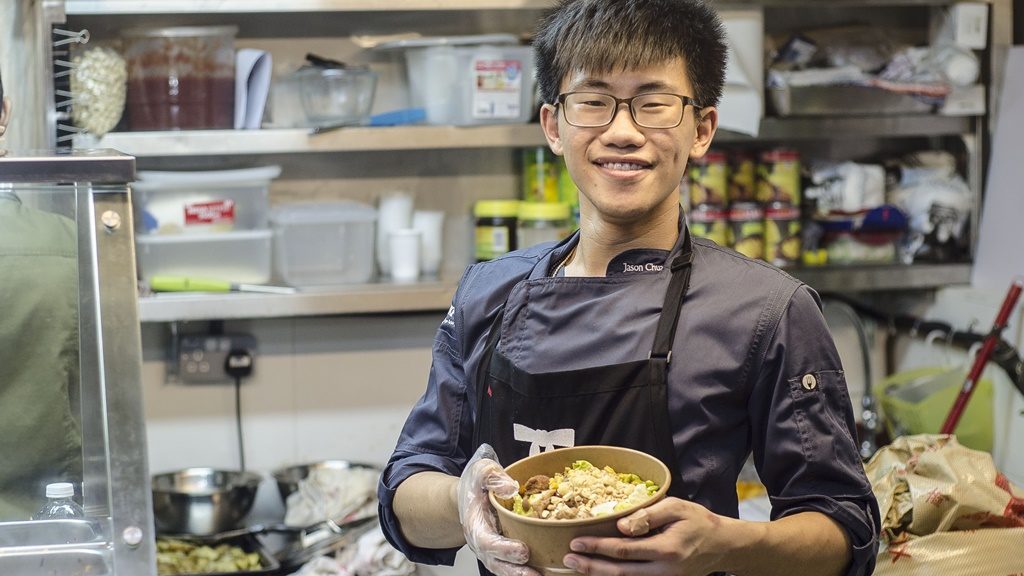 Jason Chua, The Beng Who Cooks
Growing up helping his mother and grandmother in the kitchen may have sowed the seeds for 26-year-old Jason Chua's interest in cooking, but it was the intricacies of culinary science, learnt in school, that ignited Jason's passion for food and being a chef.
"I love the science behind food, the magic behind how different ingredients can come together and create flavours. The more I learnt and knew, the more addicted I got to food," said the aspiring chef, who counts Anthony Bourdain as his culinary idol.
The self-professed millennial also said that it was the compliments and encouragement from friends and family that saw him eventually decide to take the plunge, invest his savings and start up his own food stall, The Beng Who Cooks, at the popular Hong Lim Food Centre in Chinatown. The stall serves up a Meal Prep style of food, which Jason describes as western economical rice.
"Serving Meal Prep allows me to have different styles of cooking and offer many different things with different ingredients. This also lets me continue to tap my creativity and get my hands moving," he explained.
Fuelled by Passion
While his parents were supportive of his decision, his girlfriend held some reservations because of the long 14-hour days Jason would have had to put in from 7.30am till 11pm.
"She's now very supportive of me as she can see my hard work and commitment. She also now appreciates that what I am doing is for our future," he explained, adding that in the lead up to the stall's opening in early March 2018, he had developed a total of 77 different recorded recipes and whittled them down to the best 15 for the current menu.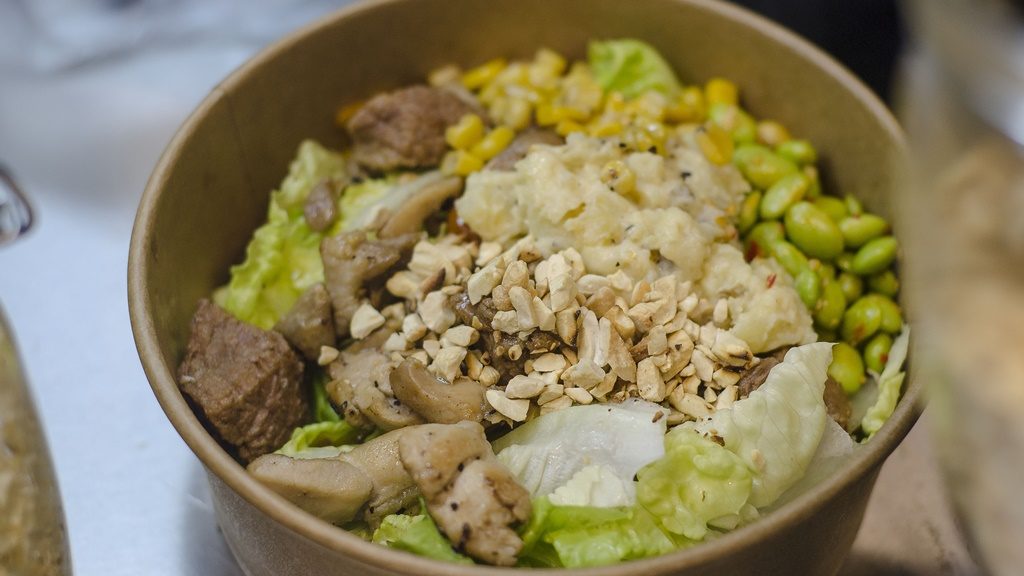 "It's really very xiong," answered Jason when asked about the work. "During peak periods, we can be serving out 50 to 100 bowls at one go without time to stop for even a toilet break. We will just be cooking and serving. When we're free, we'd be doing our food preparation until the next customer comes along. And when we're done with work, we will have to prepare for tomorrow's meal service."
Fortunately for the former boxer with the Singapore National Team, Jason can fall back on the years of resilience and mental toughness to a sport he has been involved in since his teens.
"The discipline I have now all boils down to my foundation in boxing. And it translates into being a hawker. And to do this, you really need passion and discipline, otherwise it cannot last long," he said.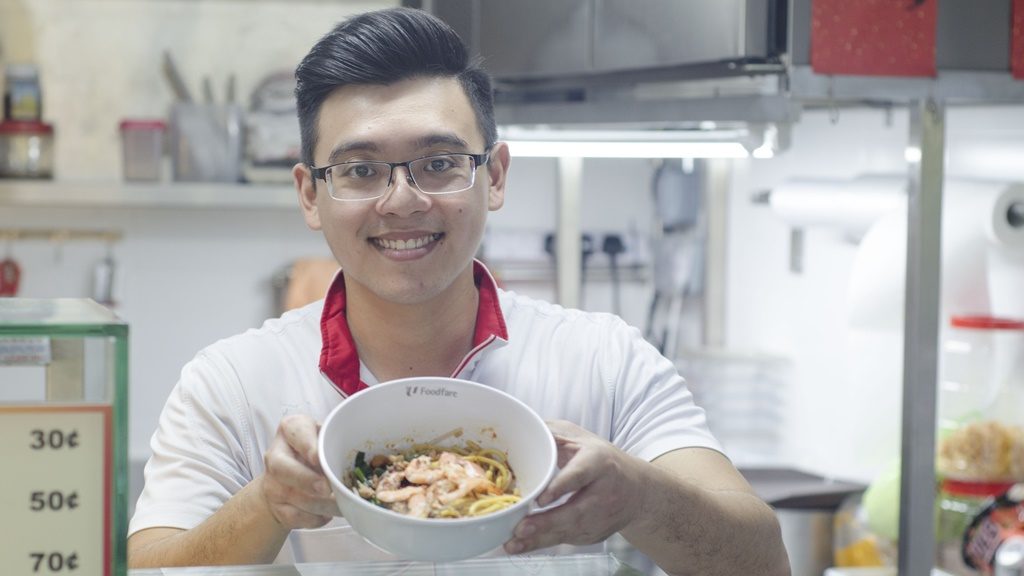 Poh Chee Eng, Fully Good Food
Having grown up helping his parents with their café and subsequent prawn mee and mee rebus stall since the age of 5, you could say that 28-year-old Poh Chee Eng has had close to a lifetime of experience in the food and beverage business.
However, striking out with his own prawn mee and mee rebus stall at the new Paris Ris Central Hawker Centre operated by NTUC Foodfare proved to be a whole new experience that came with a "very very steep" learning curve.
"Watching my mother cook is totally different from doing it myself. I used to learn in parts while helping my parents, but now, I am the one doing everything myself and its very xiong (tough). When I first started, I barely passed their standard (for food taste) and would get scolded," said Chee Eng.
The former civil servant, who has a diploma in law and management and a degree in accounting and finance, also added that between waking up at 3am and going to bed at 11pm, he has had to quickly learn how to take care of every aspect of the business on his own. This includes purchasing supplies, preparing the food, serving customers and even managing the stall assistants.
Working For His Own Success
Motivated by the desire to be his own boss and take charge of his own career, Chee Eng was always inclined towards entrepreneurship, and operating his own stall with his family's recipe proved to be the most viable option with the least risk.
His parents had regarded joining the trade as a waste of his education, although he managed to convince them otherwise with his dedication and commitment.
"Doing my own business allows me to be in control. If I want to earn more, I can work longer hours and do better. But like all businesses, the key is hard work and we must not be afraid to put in the long hours. I'm no longer young, and when I look at what I have, working hard through this business is the only way I have to get somewhere in life. This is what drives me," he shared.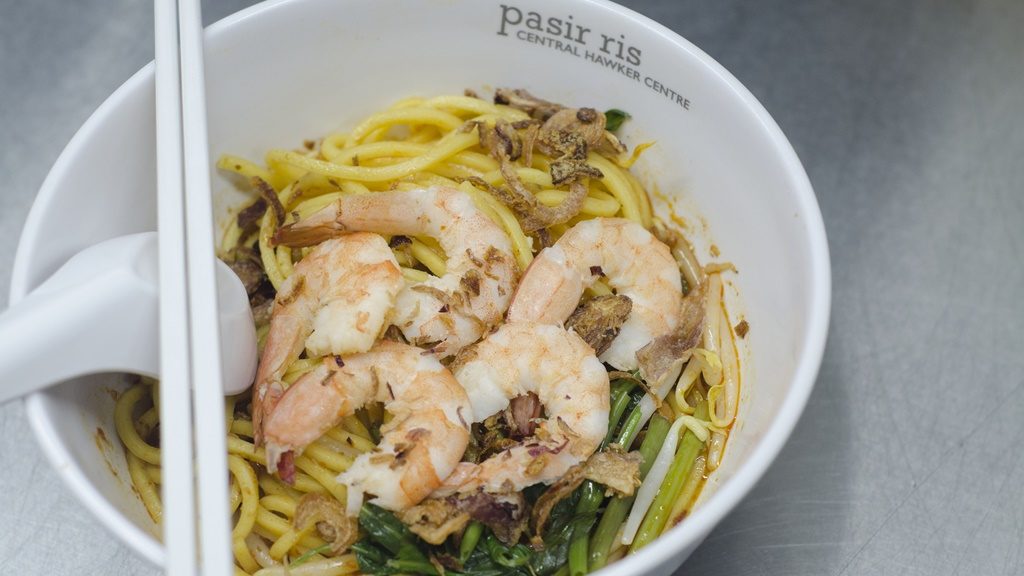 Supported by Foodfare
Fortunately for Chee Eng, who is planning to get married soon, he was able to tap into NTUC Foodfare's hawker-preneurship programme for support in the setup of his stall.
"Every single venue is different and every stall is unique in its set up. I am glad that Foodfare were able to help with some of the costs, which includes providing equipment such as the fridge, blancher and shelving. There were even vouchers to defray other necessary equipment needed for the stall," he said. Beyond equipment, Chee Eng also shared how he's been able to approach Foodfare for advice and knowledge with the sales and marketing aspect of the business.
While Chee Eng's immediate plans are to let more diners know about his stall at Paris Ris Central, he takes heart that he has been able to slowly build up a following, with many regulars coming back every day for his prawn mee.
"For my career as a hawker, I told myself that we, Fully Good Food, want to bring good food at reasonable prices to the masses. I hope to be able to open more outlets and make our food more accessible for people, while keeping prices affordable," he shared.
To find out more about NTUC Foodfare's hawker-preneurship programme, email leasing@foodfare.com.sg or call 6550 6500.