Even though Singapore is on its road to post-pandemic recovery, some companies could not recover from two years of lockdown.
The rising inflation and cost of commodities can also affect companies' bottom line.
And when companies have to fold, downsize or restructure, workers get redeployed or even retrenched.
According to the Ministry of Manpower's advance estimates, there were 1,600 retrenchments for the third quarter of 2022. The retrenchments are more than twice compared to the previous quarter, albeit still below pandemic or pre-pandemic levels.
Besides grappling with the sudden loss of income, a retrenched worker still has to worry about securing a new job while paying for ongoing financial commitments.
The law does not require retrenched workers to get retrenchment benefits.
The Tripartite Advisory on Managing Excess Manpower and Responsible Retrenchment, however, says that "employers' ability to pay retrenchment benefit depends on their financial circumstances at the point in time."
Despite the advisory, retrenchment benefits are subject to employment contracts, memoranda of understanding or collective agreements for unionised companies.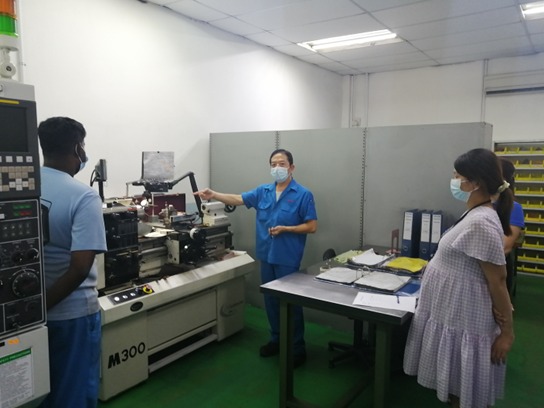 Woes of a Retrenched Worker
Even if retrenchment benefits are stipulated in employment contracts, memoranda of understanding or collective agreements, unions can further negotiate for better benefits with the company.
One such case was when Porite Singapore underwent a retrenchment exercise in the first half of the year after the company decided to relocate all its production plants overseas.
As a result, 43 workers were made redundant.
One of them was former tooling coordinator Lim Kwang Poh, who had worked with Porite Singapore for almost 12 years.
"Worried, of course. Worried about, after retrenchment, not being able to get a new job easily. We were worried about expenses also. At that time, my two children were in polytechnic. So I was also worried about their school fees," said Kwang Poh.
Fortunately for Kwang Poh, he is a union member and has been one for more than 20 years.
Porite Singapore is a unionised company of the Advanced Manufacturing Employees' Union (AMEU).
Throughout the months-long retrenchment exercise, AMEU represented Kwang Poh and other affected union members.
Kwang Poh recalled that the union met affected workers several times to reassure them that the union was doing all they could to ensure the workers were fairly compensated.
Union's Representation
Following negotiations with AMEU, Porite Singapore agreed to pay a month's salary for every year of service to retrenched union members who had served more than two years.
For retrenched union members on re-employment, the company agreed to pay them $500 for every year of service on top of an Employment Assistance Payment.
AMEU also negotiated an additional $1,000 training grant for Singaporean and PR union members.
Kwang Poh feels that he would not get as much retrenchment benefits if he were not a union member.
AMEU General Secretary Wee Kia Hiong said: "When it comes to a retrenchment exercise, most importantly, we need to assure our members or affected workers that we are alongside them through this difficult process. We also assist members on job placement, help them to find suitable work."
Other than representing workers during retrenchments, unions also protect workers' interests.
Kia Hiong added that besides negotiating on the general welfare or benefits such as annual increments or bonuses, unions also assist its members in any work-related issues or grievances.
Kwang Poh urges workers to be union members.
He said: "If you join the union, the union will help you, such as unfair employment practices. So I would ask workers to join as union members. There are a lot of benefits."
For more information on union membership, visit NTUC's website.