"I loved my job very much, I was well-paid and the benefits were fantastic, but then I was always telling myself that regardless of the industry, it's most important to be happy with what you are doing," said Sandy Loh, who is in her mid-40s.
Having to be on call 24/7 and responding to emails even while on medical leave prompted the former customer service representative in a petrochemical company to rethink her career options. Sandy eventually left her job to take a break.
A Painful Experience
Just after she quit her job, Sandy's father was diagnosed with terminal stage lung cancer, and radiation therapy was the only available course of action.
"At that time, I was not trained as a caregiver and did not know what to do," recounted Sandy. While she tried her best, Sandy was wrought with helplessness as she watched her father pass away.
That experience though, spurred Sandy to put on a stronger front to take care of her mother, who went through a bout of depression.
A Chance Encounter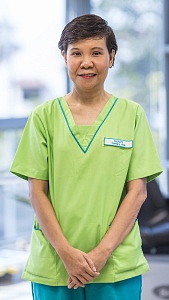 At that point, Sandy's main priority was to take care of her mother. But as she watched the therapy assistants work with her elderly mother in 2014, she gradually developed a deeper interest in the role they play in healthcare.
It was in early 2015 that Sandy chanced upon an advertisement that would eventually see her embark on a new career path.
"One day, I saw an advertisement from HMI Institute of Health Sciences, where one of the positions advertised was that of a therapy assistant. I thought, why not give it a try, even if it was a different industry," she added.
Identified as a key area of growth in Singapore, the healthcare industry is expected to yield some 20,000 new opportunities between now and 2020, many of them specifically to meet the demands of Singapore's ageing population.
A Step In A New Direction
Sandy eventually enrolled for a course in Healthcare Support (Therapy Support) and graduated in September 2015.
"It was a three-month course with one and a half months spent in HMI itself. The course consisted of 14 modules. After that, I did my attachment at Ren Ci Community Hospital, where I followed both the physiotherapist and occupational therapist," said Sandy.
She eventually started work as a therapy assistant with NTUC Health's Nursing Home in Jurong West. On any given day, she interacts with 30 to 40 elderly residents, engaging them with a series of mobility exercises to help improve their blood circulation. One of the highlights in her daily routine includes Tai Chi classes, which is very popular with her residents.
Coming into the industry might not have been easy, but there were a few things driving her to succeed.
"If you don't have the passion to be a therapy assistant, you can't feel that you belong in this health industry because there are so many things you can learn from the job and the residents themselves.
"The most fulfilling part is feeling connected with the residents. I feel joyful that my residents look forward to seeing me, like it's time for exercise, time for Tai Chi," she added.