"I was taking drugs. I overdosed. I messed up in my work, and I lost my job," said Andrew Ong, who also had been to prison twice by age 22.
Andrew, now 44, recounted: "Growing up, I was willful and playful. Then, one thing led to another, and I joined a gang."
Andrew also neglected his studies and dropped out of school.
In 1996, Andrew and his gang searched for rivals who had beaten up one of their members one night, causing a fight to break out at Orchard Plaza.
"I actually thought we got off scot-free because I managed to return home. But early in the morning, at about 4am, the Criminal Investigation Department knocked on my door looking for me," he said.
The law had caught up with him.
At 18 years old, he was jailed for nine months for rioting. Unfortunately, he picked up a drug habit after his release.
"Upon release, you will think I would have turned over a new leaf. Sadly to say, I did not. I reoffended about three years later," he added.
He was jailed for two weeks in the military detention barracks for insubordination and going AWOL during National Service. The drug overdose happened soon after.
"I was very remorseful … How did I end up like that? I thought I had my life together. But the overdose proved to me that I did not have it all together," said Andrew.
He made an effort to repent. He quit his job as a disc jockey in the nightclub and broke off relations with his old friends.
Paying it Forward
As a school dropout, Andrew lacked qualifications and struggled to find another job.
"One of the daunting tasks of wanting to change my life, to turn over a new leaf, is livelihood, is finding a job—a right job with the right environment, with the right career prospects.
"But wanting to find one with career prospects is challenging. For me, as a school dropout, back then, and with a criminal conviction, it was challenging finding the right job," he said.
He decided to complete his studies, eventually graduating with a degree in communications management.
After going through troubled years growing up and having to rebuild his life and relationships, he understands what it takes for ex-offenders to stay on course and rebuild their lives.
"As an ex-offender, I'm never ashamed about my past. I always take it as a big part of me. I try to remember my roots because it has made me who I am today.
"I've always used my past to serve others, who are going through a similar journey," he said.
Today, Andrew is the director of partnerships and strategic communications at HCSA Community Services. The non-profit organisation helps ex-offenders rebuild their lives.
As a way to pay it forward, Andrew co-founded Break the Cycle SG in 2020, an initiative that supports ex-offenders in breaking the cycle of recidivism and achieving positive life goals through cycling.
#EveryWorkMatters Conversations
As an ex-offender, Andrew experienced first-hand the hardships of getting a job.
This issue, still concerning to Andrew today, was one of the topics he brought up during a recent #EveryWorkerMatters Conversations organised by NTUC and Yellow Ribbon Singapore.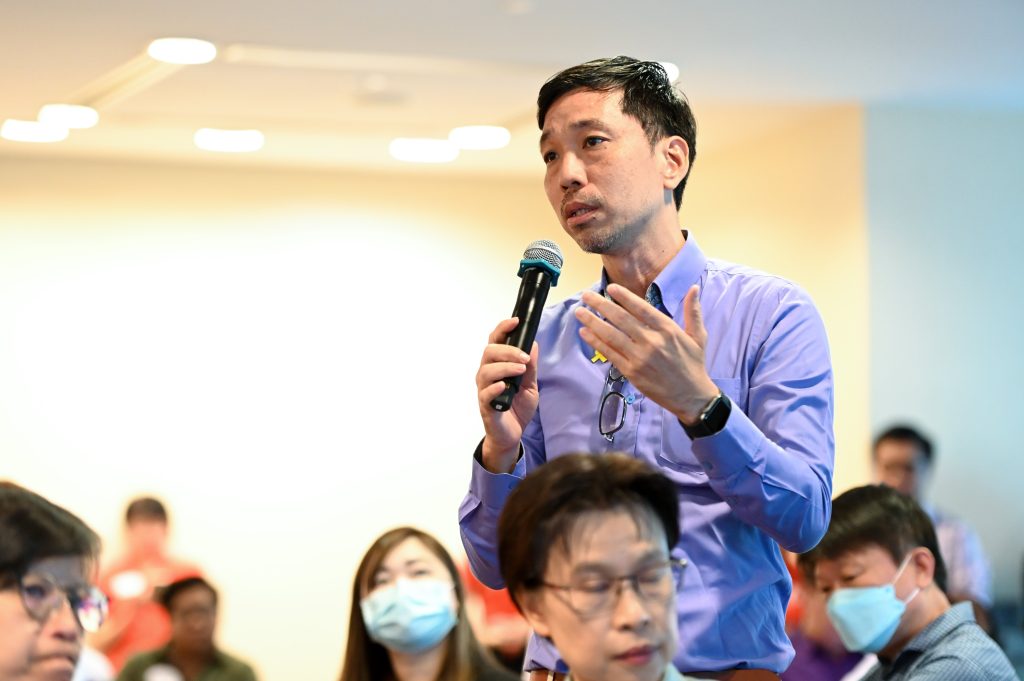 He said: "I thought it was a very fruitful session. Having both parties, NTUC and Yellow Ribbon Singapore coming together, leveraging each other's strengths. One is the network of employees, and one is the awareness and the network of ex-offenders, planning together to bring impact.
"To know that not just every worker matters, but every Singaporean, every ex-offender also matters."
Besides organising the focus group discussion, the Labour Movement has also been doing its part to help ex-offenders be gainfully employed.
Some of the help by the Labour Movement include working with tripartite partners on an upcoming workplace anti-discrimination law and partnering with Yellow Ribbon Singapore through NTUC's Job Security Council.
Andrew said NTUC's help is commendable.
He added: "Ex-offenders are one of the marginalised community groups in Singapore, which mostly get left behind.
"We need partners or institutions like NTUC to help us have a voice to speak to make changes in policy with employment because livelihood is what would help ex-offenders to regain their life, their dignity again."
A Chance to Turn Over a New Leaf
Everyone deserves a second chance – in Andrew's case, even a third chance. The opportunity to turn over a new leaf, no matter how many times a person has broken the law.
Andrew hopes for a better tomorrow for ex-offenders, where "my fellow ex-offenders have a fairer chance at employment."
He added: "Hiring is supposed to be based on merit, not on my past record."
The focus group discussion was part of the #EveryWorkerMatters Conversations, a larger-scale series of engagements by the Labour Movement to engage all workers across various life stages.
To participate in the #EveryWorkerMatters Conversations, visit conversations.ntuc.sg.