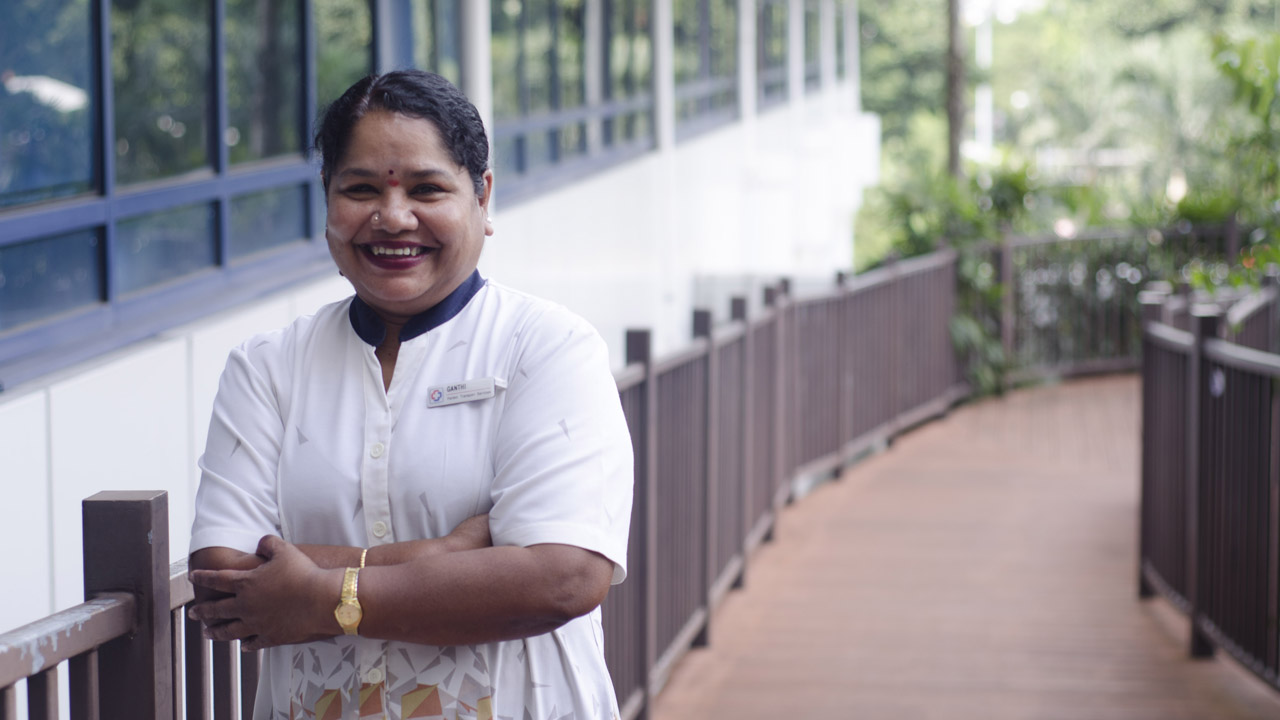 Story and Photo by Jonathan Tan
When Ganthi Mathy Balakrishnan first joined KK Women's and Children's Hospital (KKH) as a patient transport assistant (commonly known as porter) back in 1998, her job involved working shifts and manually logging down her assignments into a logbook.
While her day-to-day work still sees her send patients to-and-from clinics, collect samples from laboratories and do the occasional document pick-up or drop-off, her job process has changed significantly. She now also works 5.5 days a week from 8.30am to 5.30pm.
"Now, we have an E-Portering system which has made the job easier. Previously, we would have a controller whom we would call and ask about our tasks and then log it down into a paper or book. With this E-Portering system, the tasks will come through an app on our smartphone (an iPhone 6 Plus), and we would be able to know where to go next," shared Mdm Ganthi.
A collaboration between the hospital's Human Resource department and Patient Transport Services department, this E-Portering system resulted from an initiative to review the job scope of patient transport assistants and give them more opportunities for career development.
Tangible Benefits
Admittedly, picking up the new system did not come easily to Mdm Ganthi, a 57-year-old mother of two and grandmother to eight.
"When the E-Portering system came, it was quite difficult for me to learn how to use it. But I asked my colleagues and bosses and they taught me. I took about three months to learn, and now it is very easy, much faster and I don't have to write in a book anymore," she said.
With an enhanced job scope, Mdm Ganthi enjoyed a salary adjustment in July 2016.
"The pay is now much better and I'm happy with it… It's never been a problem for me. Whenever I got my bonus from the company, I would save it. Although if there are important needs, I would use it," she said.
Over the years, she has also attended courses such as Service From The Heart and Corporate Grooming that have enabled her to perform better.
"The courses are very good because it teaches us how to do our jobs better, especially in communicating with patients, their families and other people… I like working here in KKH because of the people here. It's like a family, a very good family," she said.