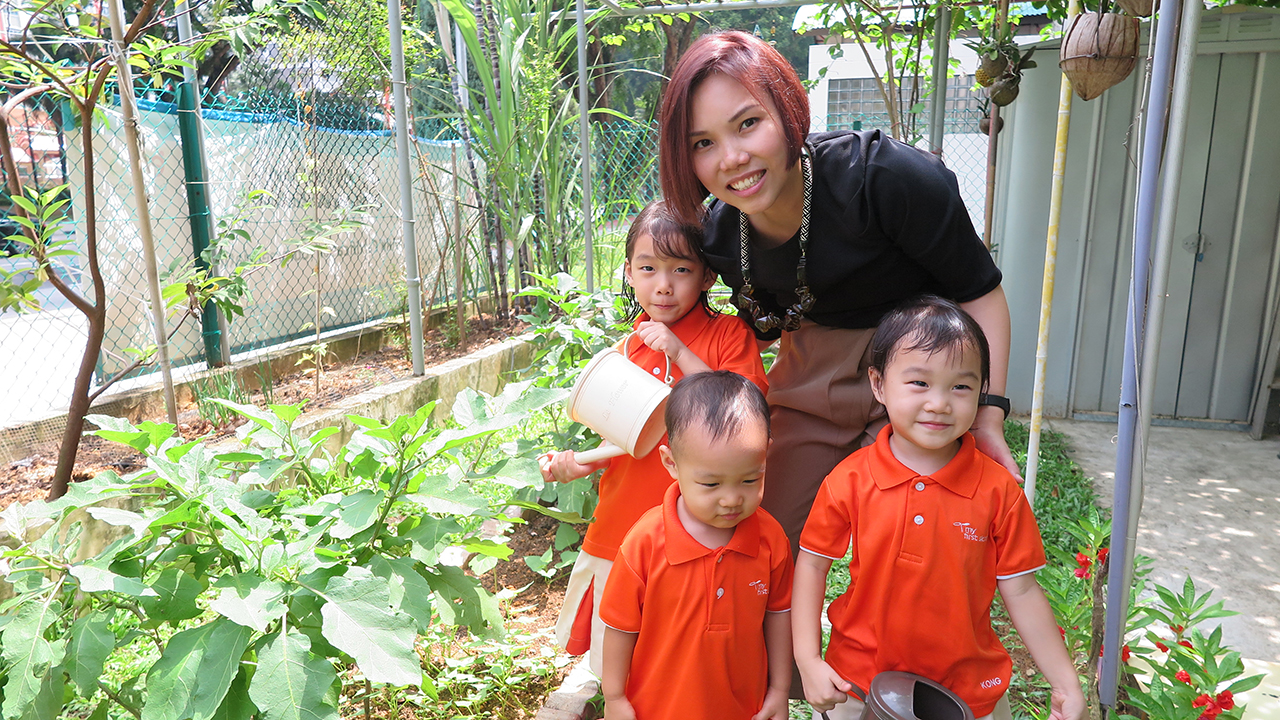 Ever wondered what a career as a preschool teacher is like? Looking at Outstanding Early Childhood Leader awardee Gillian Neo, 31, it seems the fertile imagination of the young kids has rubbed off on her.
The principal of My First Skool (MFS) at Block 209 Ang Mo Kio Avenue 3 was given the title at the 5th ECDA Awards organised by the Early Childhood Development Agency (ECDA) for her creative inspirations.
Starting out as a teacher in 2007, Gillian was recommended for NTUC First Campus' six-month "Grow With Us" leadership training to establish and head a new MFS in 2010. First Campus runs the My First Skool group of preschools in Singapore.
Outdoor Classroom
One of her biggest achievements was the setting up of a community garden within the preschool. The idea of building an outdoor classroom was inspired by her growing-up years in one of Singapore's last kampongs.
From securing the plot of land to making improvements, it took Gillian nearly three years before the garden was opened. Facing time and manpower constraints, she learned that building relationships was key to the project's success.
"One of my philosophies as an educator is that it takes a village to raise a child. I talk to residents as part of my job. The community is also a resource," shared Gillian, a mother of three who got the help of two retiree volunteers in the neighbourhood with experience in construction and the growing of plants.
Thanks to her efforts, students now enjoy hands-on activities such as watering plants and harvesting fruits for tasting. Students can also learn about how caterpillars transform into butterflies. According to Gillian, this has helped them understand food origins, identify plants, appreciate nature and learn the value of patience.
She has also started a partnership with a neighbourhood secondary school to allow their students to take care of the garden as part of their community service.
Grooming Teachers
Gillian manages a team of 30 teachers and support staff. She hopes to groom her core team, made up of a deputy centre lead and three lead teachers, to run the dream MFS of their own someday.
To build leadership skills among the teachers, she continually engages them in the decision-making process. Going forward, she will introduce a buddy system to update new staff.
Believing in giving recognition where it is due, Gillian nominated three of her teachers for the ECDA Awards, one of whom – Jazlyn Choo – received the Promising Early Childhood Teacher award.
"As a leader, you need to be very dynamic, open-minded and informed about what's happening in the estate. It's not easy because you have to deal with different groups of teachers and communities. You also have to bond with the older, experienced teachers and also involve millennials who want to have a voice.
"It is important to be goal-driven. Everybody moves with you – if you don't think about what you want, they will be staying on the same spot," said Gillian.