She is a mother of three and a wife to a businessman. An ordinary Singaporean mother, as she describes herself.
"I'm a very ordinary Singaporean mother trying my best to make a difference in the lives of other Singaporeans and to give back to society," said Caryn Lim in her office at NTUC's e2i (Employment and Employability Institute).
Caryn officially took over the role of e2i's CEO on 1 January 2022.
Despite the title, her unassuming and kindly disposition helps to put anyone she meets for the first time at ease.
Caryn is a strong advocate for workers and their rights – qualities that would certainly be useful in her new role.
Before joining the Labour Movement in 2019, Caryn spent more than a decade at the Ministry of Manpower (MOM). There, she worked in various capacities including developing policies for workers' training and foreign manpower. When she joined NTUC, she helped to build the NTUC Economic Policy and the NTUC Social Policy departments.
Improving the Lives of Workers
Caryn believes that her experience working for both organisations strengthened her resolve to improve the lives of workers.
"My passion to help workers did not start just when I joined the Labour Movement. It started when I was with MOM because it's also a social organisation as much as it is an economic one. It is a unique organisation that has both an economic perspective and a social perspective.
"We are workers for a very large part of our lives. And most people in society are either workers or have been workers before. So if you can impact workers, you can impact their lives too. And to me, that's important," she said.
She also believes that her work in MOM and NTUC has helped her to see worker issues in a more holistic way.
"We all see things from different points of view. And the more exposure we have, the more points of view we see on certain issues. That's the privilege that I have – having seen things from the Government's point of view and now seeing things on the ground," she said.
Caryn also appreciates Singapore's unique brand of tripartism. She was directly involved in the Self-Employed Person Income Relief Scheme (SIRS) in 2020 as well as the Tripartite Workgroup on Lower-Wage Workers.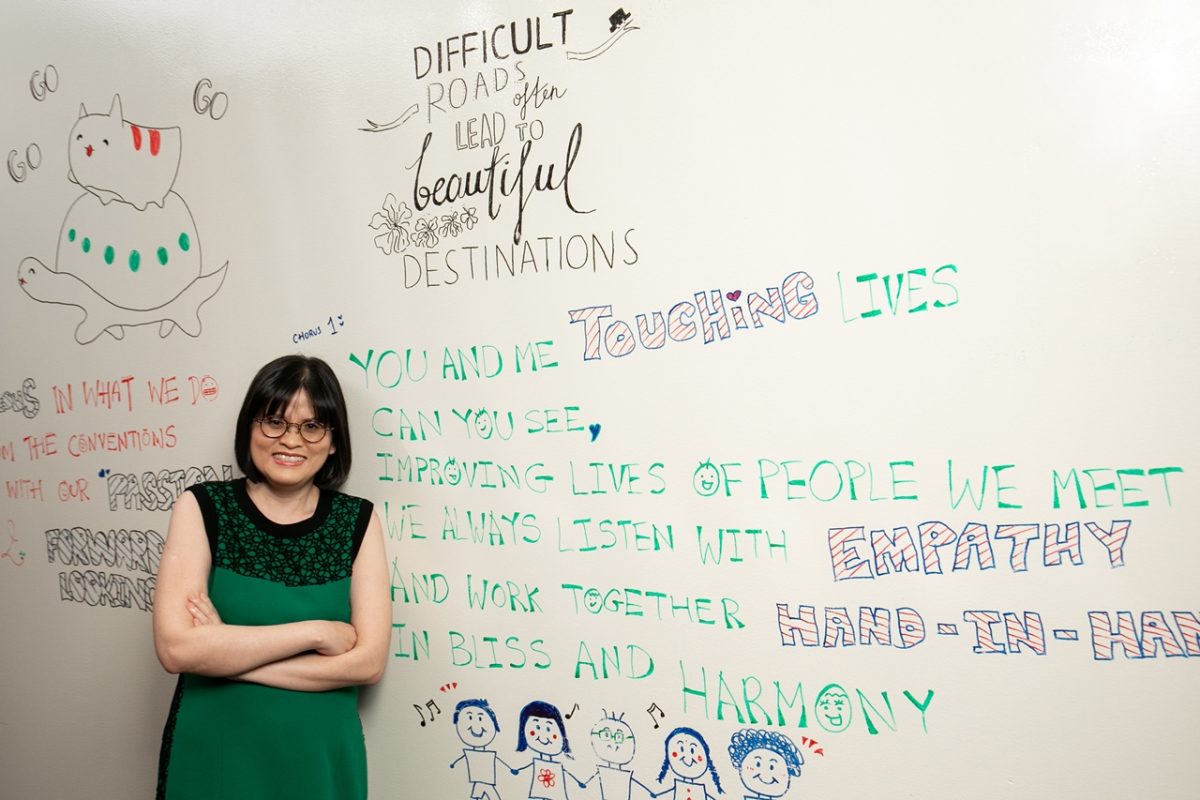 Becoming e2i's CEO
Caryn has taken the helm of e2i at a time when Singapore's economy is still recovering from COVID-19's impact.
"What's going to happen in 2022 is still uncertain. Currently all economic signs point towards recovery. A lot more sectors are hiring and it's a lot more positive. But as you know, the wave of the Omicron variant [of the COVID-19 virus] has hit us. And we're seeing much higher inflation in the economy.
"These two pressures can change our trajectory towards more uncertainty for our businesses. But e2i is clear that we stand ready to help our workers no matter what happens," she said.
The mission and vision of e2i to help workers achieve better jobs for better lives resonate deeply with Caryn. And she added that she is honoured to be given the privilege to be working at e2i.
"Every worker who needs help with employment – be it finding a job, keeping a job or ensuring his skills are current to seize employment opportunities will find that help in e2i and the Labour Movement. And together with my brothers and sisters in the Labour Movement family, we can ensure that workers' wages, welfare and work prospects are taken care of," she said.
Caryn added that e2i's mission and vision remain very relevant today and will continue to be so in the long term.
"e2i has done a lot in the past two years to help workers, especially when retrenchment numbers went up and I know our staff is also feeling the impact of COVID-19.
"It's timely for us to also take a step back to refocus on our mission and vision, to make sure that there is strong alignment. And to move forward together. I strongly believe that having a very clear mission and vision helps people focus their mind and focus their work. Doing this will take us into the future," she said.