With 20 years of retail experience, David Lee has seen the industry change throughout his career.
About 10 years ago, he saw the retail industry shifting towards e-marketplaces as traditional retail and direct online sales were slowing down.
David, who is in his 50s, said: "That allowed me to understand about e-marketplaces, and subsequently help these traditional channel partners to onboard into e-marketplace platforms."
Specialising in business development, he had spent 10 years working with direct online businesses.
Seeing the industry change throughout the years was what enticed David into retail in the first place.
He explained: "I think it is the ever-evolving landscape the retail industry brings that led me into the industry, as I find excitement in learning new skills to keep up with the times."
Picking up Skills as the Industry Changes
After expanding his know-how to e-marketplaces a decade ago, David began acquiring knowledge in e-commerce.
He worked with e-marketplace leaders in Asia Pacific for product sales, supply chain forecasting, inventory and warehousing, finance for different business models and digital marketing.
He had to learn new skills in e-commerce, such as paid, earned and owned traffic, webstore ranking improvement, search engine optimisation and search engine marketing searches, and more.
As the e-commerce industry accelerates, he also learned new business models, such as live streaming, social commerce and digital organisation."
He recalls the experience of picking up new skills for e-commerce as fun and rewarding.
"For example, an e-commerce platform uses 'play' to educate their partner store owners about their platform, as opposed to traditional rote learning. This also forces me to 'unlearn' what I was taught previously and to pick up new skills and perspectives," David said.
David currently helms the lifestyle and hospitality cluster as a director under the sector skills domain with NTUC LearningHub (LHUB), a role he started in September 2022.
The continuing education and training provider recently launched its NTUC LHUB Retail Institute to uplift Singapore retail sector.
Through the institute, NTUC LHUB will also aggregate emerging trends and skills and curate relevant training and curricula to help the retail sector stay ahead of technological changes and evolving consumer preferences.
The retail institute has more than 60 existing courses, such as in customer relationship management operations.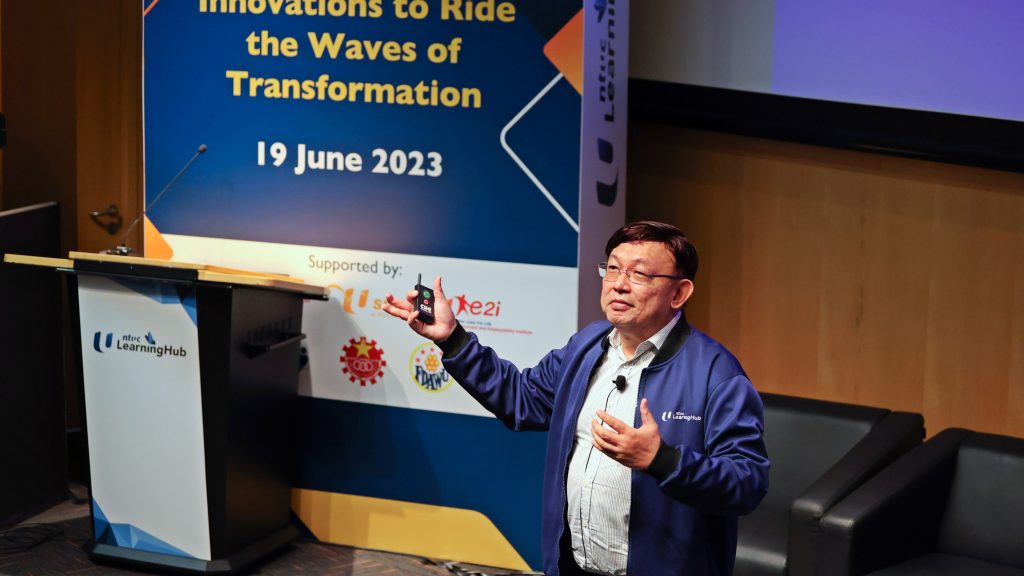 Helping Workers Navigate Industry Changes
David said that the Retail Institute collaborates closely with top technological solutions and training providers worldwide and in the region to identify emerging skills and design curricula.
He added: "Our partners are always ahead in technology. They can identify skill shortages in the sector effectively. Thus, the courses that will be designed are for either future skills or the most relevant skills that are in demand in the market right now."
When asked what a worker can expect from the institute, David said that the institute collaborates with Workforce Singapore on job placement programmes, such as the Career Conversion Programme. The institute will recommend relevant courses for both new and existing retail employees.
The institute also collaborates with SkillsFuture Singapore on the SkillsFuture Career Transition Programme for job seekers by recommending relevant courses for various job roles.
Importance of Upskilling
Throughout his 20-year retail career, David said he had witnessed a few disruptive changes in business models, operations, and consumer behaviours.
David said many job roles will be replaced or redesigned as stores rapidly evolve with technological, customer, consumer, and user experience.
"Cashiers, for example, are being re-trained and assigned to sales roles since customers now pay online.
"Furthermore, the Progressive Wage Model will improve retail worker salaries, and value-added activities can help sustain the higher cost of operation. Workers can use this opportunity to improve their customer experience skills by honing their craftsmanship," David explained.
David also said that international travellers can visit competing cities such as Tokyo, Beijing, Shanghai and Hong Kong.
"Given the regional competition in the retail trade, our retail employees must not only upskill to provide excellent service, but they should also reskill to encourage digital commerce interaction," he said.
For more information on the NTUC LearningHub Retail Institute or to sign up, click here.